December had its ups and downs for the Detroit Red Wings, who ended the year with an ugly 5-2 loss to Pittsburgh. Meanwhile, division-rival Florida started what has turned into a nine-game winning streak that launched them to the top of the Atlantic Division. Here, The Grind Line takes a look at the best players for Detroit during December.
Tony Wolak— Pavel Datsyuk
After taking a few weeks to get up to speed following offseason ankle surgery, Pavel Datsyuk emerged as the Red Wings' most dominant forward in the latter half of December. Datsyuk led the team in scoring for the month, registering 11 points in 14 games. More impressively, eight of Datsyuk's 11 points came at even strength, which led the team, as well.
Playing mostly with Brad Richards and Darren Helm, Datsyuk started the month off slow, as his speed and balance still reflected that of a player on the mend. By mid-month, however, Datsyuk looked like his old self—not an older version of himself. In the final eight games of December, the Magic Man had seven points, and facilitated most of the Red Wings' offense, with or without, putting pucks on net himself.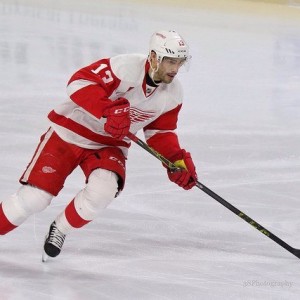 The Red Wings' offense, as a whole, had a lackluster performance, but Datsyuk was the main reason why they managed much of anything.
Starting 2016, Datsyuk was paired with Helm and Tomas Tatar. Replacing Richards with Tatar will surely increase Datsyuk's offensive production even more in the New Year.
Richards is a similar player to Datsyuk, in that they are both playmakers first and shooters second. Tatar provides the goal-scoring prowess that has and will continue to succeed alongside Datsyuk.
Brandon Peleshok— Justin Abdelkader
Abdelkader was the Red Wings' go-to, goal-scoring machine during the month of December. Through 14 games, he registered seven goals and two assists. His production came at a consistent basis, as the 28-year-old Muskegon native only had one multi-point game throughout the entire month.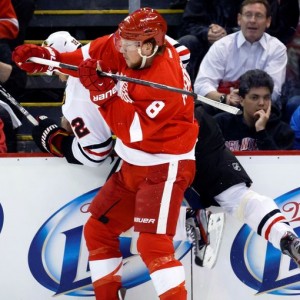 His impact has not been limited to point production, either. The rugged winger led all Detroit players with 36 hits throughout the month. Abdelkader has also filled in, albeit very rarely, on the Red Wings' penalty-killing unit. Though Jeff Blashill has used other forwards in lieu of Abdelkader, the option is always there.
When general manager Ken Holland signed Abdelkader to a seven-year, $29.75 million deal, many Red Wings fan questioned the price tag. In all fairness, the winger was experiencing quite the slump prior to the deal—he finally broke a nine-game pointless streak roughly a week before the deal was signed. However, his production after the deal has been solid, as Abdelkader has generated 14 points through 23 games.
Throughout the majority of the month, Abdelkader skated on a line with Henrik Zetterberg and Dylan Larkin. His main role on the line (and in Detroit) has been as an edgy forward, capable of putting up roughly 40 points a season. Throughout the month of December, however, he was Detroit's most potent goal scorer.
Jacob Messing— Niklas Kronwall
With eight points (1 G, 7 A) in 14 December games, Kronwall's offense has returned. After a rough start to the season, Kronwall has picked himself back up and now has 16 points (2 G, 14 A) in 39 games this season, putting him on pace for 33 on the year.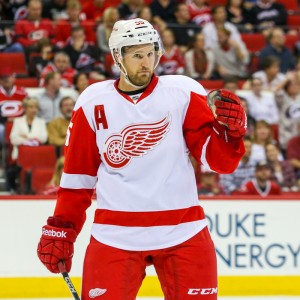 While 33 is a far step down from his 44 from last season and 49 from 2013-14, it's good to see the almost-35-year old pick up offensively. Detroit plays a favorable system for blueliners to get involved in the play and when they can do that successfully, everyone wins.
During December, Kronwall was a meek minus-2 rating, a far-cry from his season rating of minus-11, which further points to his heavy struggles to start the season. One thing Kronwall can do a better job of is generating shots.
A lack of shots has hindered the team all season and Kronwall's mere 36 shots in 39 games does not put him on pace to match his previous two season's totals of 101 and 110, or even the 67 shots he was credited for during the 48-game shortened season.
It's hard to say what hampered Kronwall to start the season—possibly the coaching change, defensive partner swapping, or a plain, old scoring slump—but it seems to be behind him now.
If Kronwall and newcomer Mike Green (2 G, 13 A in 33 GP) each reach the 40-point mark they're capable of reaching, then Detroit's forwards will benefit tremendously and the team could find itself on another 13-game point streak.
Who do you think was Detroit's Standout Player of the Month? Comment below.