Overall, the month of November was an improvement over October for the Detroit Red Wings. Despite developing the habit of giving up leads in the third period, the team finished with a 7-3-3 record for the month, placing them third in the Atlantic Division. The Hockey Writers' Red Wings crew takes a look at the second installment of The Grind Line's Standout Player of the Month:
Tony Wolak – Tomas Tatar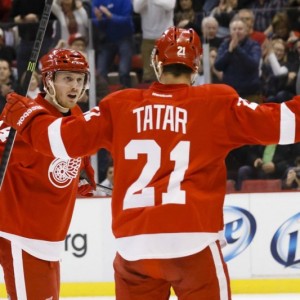 Even after being relegated to the "third line", Tomas Tatar has been the best Red Wings player of November. The soon to be 25-year old Slovak led the team with 10 points and finished second with five goals in November.
Tatar has found chemistry with Gustav Nyquist and Riley Sheahan to form a formidable third line for Jeff Blashill's Red Wings since the return of Pavel Datsyuk. His last two goals of the month, against Boston and Edmonton, were beautiful snipes low blocker and at even strength. It would not be a surprise for Blashill to shake up the lines to maximize the ice time and scoring opportunities for the dangerous Tatar.
Though he could play more at even strength, Tatar has had his fair share of power play time for the Red Wings. Blashill's set up features Tatar at the right half wall of the top umbrella. Even though he is not positioned well for one-timers, the play runs through the opposite side, allowing Tatar to sneak in undetected and pop in passes across, like his lone power play goal of the month against Los Angeles.
Expect Tatar to continue his goal scoring throughout December and put up another 30-goal season for the Red Wings. He will surely be competing with Nyquist and Dylan Larkin for the Red Wings' goal scoring lead.
Jacob Messing — Mike Green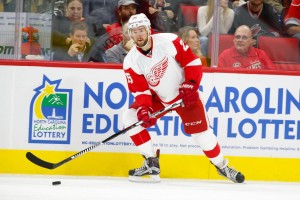 Green had an excellent November. In 12 games, Green worked his name into the score sheet six times for Detroit, including his first goal as a Red Wing.
In his first game back from a shoulder injury, he contributed an assist and looked like the Mike Green of the past, immediately showing why GM Ken Holland signed him to a three-year, $18 million contract this summer.
Over the next 11 games Green added another five points (1 G, 4 A) and brought his season totals up to eight points (1 G, 7 A) through 17 games. His return to an offensive-minded game is important to Detroit, which has struggled to score this season; ranking 27th in shots-per-game in the NHL with an average of 27.
Green has been paired with Niklas Kronwall in recent games, the best defender he has played with since his time with Nicklas Lidstrom. They have shown good chemistry and should benefit from each other with capable defensive and offense push; Kronwall also scored his first goal of the season this month, ending it in overtime against Edmonton on Friday.
If Green can stay healthy from here on and continue his strong play, he will be a solid blue-liner for Detroit.

Brandon Peleshok – Mike Green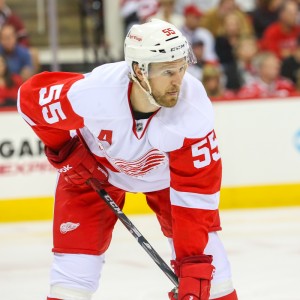 You could make a strong case in selecting Tatar or Larkin as player of the month for the Detroit Red Wings. Each player registered points in the double digits through the 13 games in November. However, my standout player of the month is Mike Green.
When the Detroit Red Wings signed Green during the summer, the belief was that the team finally found the right-handed, offensively gifted defenseman that had eluded the team for years. There were initially some issues with the 30-year-old defender – the entire team, really – adjusting to Jeff Blashill's system. Through seven games during the month of October, Green notched just two assists.
Unfortunately, he sustained an upper-body injury during a 3-2 loss to the Calgary Flames on October 23rd. Some fans began to question Ken Holland's decision to make Green the team's highest paid defender.
The month of November should help to silence some of those critics. Throughout the season, Blashill has mentioned that he wants more offense from his defenders – Green has responded. Through 11 games, he has scored six points. Currently, he is co-leading all Red Wing defensemen in points, along with Niklas Kronwall. More importantly, Green is more far more noticeable than he was at the start of the season. He is joining the rush more frequently, driving the net and making aggressive plays with the puck. I expect Green's point totals to climb even higher as he continues to develop chemistry with his teammates.
I am a writer from Windsor, Ontario who has covered the Detroit Red Wings for The Hockey Writers. I have had the pleasure of doing so since February of 2015. Previously, I have written about Red Wings prospects for Hockey's Future. I am always up for chatting about the Red Wings and hockey in general, so leave me your comment and/or tweets. Follow me on Twitter at @BrandonPeleshok.