Now 30 games into the 2015-16 season, the Detroit Red Wings sit in second place in the Atlantic Division with a 16-8-6 record and 38 points. While their record initially indicates success, those who have followed the Red Wings game-to-game would state that a better record could easily been had.
The first year of a coach's tenure with a team can be difficult at times. The Red Wings and Jeff Blashill certainly experienced a few growing pains. Now, the Red Wings are clicking and are on the verge of becoming a top tier team in the NHL once again. Only a few adjustments are still needed and the Red Wings coverage team for The Hockey Writers examine what Detroit needs to do to establish themselves as a force in the NHL.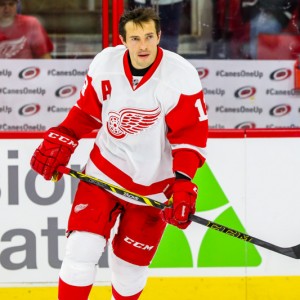 Tony Wolak: Maximize Forward Lines
There's no doubt that the top line of Henrik Zetterberg, Dylan Larkin, and Justin Abdelkader has been carrying the Red Wings this season. The other three lines need to be adjusted to maximize the skill sets of each player and their combined line chemistry.
Pavel Datsyuk is currently skating alongside Brad Richards and Darren Helm. While Helm and Datsyuk have had chemistry in the past, Richards plays a similar game to the Magic Man and could be more useful on another line. Additionally, this line does not have a traditional finisher. Datsyuk can still score, but his abilities are better suited to set others up, especially when considering his offseason ankle surgery and his game not at 100% yet.
[Related: Players the Detroit Red Wings Need to Step Up]
On the "third line" for the Red Wings, Blashill features Tomas Tatar and Gustav Nyquist flanking Riley Sheahan. This can be a dangerous line, but often sees less time than the less-effective second line. Tatar Nyquist are pure goal scorers, but Sheahan hasn't developed into the playmaking center the Red Wings had envisioned…yet.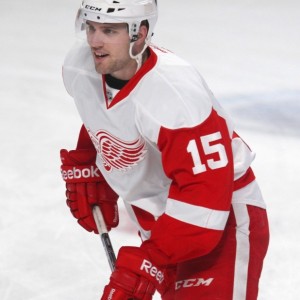 The Red Wings could benefit from shuffling the middle lines in order to maximize abilities. Datsyuk had chemistry with Helm and Tatar last season and could find it again if the three are reunited. Richards' playmaking abilities could boost Nyquist's production on the third line as well. Richards could also help mentor Sheahan, his other wing, and further develop the young forward's skill set. Though the veteran was more of an offensive weapon coming into the NHL, Richards and Sheahan have a lot of similar traits: vision, size, sneaky goal scoring, and pass-first mentality. Finally, Sheahan can settle down and play a simple "piano-mover" game, where he can gain confidence and continue to grow as a player.
If the Red Wings can find the right chemistry among the top three forward lines, they could boast a deep lineup that can match up with any team. The playmaker-piano mover-finisher line style would also allow the Red Wings to shuffle lines in game if particular situations, injuries, or matchup problems arise.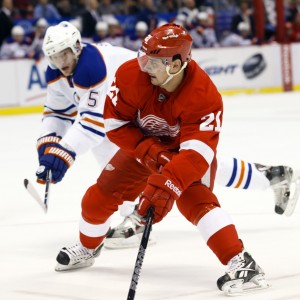 Jacob Messing: Better Player Utilization and Ice-Time Management
I'll use Tomas Tatar as my example. Through 30 games, Tatar is currently tied for second (with Dylan Larkin) for the team lead in points (22). Yet, Tatar is averaging just 15:05 of ice time per game—certainly not reflective of his role versus similar contributors league-wide.
Moreover, Tatar averages less ice time than forwards Pavel Datsyuk, Henrik Zetterberg, Justin Abdelkader, Dylan Larkin, Gustav Nyquist, Riley Sheahan and Brad Richards. Now, Zetterberg is the team leader in points and has earned the 19:22 ATOI he is given and Datsyuk (19:43 ATOI), well he's Datsyuk. The two of them are also very great two-way players and deserve to lead the forwards in ice time in addition to the constant scoring threat they bring when they are on the ice.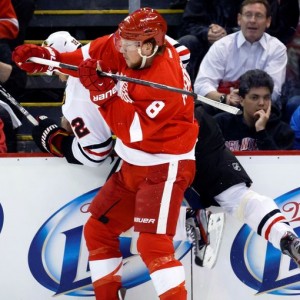 Abdelkader's ice time (17:37 ATOI) is reasonable given the physical game and net-front presence he provides. Nyquist (16:01 ATOI) is tied with Tatar for 11 goals but is two assists shy, leaving him with 20 pts. on the season. Larkin has been a phenomenal player all season long and as a 19 year old, has earned the 16:50 ATOI through his offensive (11 G, 11 A) and defensive (NHL-leading plus-20 rating) play.
Sheahan (15:33 ATOI) averages 27 seconds more than Tatar. That may sound like nit picking, but that is a full shift for some players; Sheahan's six points and minus-7 rating are far behind Tatar's 22 points and minus-2 rating. Richards' ice time (15:10 ATOI) is fair. With six points (1 G, 5 A) through 17 games, the 35-year-old center is beyond his prime and therefore past the 20-minute games he used to play. The problem is that he still plays more than 25-year-old Tatar.
Ice time distribution is reflective of a team's depth, but Tatar isn't a depth player, he is a go-to guy that is on pace for a career high 30 G, 30 A and 60 pts. But if he begins to see an increase in ice time, more minutes should equal more scoring opportunities and more scoring in general, which could put him closer to a 70-pt. season after 82 games.
My argument isn't just for increased ice time for Tatar, but overall better utilization of assets that include Tatar and Nyquist, who are still peaking at the NHL level.
With all of that said, many things do come into play when it comes to ice time: powerplay time, penalty kill time, defensive and offensive capability, conditioning, penalties, etc. If the Red Wings have a game that sees them take 20 penalty minutes, penalty killers like Luke Glendening, Joakim Andersson and such will see a rise in ice time while offensive-minded players sit and wait for even-strength play to resume.
And of course, there are only 60 minutes in a regulation-decided game; not everyone can play 20 minutes.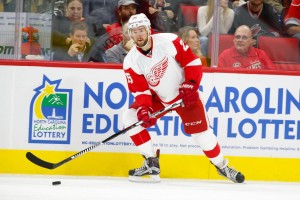 Brandon Peleshok: Defense Needs to Generate More Offense
While the Red Wings are in the midst of a 13-game point streak, there is always room for improvement. In particular, the team needs to work on generating more offensive from its blueline. While Green is scoring at a .50 P/GP clip, some of the Wings' other defenders have regressed offensively since last year. Niklas Kronwall (.43 P/GP) and Danny DeKeyser (.23 P/GP) are both scoring at a rate well below what they did in 2014-15. While Kronwall has seemingly found his scoring touch again – five points in his last six games – it is difficult to imagine DeKeyser's numbers jumping, especially without time on the power play.
As a whole, the Red Wings' defense corps has amassed 48 points, which ranks 20th in the NHL. In addition, Detroit ranks dead last in the NHL with respect to getting the puck on net, generating just 6.23 shots per game. With the Wings using just two defenders on the power play (Kronwall and Green), they will have to find a way to boost the blueline's offense at even strength.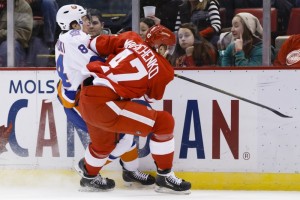 In an ideal world, the Wings should be able to find some offense from their third pairing. Alexey Marchenko has done an admirable job filling in for Kyle Quincey, but he projects as more of a stay-at-home defender. Though Brendan Smith has a physical edge to his game, Jakub Kindl possesses superior offensive ability. Swapping the two might help the Red Wings generate more offense.
Ryan Sproul and Robbie Russo are experiencing offensive success in Grand Rapids right now. Calling up either player would mean waiving another Wings defender, but could also boost scoring. Considering the team's salary cap situation, it is difficult to see Ken Holland pulling the trigger on a trade for an offensive defender. If the team is going to get more offense from their defensive group, the solution is most likely to come internally.
What do you think the Red Wings need to do to reach the next level? Comment below or hit us up on Twitter: @THW_RedWings