If you're looking for a hard-hitting, in-depth #fancystats analysis, best close out of this article now. If you're looking for a scalding hot take about a controversial opinion, you'll be disappointed with what's to follow. Now that we've gotten rid of those people, let's discuss something that's always been a popular topic of conversation when my friends and I are talking hockey. What makes a great hockey name?
It's not one single, solitary characteristic or nationality that makes great hockey names. It's one of those things where it either sounds like a hockey name, or it doesn't.
Ben Lovejoy, Beau Bennett, and Joe Lamb. Do those sound like hockey names to you? Obviously not. How about Nikolai Khabibulin, Yvan Cournoyer, or Pierre-Luc Letourneau-Leblond? Absolutely. There's just something about great hockey names that make them fun to say.
There have been some legendary hockey names over the years that are mostly unknown to the modern hockey fan. There are also the great hockey names of the present that we know very well. So, I compiled complete rosters of what I think are the best hockey names of past and present.
The Past
You'll recognize some of these names as a few are famous, Hall-of-Fame inductees. Others are relatively obscure players that weren't necessarily great, but had great hockey names. First, a look at the forwards (yes, some players are out of position but they're all forwards):
Eddy Beers – Benoit Hogue – Ilkka Sinisalo
Dickie Moore – Bronco Horvath – Punch Broadbent
Dick Duff – Ebbie Goodfellow – Hakan Loob
Murph Chamberlain – Skene Ronan – Mud Bruneteau
Vsevolod Bobrov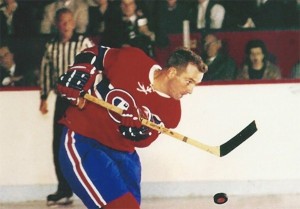 Funny story, my dad actually wanted to name me Ilkka but my mom, predictably, was not having it. As mentioned, there's no common thread between all of these names that makes them great. Some are just strange, and others like Punch Broadbent are just fitting for a hockey player. Even more fitting is that he was known as a rough-and-tumble player.
Would you want to go in the corner with a guy named Murph Chamberlain or Bronco Horvath? Don't think so. Hakan Loob makes the cut solely because of the strangeness of the name. If your last name is Beers, you have to be a fun guy to hang around.
Now, the defense:
Sprague Cleghorn – Dit Clapper
Per Djoos – Fern Flaman
Moose Vasko – Aki Berg
Rocket Power
That first pairing has two Hockey Hall of Fame inductees, and if a Hockey Name Hall of Fame existed, those two would surely make the cut. Of all names on this list, I think Dit Clapper is my favorite. Funny thing is, Clapper's real first name is Aubrey. No surprise he went by another name.
Per Djoos makes the list because it's pronounced exactly the same as "pear juice" and Rocket Power shares the same name as the notable former Nickelodeon TV show.
Tending the nets are…
Vladislav Tretiak
Paddy Moran
Vladislav Tretiak just sounds like an intimidating force in net, and he was exactly that during his illustrious playing career. Paddy a great name for a goalie, but he could also pass for an Irish gangster from the early 20th century. While tending the cage, he was known for being very aggressive with his stick, and unbelievably, spitting tobacco dip spit at opposing attackers near his net.
The Present
The pool to select from for the present team is obviously smaller, but there is no shortage of great names to choose from. The present team has a decidedly more European flavor to it, reflecting the influx of European players that have taken over the NHL over the past few decades.
 Justin Abdelkader – Anze Kopitar – Cal Clutterbuck
Rob Klinkhammer – Valtteri Filppula – Vladimir Tarasenko
Tuomo Ruutu – Zemgus Girgensons – Barclay Goodrow
Kaspars Daugavins – Teuvo Teravainen – Nail Yakupov
Jordin Tootoo
Dit Clapper gets the title for best name between the past and present, but among just present players, the title for best name has to go to Cal Clutterbuck. He and Klinkhammer play the exact type of game you would expect them to based on their names. Yakupov, on the other hand, plays the exact opposite kind of style you would expect for a guy named Nail.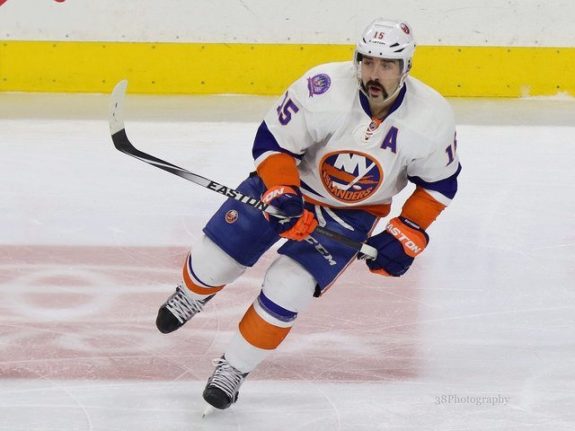 Ruutu and Tootoo give us the first (and only) two instances of assonance in the list.
Dustin Byfuglien – Jyrki Jokipakka
Lubomir Visnovsky – Radko Gudas
Rasmus Ristolainen – Niklas Hjalmarsson
Marek Zidlicky
Byfuglien makes the list partly because I'll take any chance I can get to post this video:
Byfuglien is also the only non-European player on the present team's defensive corps. Rounding out the team in goal are two of the best netminders in the league:
Henrik Lundqvist
Sergei Bobrovsky
The best (or worst) cop on the force backs up the former Vezina Trophy winner, and best goalie in the NHL over the last decade.
That gives us the top 44, rounding out the top 50 are the following honorable mentions: Sergei Krivokrasov, Rico Fata, Normand Rochefort, Ulf Samuelsson, Per Johan (PJ) Axelsson, and Bill Quackenbush.
What are your favorite hockey names of past and present that I missed? Let me know in the comments.
Bill Schoeninger is a Philadelphia Flyers writer and current Boston University student studying business. Coming to THW from Hometown Hockey, Bill follows and writes about the Flyers, Boston University Terriers, and NHL Draft prospects. Follow him on twitter @BSchoeninger17