The Hurricanes/Penguins merry go-round keeps spinning. Ole' JR is heading north to the land of the Penguins.  Not the North Pole, but to beautiful Pittsburgh, home of the Steelers, the Pirates,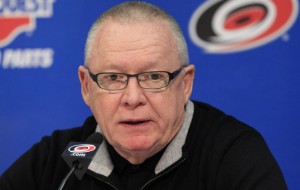 steel, and of course "Sid the Kid."  The Pittsburgh Penguins have named former Carolina Hurricanes general manager, Jim Rutherford their new GM.  After 20 years with the Hurricanes, which included a Stanley Cup win in 2006, and multiple disappointing seasons of late, ole JR is off to his next gig.  We here in Raleigh wish him well.
This hire is intriguing.  A friend of mine in Pittsburgh this morning texted me and said the local media there were talking about a couple of GM candidates, but not mentioning Jim Rutherford.  Surprise! I will admit that I was a bit baffled when I heard that the Pens had interviewed ole JR earlier this week.  One, because he had a sweet deal with the 'Canes – a couple of years with "advisory responsibilities" as he put it at his stepping down press conference.  Two, because he became a minority owner of the 'Canes in 2011.  While the Hurricanes will likely not issue an official statement, a call to the team this morning affirmed that it is "common-sense" that he will need to sell his stake in the 'Canes.
What makes this even more interesting is the Raleigh – Pittsburgh connection that seems to be growing.  As you may recall, Jussi Jokinen was a Hurricanes stalwart before being traded to the Pens.  Brandon Sutter, after signing a hefty contract with Carolina in 2011, was sent north as well.  Jordan Staal joined brother Eric in Raleigh after 6 seasons in Pittsburgh.  Craig Adams went from Raleigh to Chicago to Pittsburgh.  Of course current Hurricanes GM, Ron Francis was a significant player in Pittsburgh before coming to Carolina in 1998. And it could grow even more.
Current Penguins assistant, Jacques Martin interviewed with the Canes this week.  With the position of head coach still vacant, and Ron Francis' self-imposed deadline of "having a head coach in place by the draft" fast approaching, Martin's interview is timely, and possibly just what the 'Canes need to build a playoff-contending team.
With stints in St. Louis, Ottawa, Florida, and Montreal, Martin has a proven track record of head-coaching success in the NHL.  He has over 600 wins, and has led two teams – the Senators and the Habs to the Eastern Conference finals.
Pittsburgh reportedly just fired Dan Bylsma.  Wow, JR, That was fast.!  Might Bylsma be next to interview with Carolina?  I wrote previously that this might be the way it goes down:  Muller out, Pens name a new GM, Bylsma out…We'll see if my crystal ball is accurate.
Dan Bylsma has been fired. #Penguins

— Louis Jean (@LouisJeanTVAS) June 6, 2014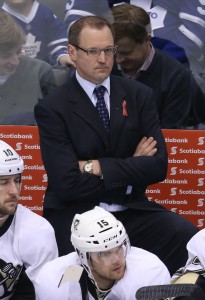 Carolina needs a veteran coach, not a first-timer.  In spite all the disappointment of the past few seasons, 'Canes fans here in Raleigh know that this team doesn't suck.  They are close to being playoff-ready.  They also could be just as close to falling apart at the seams.  The team needs a coach with NHL experience to keep the "core" together, and bring the "young guns" along to realize their full potential.
The reality is that Coach Muller did not have prior head-coaching experience, and was not able to guide this team to consistent performance.  Could Martin?  I think so. Could John Tortorella? I think so, too.  A lot of people like "Ulf" but I just don't think a rookie head coach is what the Hurricanes need.  If the team is serious about moving forward and capitalizing on what is already in place, then a veteran NHL is definitely the route they should take.  3 weeks to the draft.  This will be interesting.
PS: Local radio here in Raleigh reported that the Leafs are "very interested in Eric Staal."  This could really be interesting.