This post appears in our new section called Overtime. It is our home of Long Form journalism on all things hockey & culture. We are now porting over many of our best posts from our old Overtime site as well as publishing new material. If you like this format then please sign up for our free Overtime newsletter. You'll get updates when we add new material to this section.
*****
Social media and the art of branding yourself has been reaching new heights in the world of marketing for some time now. In professional sports, leagues make a lot of money off the backs of their athletes but some players are starting to reap the rewards of putting themselves out there. There are a handful in the NHL who are becoming masters in marketing themselves, paving a new path in a sport where keeping your head down and your mouth shut is the motto.
The NHL's Motto
In the NHL, players with a lot of flash and flair get heat from old school pundits and fans who feel being over the top disrespects the integrity of the game. Some fans like humble players who go about their business quietly and effectively. However, it's no fun when everyone acts the same way and there is always room for characters who aren't afraid to be themselves and it shows with how much attention players who aren't afraid of being themselves get.
The NFL for example is loaded with players who have made headlines for simply being themselves. Rob Gronkowski of the New England Patriots is an unapologetic party boy but he is also one of the best tight ends in football and is very involved in charity work. In the NHL, there are three players specifically who are representing a modern day athlete off the ice.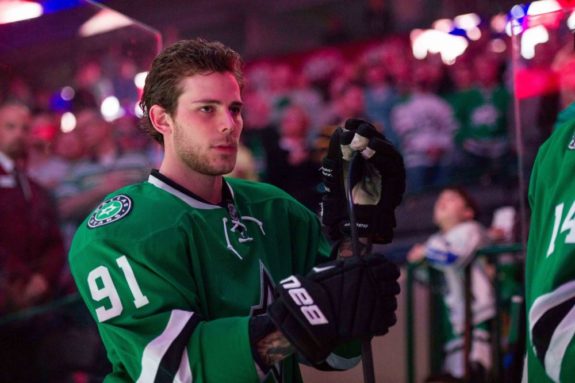 PK Subban
Montreal Canadiens defenceman PK Subban has been a larger than life player before he even stepped foot on NHL ice. From the well tailored suits to the high octane way he plays on the ice, Subban defines flash. With him, it's the bigger the better. In September, Subban made a pledge to donate $10 million dollars over seven years to the Montreal Children's Hospital and is front and centre for Montreal's marketing campaigns.
Being a star player in a big market has made it easier for Subban to get attention but he would have received it even if he was playing in Arizona or Florida. Subban still gets booed in all 29 other rinks around the league but his maturation on and the off the ice has quieted the critics. Subban is not afraid to share his life with the fans and despite his share of detractors, Subban's popularity more than makes up for it.
Tyler Seguin
Tyler Seguin has become a superstar on and off the ice since arriving in Dallas after three seasons in Boston. On the ice, Seguin has paired with Stars captain Jamie Benn to form one of the most dynamic duos in hockey. Both players are talented but Seguin has the edge in putting himself on the map off the ice. Seguin is active on social media and is seemingly popping in more places all the time from the ESPY award shows, ESPN's Body Issue to the movie Goon: Last of the Enforcers.
He has his missteps off the ice such as homophobic tweets coming from his Twitter and the infamous interview alongside Benn on a Dallas radio station where both players made fun of the Sedin twins. However, more young hockey players are starting to come out of Texas due to the presence of the Stars and the influence of former Dallas Star Mike Modano and Seguin has the potential to be one of those influential players. He has become a celebrity off the ice for simply being himself but it's his excellent play on the ice that has opened doors for Seguin in other areas.
Evander Kane
Buffalo Sabres forward Evander Kane has found himself in hot water quite a few times in the media during his first six seasons in the NHL. He loves to speak his mind and has no problem doing so. His best recent quip was about how he asked for a trade out of Winnipeg every offseason he was there. Most players will say they are looking forward to a fresh start and focus on the future. Most will not own up to the fact they demanded a trade for several years but Kane isn't one of those guys.
From the stacks of money held to his ear like a phone, his track suit being thrown in the shower by some of his teammates, to buying a billboard to win back his girlfriend, Kane doesn't do subtle. Like Subban and Seguin, Kane is also active on social media. On the ice though, he has a 30 goal season under his belt but injuries especially have been a hindrance to his career. When Kane is on his game, he is dominant with his combination of size, speed and skill that make him an effective player.
Sabres' Evander Kane is hosting 60 kids from Boys and Girls Club of Buffalo at Dave & Buster's and buying them tickets to Saturday's game.

— John Vogl (@BuffaloVogl) November 6, 2015
Not Just Stars Have the Fun
It's not just star players who have become celebrities. Former Phoenix Coyotes fourth liner Paul Bissonnette is more known for his personality off the ice as opposed to his on-ice skills. His last stint in the NHL was in 2013-14 but his Twitter @BizNasty2point0 has over 650,000 followers. Former New York Ranger bad boy Sean Avery also made a big name for himself despite being one of the biggest pests in the game. He made controversial headlines with his "sloppy seconds" comments and his feud with coach John Tortorella. Other than his hockey career, Avery has had stints in marketing, fashion, modelling and the restaurant business.
However, being a star player has its advantages too. Companies look for athletes who can effectively sell their brand and there aren't too many hockey players with big money endorsements like you see in the other major sports but they exist. Subban has endorsement deals with Hyundai, Samsung and Gatorade. Seguin has sponsorships with Bauer, Under Armour and BioSteel and Kane is also endorsed by Bauer.
Subban, Seguin and Kane have all heard the cries that they need to grow up or keep their mouths shut. Lots of players make mistakes and these situations become pretty pronounced in the world of social media. In Montreal, Subban is arguably the second best player on the team (depending who you ask) and a fan favourite. Seguin is one of top producing stars in the game. Kane is currently hurt in Buffalo but if he can find his game again, Kane has the potential to be a force.
Meet Erik Černák. My Slovakian teammate. #MeetTheReign https://t.co/6li0ZFjNWa

— Paul Bissonnette (@BizNasty2point0) October 14, 2015
Cookie Cutter League
The league has become too much of a cookie cutter league where players are so well trained by public relations staff and their agents that the clichés have become mind numbing. Not every player has a lot to say and others just prefer to play hockey and leave it at that but the ones who have a lot of personality and willingness to put themselves out there is good for the league.
The NHL is a business, but it's the entertainment business too. Subban and Seguin help their teams a lot on the ice with their sublime talent but it's their interactions with fans on social media and otherwise that helps sell tickets and jerseys and put their teams on the map. Teams pay their players a lot of money to win them games and it's a serious business. However, there is more than enough room for fun and if players who aren't afraid to be themselves can help market the game, it's time to loosen up.
I have a Bachelor's Degree in Journalism from Ryerson University. I am a freelance journalist and a Montreal Canadiens writer for The Hockey Writers. I previously wrote for Simcoe.com and Last Word on Sports as well as interned at TSN.