The World Hockey Championship is a tricky tournament to use as a measuring stick. The competition is either watered down, or the opponents are inferior in terms of talent. Unlike the Olympics, most countries don't have their best complement of players. For a team like Canada, however, there is still an embarrassment of riches in terms of skill. Watching a guy lighting it up with All-Star teammates against below NHL-caliber opposition is an easy way to set up disappointment when things get back to normal. But, players still have to play, and still have to perform, and there certainly are high-level teams when you get into the later stages. If nothing else, having a strong tournament is a confidence booster, and a chance to gain a winning experience.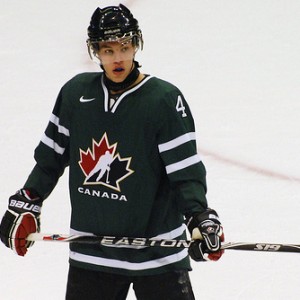 Taylor Hall is having a splendid stint in Russia, scoring six goals and eight points through seven games. He's shown a little bit of chemistry with Oilers teammate Connor McDavid, making Edmonton fans salivate at the prospect of those two lighting it up on a regular line together. Hall won the Gold Medal with Canada last year, scoring seven goals in 10 games. Hall's talent can't be called into question, which is probably why he's seen as the Oilers best trade chip. And while that might be true, I don't see the real benefit in giving up a guy of his caliber. A lot depends on what you get back of course, but that's a trade Edmonton would likely lose.
I've heard it said that it's easier to find good scoring wingers than elite centermen. I agree. But the Oilers have one of those in McDavid. In fact, they may have another one in Leon Draisaitl. Just because wingers are easier to get, it doesn't mean the one you have is expendable, and the only option is to trade him in order to keep all the centermen. Teams search high and low for elite skill on the wing. The Oilers have that in Hall. His detractors will claim that he apparently he has a bad attitude, or doesn't know how to win, or isn't good in the room, or who knows what else. I don't think there's merit to any of that, but it won't stop people from saying it anyway.
Hall came into a terrible situation when he was drafted. It was a losing environment. He wasn't insulated by veteran talent. He was given the mantle of the Oilers leadership before he had properly learned the NHL game. Is Hall the kind of player you build around, or is he a complimentary piece? I'd put him somewhere in the middle. I understand the Oilers have other needs, particularly on defence. But why create a hole to just fill another one? Is Hall sometimes guilty of trying to do too much? Sure, but a lot of players do that. Can he be a little reckless? Maybe, but all that requires is some more seasoning in his game, and I think he's come a long way.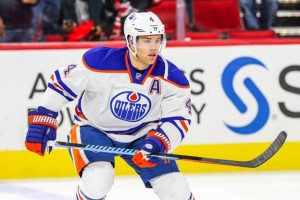 Canada's head coach Bill Peters had this to say about Hall: "He's a dynamic guy and he's one of those guys who you don't want to give quality chances to." Captain Corey Perry had glowing words as well: "He's a guy that puts the puck in the net. You see his speed, you see his creativity and he's not afraid to go the net and that's what you need in a tournament like this." Hall himself is enjoying the experience, but likely hopes this years Worlds is his last for a while. "I want to be in the playoffs. I don't want to be over here every year, to be honest." [National Post]
It's been fun to watch Hall benefit from having strong linemates and makes you wonder how much better he will be when Edmonton improves their lineup. It's an exciting thought, considering how well he's performed so far in his career, playing on generally terrible teams. Since entering the league in the 2010-11 season, he has been the eighth highest scoring left winger in the NHL, while playing the fewest amount of games. His 196 assists over that span is good for fourth among left wingers. Taylor Hall is a top-10 left winger in the league since he was a rookie, despite suffering injuries, not enjoying the benefit of real puck-moving defencemen and constantly being on losing teams.
I don't know about you, but I'd say that's pretty impressive. Some of the names ahead of him include Alex Ovechkin, Jamie Benn, Daniel Sedin and Henrik Zetterberg. That's some elite company. But yet, Hall is often seen as the problem in Edmonton for reasons that are really just speculation and hearsay. Hall has excelled in international competition. Doesn't seem to have any issues when there's a strong leadership structure. Could it be that too much was given too soon? Could it be the Oilers did a poor job of surrounding him? Could it be that expectations are just a little too high considering the team that he's been saddled with?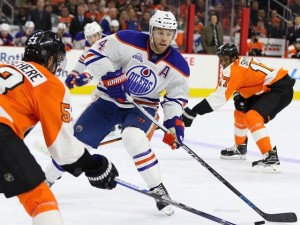 I will say this. If the Oilers trade Taylor Hall they'll live to regret it. They don't have another winger of his caliber to replace him with. The Habs likely aren't moving P.K Subban. The Coyotes aren't giving up Oliver Ekman-Larsson. The Predators aren't trading Ryan Ellis. The guys who are available are not worth a Taylor Hall. Yes, I understand you have to give to get. But creating an unnecessary hole in your lineup isn't the answer. A lot of teams would absolutely love to have a guy like Hall on their team and will gladly take him off the Oilers hands. But what benefit would it be to Edmonton? I can promise you none at all.
Marcy, a former hockey player, is a hockey correspondent on CTV News and TSN radio. She began her career as a Sports Journalist in 2009 and has been part of The Hockey Writers since 2010, where she is currently a senior writer and editor.