The overwhelming consensus is that Sidney Crosby of the Pittsburgh Penguins is the best hockey player in the NHL and maybe world.
The days of it being an ongoing debate between him and Washington Capitals forward Alexander Ovechhkin are long over. But one can't deny that Ovechkin remains the better goal-scorer of the two. And what if you didn't limit yourself to just those two in the discussion, but had the entire league to choose from?
What if you could play Dr. Frankenstein (minus the dug-up body parts, electrocution, rioting, and fire; one must never play with fire) and combine the best attributes of each elite player that has been drafted and/or currently in the league? Here's how it might turn out:
Best Vision in NHL? – Sidney Crosby (Pittsburgh Penguins)
He almost single-handedly made Pittsburgh Penguins linemate Chris Kunitz an Olympian. Who saw that one coming? Probably Sidney Crosby.
Hands – Pavel Datsyuk (Detroit Red Wings): Detroit Red Wings forward Pavel Datsyuk is so dangerous on breakaways the term "Datsyukian" was coined just to describe his level of deking ability. His playmaking ability is also world-renowned.
Speed – Matt Duchene (Colorado Avalanche): There are arguably faster skaters out there than Colorado Avalanche forward Matt Duchene (New York Rangers forward Carl Hagelin comes to mind). Few others are able to combine speed with the same acceleration, agility, and high playing ability.
Shot – Zdeno Chara (Boston Bruins): All due respect to Nashville Predators defenseman Shea Weber, who won the hardest shot competition at this year's All-Star festivities, but Boston Bruins defenseman Zdeno Chara owns the record of 108.8 mph. Weber won with a piddly 108.5. Sure, Chara is getting up there, but his shot was there first.
Accuracy – Steven Stamkos (Tampa Bay Lightning): Tampa Bay Lightning forward Steven Stamkos' one-timer is renowned for its accuracy. Combine it with Chara's hardest shot and you'd get one unstoppable puck. Seeing as a puck off Stamkos' stick laying in wait in the faceoff circle is already considered damn-near lethal, there's just no contest.
Size – Dustin Byfuglien (Winnipeg Jets): While size can be overrated, it's still an asset scouts and general managers drool over and few wear it as well as Winnipeg Jets defenseman Dustin Byfuglien (at least during non-lockout seasons). You might not want to get "Kronwalled" by Detroit Red Wings defenseman Niklas Kronwall, but getting crushed at full speed by Byfuglien's 6'5", 260-pound frame is not an option (not a survivable one anyway).
Demeanor/Poise – Carey Price (Montreal Canadiens)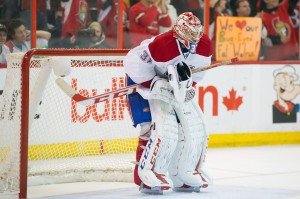 This might be a controversial selection, seeing as up until last season Montreal Canadiens goalie Carey Price had earned a reputation as a choker, someone who let the resulting displeasure of Habs fans get under his skin far too easily… But that's all so 2012.
Last season, he took the outgunned Habs to the third round of the playoffs. Right now, no goalie has faced as many shots (1198) with nearly as high of a save percentage (.932, to lead the league). His play has earned him some Hart Memorial Trophy buzz. It may not come to fruition, but, if he keeps it up, a Vezina Trophy nomination should be in his future… at least.
Defensive Awareness – Patrice Bergeron (Boston Bruins): Boston Bruins forward Patrice Bergeron could theoretically also donate his hand-eye coordination, having been among the league leaders in faceoffs each season going back to 2008-09.
However, seeing as that's also almost true of Montreal Canadiens forward Manny Malhotra, amazingly despite having lost a significant amount of his vision in his left eye, maybe it's more about defensive awareness and being clutch than anything else. Seeing as Bergeron has been a Frank J. Selke Trophy nominee for the past three seasons, he gets the nod over other contenders like Datsyuk and Jonathan Toews.

Leadership – Jonathan Toews (Chicago Blackhawks): Both he and Los Angeles Kings Dustin Brown have both won two Stanley Cups as captains in recent years. However, Toews won his second at just 24 years of age (Brown was 29 last season), hinting at the possibility of more to come. It of course helps he plays for the Blackhawks, but to win championships playing on a good team is kind of a pre-requisite.
Showmanship – Alexander Ovechkin (Washington Capitals): It's almost a toss-up between Ovechkin and Montreal Canadiens defenseman P.K. Subban, both of whom possess larger-than-life personalities, with Ovechkin most recently showcasing his at the All-Star Game.
However, anyone who's watched Canadiens games knows Subban gets booed in almost every away arena, while Ovechkin is almost universally accepted, with people laying down their hard-earned cash to see him in person.
Durability – Patrick Marleau (San Jose Sharks)
Here's an interesting factoid for you, Patrick Marleau has never played fewer than 74 games in an NHL season, including his rookie one (but excluding 2013, when he played in all 48).
It would be easy to give this to the league's current iron man, Anaheim Ducks forward Andrew Cogliano, but add in the fact that Marleau just reached 1,300 games played (Cogliano hasn't even reached half that many), and it becomes a lot harder. Impossible even.
Discipline – Ryan O'Reilly (Colorado Avalanche): Colorado Avalanche forward Ryan O'Reilly had two penalty minutes last season. The one penalty he received? Playing with a broken stick. Opponents had better watch out as he has 10 whole PIM this season. He's on a veritable rampage.
Grit – Brooks Orpik (Washington Capitals): Many people might not like Brooks Orpik as he flies under the radar in terms of what he brings to the table at 34 years of age now. However, what those same people might not realize is that even at 34, with all the wear and tear, it's still a lot (fyi, his rich contract also helps bring stuff to the table).
He's third in the NHL in blocked shots (136; Calgary Flames defenseman Kris Russell is first with 164) and hits with 197 (New York Islanders forward Matt Martin is first with 253). Whatever the vague term "grit" actually means, I'm pretty sure Orpik has it in spades.

Contract – John Tavares – New York Islanders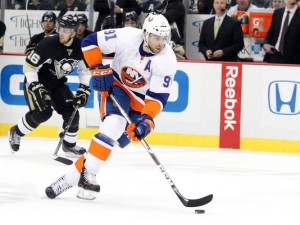 If only Orpik had the contract of one New York Islanders forward John Tavares, then… he would still be grossly overpaid. They actually have the same $5.5 million cap hit, which goes to show just how underpaid the superstar (Tavares, not Orpik, in case that wasn't clear) is.
It at least shows how crazy Capitals management is, to give a defensive defenseman on the downside of his career the same money as arguably a top-five talent in the league. It also shows Islanders general manager Garth Snow's savviness, at least in this particular instance. He still was the one who put pen to paper on the Rick DiPietro deal, after all.
Toughness – Brandon Prust (Montreal Canadiens): If toughness were all about fighting and the ability to intimidate one's opponent, San Jose Sharks forward John Scott might have a shot here (God knows he doesn't have an actual one, as his four career goals will attest to).
However, toughness is also the willingness to drop the gloves and bounce back from injury. While there are certainly a ton of holes in Montreal Canadiens forward Brandon Prust's game, there could just as easily be in his body as well, specifically in regard to a shoulder injury that just won't go away.
The Canadiens as a whole have 15 fighting majors this season. Prust owns 10 of them, oftentimes going up against bigger opponents, which isn't hard considering he's just 6'0" and 194 pounds.
Bottom line: Prust is tough as nails… or dumb as a bag of hammers.
Heart – Dominic Moore (New York Rangers): Every NHL player has heart to a certain degree. They need it to defy the odds and make the NHL in the first place (they also need hearts to live, to be clear). However, as the reigning Bill Masterton Memorial Trophy winner, New York Rangers forward Dominic Moore must be recognized here for his NHL comeback after leaving to care for his ailing wife.
Moore has never been a star, but he's always been a reliable fourth-liner, lacking perhaps the skill to make an impact, but never the, what's the word? Right, heart.
Name – Hayden Hawkey – Montreal Canadiens (prospect): Going off the board a little, Montreal Canadiens goaltending prospect Hayden Hawkey's last name is, well… sound it out. Think about that for a second.
Now, Calgary Flames forward Johnny Gaudreau is looking to trademark "Johnny Hockey" and Gordie Howe has already done the same for his nickname, but Hayden Hawkey is literally Mr. Hawkey. And no one can take that away from him legally speaking.
Non-legally, though, we can. Considering his stats with the Omaha Lancers of the United States Hockey League this year, he likely won't be using it in the NHL anytime soon, thus making it the perfect name for our hybrid NHL player.
Did I miss any qualities you'd like to see in the perfect NHL player? Let me know in the comments section below.