When it comes to Sidney Crosby, I'll be the first to admit that I never really cared for his actions on the ice. I viewed him as a whiner. A complainer. A baby.
To me, he was the Tom Brady of the NHL. Crosby was an undeniably great player that just seemed to always be complaining to the referees when calls didn't go his way. It just became annoying to nearly anyone that wasn't a Pittsburgh Penguins fan. Whether it was a lack of maturity or the fact that he knew he could likely get the calls if he complained enough, there was something that made Crosby always get into the ears of officials.
And though the general opinion among league fans may not have changed greatly regarding "Sid the Kid", I have to admit that it has on my end. Something about the way Crosby has played and acted this year changed my feelings towards the best player in the league.
In the past, Crosby used to be quick to flail to the ice to try and draw a call, or even instigate seemingly without risk of being penalized. This year, Crosby seems to shrug things off much more than ever before, and simply lets his play do the talking. I'm not saying he isn't standing up for himself anymore or getting physical, but it appears to be a lot less between play antics and more in-play actions.
Just by watching his facial expressions and body language on the ice, you can tell that there are times when Crosby just wants to unload on opponents, but he doesn't. Instead, he lets his play do the talking. He either makes an incredible move to set up a scoring chance, executes a perfect back check or something else that makes your jaw drop.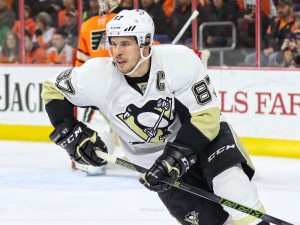 A prime example would be Game 2 of the Stanley Cup Final on Wednesday night when Crosby was getting pummeled with crosschecks by Sharks forward Joe Thornton. Instead of retaliating or complaining to the officials about it, Crosby simply ignored it until the next time he was on the ice against Jumbo Joe. In a one-on-one situation against the former Sharks captain, Crosby cleanly fought Thornton off the puck, leading to a Penguins offensive opportunity. Watching that unfold showed me a side of Crosby I had never seen before.
It wasn't a situation of, "Don't get mad, get even". It was a case of, "Do what you want, I'll just make you look silly when it matters most." And that's what Crosby has done not only in the first two games of the Stanley Cup Final, but throughout the 2016 NHL Playoffs.
Crosby has been both a teammate and coach while on the ice. He's scored goals, assisted on them and even designed plays that led to them. Conor Sheary's game-winning goal in overtime of Game 2 was proof of that.
Crosby told those on the ice with him what he was going to do, and he did it. He also told teammates what to do after he won the draw, and they did it. He won the draw back to defenseman Kris Letang who sent the puck to Sheary whose shot got past Martin Jones to give the Penguins a 2-0 lead in the best-of-seven series.
It's another sign of the brilliance that is Crosby's skill, and you'd be hard pressed to find anyone else in the league that can do that. Maybe Connor McDavid in a few years, but there is no one better in the world right now than number 87.
Crosby is never content with where his game is. He's been in the league for 10 years, and is still improving. He's more of an all-around player than he's ever been, and that comes with the desire to be the best. Why else would someone as great as he is take the ice for an optional skate right before the start of the biggest series of his career?
After Game 2, Letang summed it up in the best way possible.
"Sid, when you look at him, when he came into the league he was seen as a playmaker," he told the media via The Sporting News. "After that he worked on his shot and he was a 50-goal scorer. After that he worked on his draws and now he's over 50-something percent on faceoffs. He works on every detail and that's why we're a successful team."
So whether you're fan of the Penguins or not, it's time to admit that not only is Crosby the best player in the league, but he's the best since Wayne Gretzky. All we as fans can do now is enjoy the ride.