There are a couple of Game 7's to look forward to, and plenty of other news topics to sort through. But today, its the time to talk about the Washington Capitals, and what happened last night.
A bad reputation is difficult to shake. No matter how many good things you do, you'll be defined by the bad things. Fair or not, such is life, especially in sports. Team's that are notorious for losing will never get the benefit of the doubt. They'll always be losers until they're not. Team's that always have success, we tend to assume they'll be there when all is said and done. And if they have a bad year, we're confident they'll rebound. If you go into  a series with the Chicago Blackhawks, for example, you probably won't be favored, even if on paper you have the better team. Every time Bruce Boudreau coaches in a Game 7, people just end up expecting his team will lose.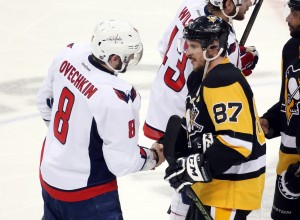 The actual headlines this morning: The Washington Capitals blew it again. Capitals fall flat once again. The Capitals are cursed. Where do the Caps go from here? Reputations can follow you around. And in a culture such as hockey, where postseason success is all that matters, if you don't get it done come playoff time, you aren't legitimate. Again, fair or not, such is the nature of the game. Teams like the San Jose Sharks [Toronto Sun] and St. Louis Blues [National Post] have one more shot to shake their playoff demons, although neither fanbase can feel too comfortable. If they lose, the narrative remains the same: playoff chokers.
2 of the games biggest choke artists do it again, another premature playoff exit for Alex Ovechkin and TJ Oshie #thatsashame

— Nicholas Partain (@Npartainspecial) May 11, 2016
Since Alexander Ovechkin came onto the scene, the Washington Capitals have never made a Conference Final. They have been in the second round plenty of times, but haven't been able to advance. Last night, with their backs against the wall, they very nearly pushed it to Game 7, but fell just short. Again. And now Ovechkin will be labelled the star who can't win, as if he hasn't been already. It's too easy though, isn't it? During his tenure in the league (11 seasons), the Caps have won their division six times, won the President's Trophy twice, and made the playoffs eight times. They weren't just the best team in the league this season, they were dominant.
But the teams that go the furthest in the playoffs aren't just the ones with the most talent. They're the ones that comes together at the right time, the ones that peak at the right time, the ones who have found what works and don't go away from it. Maybe the Caps just didn't have enough fight after cruising for most of the second half of the season. And we have to give credit to the Penguins. They have been a team on a mission. They keep finding ways to win, and it almost felt like they simply wouldn't be denied. They had that "je ne sais quois", and it's what the Capitals did not have, for whatever reason.
Alex Ovechkin is 1 man. When does 1 man win a Cup? A championship is a team effort. Always has been. Always will be. #StanleyCup

— sportsology (@sportsology) May 11, 2016
Alex Ovechkin is the captain. He's the best goal scorer on the team. He's a generational talent who will no doubt be in the hall of fame. But unfortunately, his reputation is one of a guy who can't win the big game. In 2009, the Caps lost in seven games to the Penguins in the second round. They didn't put up much of a fight in that final, as Crosby and the gang walked all over them to advance, and eventually won the Stanley Cup. The following season, well that was the year of Halak, when the President's Trophy winning Caps bowed out to the less-talented Montreal Canadiens in the first round, also in seven games.
The next year they were swept out of the second round by the Tampa Bay Lightning. The lost the following season to the Rangers in the first round, didn't make the playoffs the next year, and then blew a 3-1 series lead to the Rangers in the second round the year after that. It's not a sparkling resume, to be sure. This season, for most of the year, it just seemed as though this was finally it for the Caps. They had no apparent weaknesses. They brought in some experience and leadership, their goaltending was fantastic, and the team bought into Barry Trotz' system to near perfection. So what went wrong?
"Every year, lots of expectations. Lots of great players. There's something we're missing." said Ovechkin. "This group of guys can do better. Can go farther than the second round. I think we have the best goalie in the league. All four lines can play well. We just didn't execute when we had a chance to put the puck in the net". [Yahoo]
I can tell you what didn't go wrong. They didn't give up. It's not that they didn't try hard enough. Ovechkin didn't throw in the towel. He outplayed both his superstar counterparts. Could you imagine if the Pens blew the 3-1 series lead and got eliminated? Sidney Crosby's disappearing act would be the focal point. That's just the way it is with star players. But Ovechkin wasn't the reason the Caps lost. He did all he could. The Penguins found a way to win. Does it mean they are a better team? Not necessarily, but they were a better team when it mattered. The series was extremely close. It really could have gone either way. Unfortunately for the great 8, he was once again on the losing end.
PSA: Alex Ovechkin remains a generational talent who is tremendously talented and not solely responsible for anything.

— Аrpon Basu (@ArponBasu) May 11, 2016
Don't act as if this guy doesn't want to win. Watch his reaction when his teammate scores a big goal. He's almost more excited than when he pots one of his own. Watch his face when his team loses a heartbreaker. It's devastation. People will also point to the fact that his Russian team came out empty-handed at the Olympics twice, and he didn't play well. Sidney Crosby didn't exactly play well in either year, but he has two Gold Medals around his neck. One player can change a game. They can even sometimes change a series, but at the end of the day, hockey is the ultimate team sport.
I feel bad for Alex Ovechkin. To blame him for #Caps loss is silly. No one is to blame. #Pens are a machine and were better. Period.

— Jon Lane (@JonLaneNHL) May 11, 2016
I am far from a fan of the Washington Capitals, and I can't say Alex Ovechkin is among my favored players. But even I can't heap on them right now. The Penguins finally figured it out this season, and it took them half the year to do so. Crosby is a Hart nominee but was a ghost for a few months to start the year. Narratives can change in an instant, just as much as they can hang onto you like a bad smell. The Capitals had a chance to change theirs, but it wasn't meant to be. If this series went to Game 7, and Washington came out victorious, we would be talking about how much Crosby and Malkin let their team down. We would be talking about the coaches decision to start Matt Murray over Marc-Andre Fleury.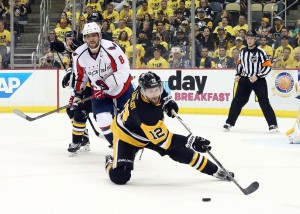 That's just the nature of sports. For as much as we love feel-good stories, we also love negative narratives. They're more fun to write about. They're more interesting to talk about at the water-cooler. The answer for the Caps isn't to blow up the team, and it's certainly not to trade Alex Ovechkin. Only one team can win the Stanley Cup every year. Does that mean 29 others had a failure of a season? Sure, the Caps were the best, and the heavy favorite. But we've learned time and time again that means squat in the playoffs.
If we're going to call hockey a team game, we can't blame one player when things go wrong. The Capitals have a Stanley Cup-worthy team. They just needed to find that magic. I think they will eventually. Ovechkin is too good. The team is too good. The more they experience the sting of losing, the more hungry it should make them. But for now, the narratives will follow them around for at least one more season: The Caps blew it again. Ovechkin still can't win the big game. They choked. Yes its all too easy to pile on. It takes a little more effort to understand how difficult it is to win in pro sports. I will remember them for being far and away the best team over 82 games, rather than the one that fell short to an extremely worthy opponent over six.
Marcy, a former hockey player, is a hockey correspondent on CTV News and TSN radio. She began her career as a Sports Journalist in 2009 and has been part of The Hockey Writers since 2010, where she is currently a senior writer and editor.