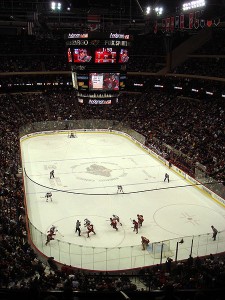 For three days in the month of June, various Minnesota Wild players, prospects, and personnel will be visiting 18 Minnesota towns. While 18 cities is certainly more than last year's Wells Fargo Road Tour of 3 towns, it still barely scratches the surface of the 517 rinks in the state.
The Wild will roll into very Minnesota towns like Duluth, International Falls, Warroad, Eveleth, Grand Rapids, Moorhead, and Thief River Falls; hockey towns known for their high school State Hockey Tournament appearances and titles. And the crowds will gather and greet them with love; enthusiastic kids begging for autographs and telling their hockey idols that they want to be just like them someday. Parents will drive for miles for their little Mite. People will abandon fishing boats for a chance to shake hands with their favorite Wild player.
No doubt, Minnesotan's would prefer to see a big parade through the streets of St. Paul. They'd rather head to Matt Cullen's hometown of Moorhead (yes, he was a Spud) for his day with the Cup. Autographs would certainly be in high demand were a Stanley Cup thrown into the mix. And this little road tour would explode into the event of the century.
But this is Minnesota. And despite what you may or may not think, we're not all about the flash. Here, players work on the dirty goals. Here, hard work, not hot shots are rewarded.
That's why this little tour is more important than ever. More meaningful than a Stanley Cup Parade down Kellogg. Because right now, fans need to see the Wells Fargo Wagon (video below) pull into their town and deliver good news. Hope for the coming season. They need a smiling Charlie Coyle and happy Jason Zucker – the possible future of the Wild – to show up with smiles and a sign of good things to come.
And in all honesty, the Wild need to see the people of this State. To be reminded of the support. To be held accountable for their plus/minus minutes and score sheets. To be part of Minnesota youth hockey and the players it produces. To be part of the State of Hockey.