Ch-Ch-Ch-Changes are coming in the Windy City. Whether or not the Chicago Blackhawks continue to be successful remains to be seen — but so far, so good at 6-3-1 and tied for first in the Central Division  — yet this team is quite different from what it used to look like last year, the year before that, and especially the prior years. Over the six years since this era of Blackhawks won their first Stanley Cup in 2010 up until their third in six seasons in 2015, we've watched them deal away — or let walk via free agency — many prominent players including: Andrew Ladd, Dustin Byfuglien, Brian Campbell, Antti Niemi, Patrick Sharp, Kris Versteeg, Troy Brouwer, Brandon Saad, Nick Leddy, Johnny Oduya, Brad Richards, Teuvo Teravainen and Andrew Shaw.
Bowman's in Charge
Chicago general manager Stan Bowman has been phenomenal (for the most part) in his ability to retool and replenish his roster with savvy moves, like prying Artem Anisimov from Columbus in the Saad trade or signing KHL free agent Artemi Panarin aka the BreadMan – who has quickly become lethal alongside Patrick Kane; Panarin has 87 points in 90 career NHL games. This season's find has been Richard Panik with his ten points through the first ten games, one more point than he had in 30 games with the Hawks last season. For every Panik and Panarin though, there has been a myriad of moves for players that haven't worked out like Jimmy Hayes, Christian Ehrhoff, Jiri Sekac and Brandon Pirri.
That was a very enjoyable empty net goal. Thank you, #BreadMan. pic.twitter.com/qeDJrxRuRO

— Chicago Blackhawks (@NHLBlackhawks) November 2, 2016
The West is ultra-competitive already this season and if the Blackhawks slump a bit too much, they could find themselves in a dogfight just to qualify for a playoff spot in one of the most competitive divisions in the league. One of the biggest questions that are challenging the club this season is can players like Tyler Motte, Ryan Hartman, Nick Schmaltz, Dennis Rasmussen, Gustav Forsling and Michal Kempny step up and take their game to the next level as a supporting cast for the big guns?
https://twitter.com/myregularface/status/793646023847579648
Same Colors, New Logo, Same Tootoo
One of the offseason additions brought in from the outside was the return of Campbell (who was on the 2010 Cup team) on defense, and up front, they added Jordin Tootoo for grit and toughness on their fourth line. "It's a privilege to be playing in the NHL and this year I get to another chance to play," he told The Hockey Writers following his return to New Jersey which was his hockey home for two years. "This was an opportunity I couldn't pass up, it's been a good fit and I've enjoyed it a lot."
http://gty.im/618913846
Tootoo also told THW that he didn't worry too much about where he would sign once it was apparent the New Jersey Devils wouldn't be bringing him back for a third season — he had other things on his mind. "I didn't really think about it. My wife had just given birth to our little girl, so I was really focused on enjoying that and it kind of took my mind off the game for a little while. She's healthy, we're happy and it's been great," he added with a proud grin. "This came up (with Chicago) and like I said it was an opportunity that I couldn't pass up."
"I had two great years (in New Jersey) that kind of rejuvenated my career and I always enjoyed coming to the Rock, playing in front of these fans," Tootoo said in a message to the Devils' fan base. "There's a lot of history here and just to be a part of the organization was a huge honor. I had some great memories here and a lot of good friendships (made)."
Like a Hoss
One of five players on the current roster to be a member of all three Chicago Cup champions, 37-year-old Marian Hossa is nearing the end of his Hall-of-Fame career, but he isn't quite finished yet. "We have lots of new guys and at the start of the season it's taken awhile for everyone to sync together," said Hossa who scored the tying goal in the Blackhawks 3-2 overtime win in New Jersey, their first road win of the season. "I think we are on the right path and it's going to maybe be a little bit rocky in the beginning, but I think when the season picks up toward the middle everyone will be on the same page."
Marian Hossa became the 44th player in NHL history to reach the 500 goal plateau with this marker vs. Philadelphia:
Hossa's career has almost seemed like two lifetimes: one in which he played with Ottawa and Atlanta before being on the losing end of the Stanley Cup Final in back-to-back seasons, and the second in which he racked up three championship rings with the Hawks while (recently) surpassing 500 career goals and 1000 career points. "To tell you the truth in the summer I didn't really think about it," the Slovakian sniper responded when THW asked him about sitting on 499 goals when the season started.
"I just did my thing in the offseason, working out and as soon as the season started everybody was talking about it," he said with a grin referring to when he reported to training camp. "I got it in game four (of the season) and now I don't have to worry about it anymore."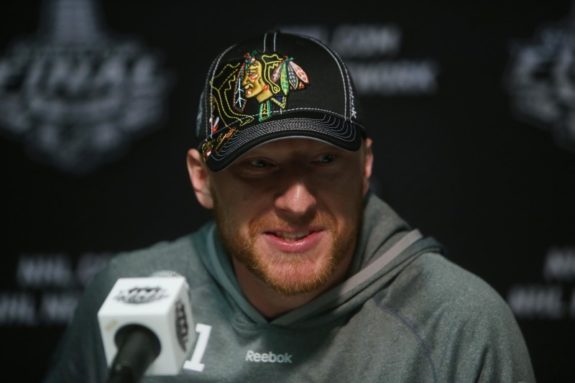 Though the style of the league has evolved throughout his lengthy career, he still has remained an effective player for the Hawks – especially in the postseason (73 points in 103 playoff games with Chicago).
"The league has changed so much since I was a kid and came to the league," Hossa said, "(now) you see lots of young, really young kids, joining the league and there are not as many older guys as there were before. There were a lot of older guys playing when there was hacking-and-whacking; now it's a different style (in the NHL)."