The St. Louis Blues are celebrating their 50 years as a franchise, which is great. It's something to be proud of. But it isn't a Stanley Cup. It isn't something that solidifies them in NHL history for their greatness.
Over the past few seasons, the Blues have struggled, which isn't a hidden fact. They haven't been able to get it together for whatever reason and seem to always fall short. This year, however, could be different.
St. Louis looks to have all the right pieces in place to do something great.
Scoring Throughout the Lineup
The Blues have often been criticized for their lack of depth scoring, which is a fair critique considering the bulk of their offense came from the sticks of a few players.
This year, though, they have managed to continue seeing production from players like Vladimir Tarasenko and Alexander Steen, but also from Nail Yakupov and Patrik Berglund.
That depth production makes the team an offensive threat and reduces the pressure top-six forwards feel to produce every game.
St. Louis' notable defensive style of play also makes their contributions from depth players impressive. For at team that finished last season averaging 2.67 goals per game, any production is helpful. Their scoring put St. Louis middle of the league last year, but their defense allowed them to be the second best Central Division team.
Biggest Division Threats are Struggling
Both the Dallas Stars and Chicago Blackhawks have not had the start to the season they hoped for. Dallas has been bitten by a rather severe injury bug that has severely limited their options up front and Chicago has struggled to find any sort of consistency in their game.
That is a bright spot for the Blues because the Stars and Blackhawks were the greatest competition for the Central Division title last season. They were the teams to beat. Now, however, they look like mere imitations of the teams they have been in the past, while the Blues are continuing to streak upwards.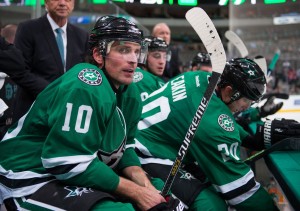 Dallas' and Chicago's struggles aren't something to focus on, though, because they will turn it around. The Stars' forwards will regain their health and Dallas will return to a strong offensive team in the league. The Blackhawks will find some sort of consistency in their game and will get back to above .500.
For now, though, St. Louis should bask in the glory of being a truly competitive team in the Central Division. They have to take advantage of earning points when they can if they hope to take advantage of their lack of an early season slump.
Jake Allen
Goaltending for the Blues was quite up in the air heading into the 2016-17 season. Jake Allen was about to embark on his first year as a solidified starter in the NHL, which is no easy feat. Thus far, though, No. 34 has managed to hold his ground.
Allen has proved his calming presence in the crease for St. Louis, which is impacting the rest of their game. When a goaltender is calm, he is able to make simple saves as well as big ones. That confidence is contagious and makes the rest of the team better.
Conversely, when a goaltender is frazzled, he is struggling to make rudimentary saves and seemingly has little chance of stopping anything difficult. That nervous energy is also contagious and can cause concern for offensive players. That, in turn, leads to more aggressive and risky moves to score and compensate for the uneasiness in net. From there, the team is disheveled and unable to find a balance they need to win.
Allen is still a young goaltender and he will have off nights. That's going to happen, but his ability to bounce back from less than impressive games is what's really going to make St. Louis more competitive this year than in years past.
---
Complete Blues Coverage From THW
---
Moving Forward
The future is uncertain, especially in the NHL. There's no telling what is going to happen, but the Blues seem to be in a good place to achieve success. They have all the right pieces, so it's really just about making everything come together.