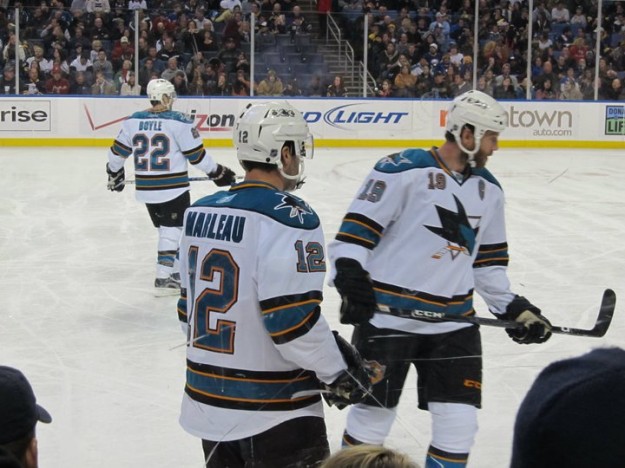 Joe Thornton already had a three-year contract extension with the San Jose Sharks worked out, but there was just one problem: Patrick Marleau hadn't yet agreed to his extension.
That's how badly Thornton wanted to stay in San Jose, and more importantly, play with Marleau. Only when Marleau came to terms last Friday with the Sharks on his own three-year extension worth $6.66 million per year did Thornton sign on the dotted line.
It's almost as if the duo was meant to spend the vast majority of their careers playing alongside each other. In fact, their began their journey  in the NHL literally right next to each other; Thornton was selected first overall by the Bruins in the 1997 draft, and the Sharks snagged Marleau with the second pick.
Their playing styles complement each other as well: Thornton with his pinpoint passing and uncanny ability to create scoring chances for his teammates out of nowhere (leads the league in assists this season), and Marleau with his speed and offensive prowess. It is certainly no surprise that Thornton is the all-time franchise leader in assists, and Marleau holds the franchise record for goals, power play goals, and shots on goal.
And you can bet that a countless number of Marleau's goals have been set up by Thornton. It is no coincidence that Marleau's goal production has increased since Thornton was traded to the Sharks during the 2004-2005 season. Before playing with Thornton, Marleau had never eclipsed 30 goals in seven seasons. Since the Thornton trade, Marleau has scored 30 or more goals in six of the last seven non-lockout-shortened seasons. This season, he already has 22 goals through 52 games, and is on pace for 34 goals.
While Thornton and Marleau have found themselves on different lines this season (with the exception of the power play), their insistence on signing together and staying together show that they understand how important they are to the Sharks' imminent and future success.
"If [Thornton] wasn't going to re-sign here, there's probably a good chance I wouldn't have re-signed here, as well. It's one of those things where we enjoy playing on the same team, we enjoy playing with each other, and we want to win together," Marleau told Kevin Kurz of CSN California. "I think that's the way we feel, and the way we look at each other."
Thornton echoed the same thought.
"We wanted to stay here together, and sign together," he said. "It's important that we both stay. We both feel like we have a shot to win every year, and I think that's the most important thing. We both really believe in this group of guys, and we want to stay around to see us win a Stanley Cup here."
Both Thornton and Marleau are 34 years of age, and have shown no signs of wear and tear. Thornton has a good chance to make the Hall of Fame when he retires, and Marleau will certainly be in the discussion to be enshrined in hockey lore.
However, they both lack one thing that will certainly bolster their potential entrance into the hall: a Stanley Cup. The final and perhaps most compelling similarity between Thornton and Marleau is that they are both still chasing that elusive ring — the silverware that will cement their status as the two greatest players ever to don a Sharks uniform.
They have three more years to get it done.
Check out our partners at TiqIQ for the best deals on San Jose Sharks tickets for all 2013-14 games.