As the NHL crosses the season's midpoint, it's time to hand out some midesason NHL awards, including the Jack Adams, Vezina, Calder, Norris and Hart trophies.
Jack Adams: Bruce Boudreau
Ok. Laugh. Get it out of your system. This isn't parody.
Bruce Boudreau was handed a roster that was considered to be a serious Stanley Cup contender. Then… well, I don't know that we really know what happened. Something happened. The Ducks were terrible. They were at the bottom of the NHL, they were scoring the fewest goals per game and star players like Corey Perry, Ryan Getzlaf, Ryan Kessler and Jakob Silfverberg weren't contributing offensively.
It was an unmitigated disaster that threw their odds of making the playoffs into question.
Now they're back in the mix of things and it's not because their stars stormed back at breakneck pace. What deserves a lot of credit here is Boudreau. His seat was warming for a bit, but Bob Murray standing by Boudreau has paid off.
They're still scoring the fewest goals per game at 1.88 (New Jersey is next worst at 2.21), but they've closed the door defensively. Boudreau is coaching them out of the hole. They've changed their style, locking up the neutral zone and keeping the puck on the outside of the defensive zone. As Ryan Kesler told the LA Times, "We've found our identity. I think with this team it starts with defense first."
Other teams have taken note as well. "It was extreme, the biggest trap we've seen all year," said Flames defenseman Mark Giordano after playing the Ducks.
In the 16 games since November 30, the Ducks have scored three or more goals just four times. They're averaging 1.81 goals per game in that stretch. But they've also given up just 1.94 goals per game. They're 9-5-2 in those 16 games and that's impressive. Yes, goaltending has been good, but the system gets credit here too. In that time, no team has allowed fewer shots to opponents, giving up just 22.9 shots per 60 minutes of even strength play.
RUNNERS UP: Mike Babcock (TOR), Gerard Gallant (FLA)
The most surprising thing about the Calder Trophy race so far is how far Connor McDavid and Jack Eichel are from this conversation.
Nonetheless, Larkin is the obvious pick here. Panarin has had a great season season and his age shouldn't be held against him (Panarin is 24, older than Ryan Johansen), but Larkin has been special. His ability to shape games at 19 is worthy of note. He's shown skill defensively and his offensive prowess was immediately clear.
At the halfway point of the season, Panarin was up nine points on Larkin, which is significant, but Larkin's league-leading plus/minus and his 34.81% Goals For Percentage Relative are immensely impressive for a skater of any age.
As an aside, I'm giving honorable mention to Anaheim's John Gibson and Winnipeg's Connor Hellebuyck, both of whom took the reins for their team after starting the season in the AHL. If they maintain their spot as a starter, they'll enter this conversation very quickly.
RUNNERS UP: Artemi Panarin, Max Domi
Koivu's season is going unnoticed, but that's frequently what happens to a defensive-minded forward. Koivu has more even strength points than either Bergeron or Toews and has had a massive impact on the Wild's franchise-best start to the season.
His CF%Rel is 6.35% (meaning the team has a much better shot attempt differential with him on the ice than when he's off). The Wild is posting a CF% of 47.02% when Koivu is off the ice. When he's on? 53.37%.
Opponents are taking just 47.87 shot attempts against the Wild per 60 minutes of even strength play when Koivu is on the ice. That's fantastic for a player logging the kind of minutes he logs. That's better than Bergeron (51.62) and Toews (50.35), who are likely the league's two best defensive forwards.
Koivu started the season with a steady line, but has been juggling wingers for a while and has repeatedly adapted smoothly, maintaining an ability to suppress shots no matter who his linemates are. He deserves some recognition for what is an unexpected bounce back from last year, both offensively and defensively.
RUNNERS UP: Patrice Bergeron, Jonathan Toews
No goaltender has been more impressive than Holtby this season. His league-leading 27 wins is four ahead of the next closest goaltender and he hasn't even played the most games in the league.
He has the NHL's best save percentage among goaltenders who have played at least 19 games. Most impressive of all? He hasn't lost a game in regulation since November 10 with a record of 19-0-2 in his last 22 games. No wonder the Capitals have the NHL's best record.
RUNNERS UP: Roberto Luongo, Cory Schneider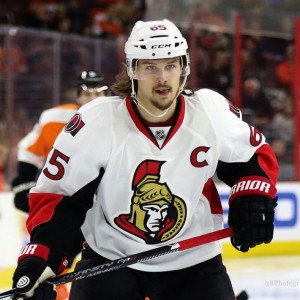 With 45 points in 43 games, Karlsson is having a remarkable season. He's second in the NHL in assists and fourth in points, with both marks pacing all defensemen. He's second in power play points among defenseman as Ottawa's pilot, sixth in shots and is logging the most ice time of any defender in the league.
When Ottawa goes to 3-on-3, Karlsson is playing an insane number of minutes. His defensive ability gets knocked, but he's playing shorthanded time despite being on the ice for over 80% of the team's power play time this season. He's taking on an immense load as an elite defender on a team that's struggling with defensive depth.
RUNNERS UP: Ryan Suter, Drew Doughty
Hart Trophy: Braden Holtby
Yes, Patrick Kane has been fantastic and put up a record-breaking point streak. Jamie Benn's scoring ability and well-rounded game are the envy of 29 GMs. Yes.
The case for Holtby is a bit like the case for Price last year, in that remembering the description of the award is important. The Hart Trophy is awarded to the "player judged most valuable to his team." The Capitals' record is built on Holtby's back. This is the season he breaks out as one of the best goaltenders in the NHL.
RUNNERS UP: Patrick Kane, Jamie Benn
Advanced stats via War on Ice. All Corsi numbers are score-adjusted.
RELATED: The 10 Biggest All-Star Game Snubs