We've all heard the narrative before. Numerous times.
The Kings — a low-seeded team entering the playoffs both times they won the Cup — got lucky at the right time, said the skeptics. They couldn't score, goalie Jonathan Quick was beatable and everything just came together in the playoffs when defense, tight checking and opportunistic bounces play big roles. Los Angeles got plenty of credit for playing superior defense, Quick raising his level of play and taking advantage of the intangibles, but they really weren't a "great" team.
Whether or not that's true is irrelevant, as it's ancient history at this point. What is important to note is that very methodically, general manager Dean Lombardi has put together a team that might well fit the traditional definition of a great team. Yes, their 26-12-3 record at the halfway point obviously supports the theme, but let's take a deeper look.
The Kings are stronger than ever before at forward
By the time the 2011-12 playoffs arrived, Los Angeles' top six forwards were Anze Kopitar, Justin Williams, Dustin Brown, Jeff Carter, Mike Richards and Dustin Penner. Penner had a poor regular season and Richards wasn't as productive as during his Philadelphia years, but the rest were at or near the top of their game. In 2013-14, Penner was gone and Gaborik had arrived via a trade with Columbus at the deadline, but otherwise the top-six were identical at the end of the regular season.
Fast forward to the present. The Kings still have Kopitar, Carter and Gaborik on the top two lines, but the mix now includes bruising forward Milan Lucic, sniper Tyler Toffoli and speedy winger Tanner Pearson. Venerable captain Dustin Brown plays mostly on the third line with the versatile Trevor Lewis and banger Dwight King. Still-relevant center Vincent Lecavalier, who was recently acquired for rookie forward Jordan Weal and a third-round pick, is on the fourth line.
Tyler Toffoli skates primarily on the top line with Kopitar and Lucic. Pearson, Carter and Gaborik are the most common second line mix, with the infamous 'That's 70s Line' pairing of Carter, Toffoli and Pearson occasionally making an appearance.
Assuming they make the playoffs (and to that end, the odds are overwhelming that they will), the Kings will certainly miss "Mr. Game 7" Justin Williams as well as Jarret Stoll's skills at the faceoff dot. That being said, they currently possess arguably the most talented group of forwards at or near their peak than any other year in Lombardi's tenure.
As much as the offense has improved, the defense is deeper still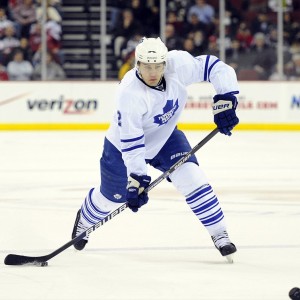 Back in 2011-12, Drew Doughty, Willie Mitchell, Slava Voynov, Matt Greene, Alec Martinez and Rob Scuderi received the lion's share of ice time on defense when the playoffs began. Two seasons later, Jake Muzzin had earned a full-time role, displacing the departed Scuderi.
This year, Doughty, Muzzin and Martinez (Greene is on long-term injured reserve) have been augmented with a mix-and-match combination of Christian Ehrhoff, Jamie McBain, Brayden McNabb and Luke Schenn, who was obtained as part of the Lecavalier trade.
Kings fans miss Mitchell and Scuderi, two valuable pieces of the puzzle when they played in Los Angeles. However, there is more depth at the back end now than ever before.
The numbers back it all up
In addition to their record (good for 1st in the Pacific as well as the sixth best winning percentage in the league), the Kings have it going on when it comes to a number of key statistics:
-Goals for/game: 2.59 (16)
-Goals allowed/game: 2.15 (T2)
-Scoring differential: +.44 (4)
-Power play: 19.2% (11)
-Penalty kill: 81.8% (11)
-Shots for/game: 31.2 (1)
-Shots allowed/game: 28.3 (7)
-Hits: 1,171 (4)
-Corsi for %: 56.2% (1)
-Fenwick for % 55.9% (1)
Missing above is blocked shots, where Los Angeles is traditionally not among the leaders, along with faceoff percentage, which has suffered due to the loss of Stoll. Regardless, the Kings are eleventh or higher in all the above key statistics except for goals scored.
For those who believe the team's offense remains sub-par, think again: the Kings play a defense-first system and their ranking this year is far above what it was in 2011-12 (29th) and 2013-14 (26th).
Summing things up
Just because the Kings are leading their division and played great hockey in the first half of the season doesn't mean they'll win another Cup this year. There's an entire half-season still to be played, with plenty of stories yet to be written. As it stands right now, Vegas gives Los Angeles 15/2 odds to win it all, third best in the league behind the Dallas Stars and Washington Capitals.
Whether or not the Kings are a great team this year is yet to be seen. Unless you're already a fan of the team, though, one thing is clear: the Los Angeles Kings are better than you think.
Comments? Leave your thoughts below, or send a message to McLaughlinWalt.