Much like outstanding player nicknames, hockey history is filled with some terrific forward line names.
Who hasn't heard of the 'Legion of Doom' trio of Eric Lindros, John LeClair and Mikael Renberg? For older fans, how about the 'French Connection' of Rick Martin, Gilbert Perrault, and Rene Robert? Let's not forget the Kings' very own 'Triple Crown Line' of Marcel Dionne, Charlie Simmer and Dave Taylor.
Move over, yesterday's news. Jeff Carter, Tanner Pearson and Tyler Toffoli — 'That 70s Line' for short — is emerging as an early-season success story for the Los Angeles Kings.
'That 70s Line' was born during last year's playoffs
'That 70s Line' has a very short history, having been put together during last year's playoffs. The nickname was coined due to the jersey numbers of the three players: Carter is #77, Toffoli #73 and Pearson #70.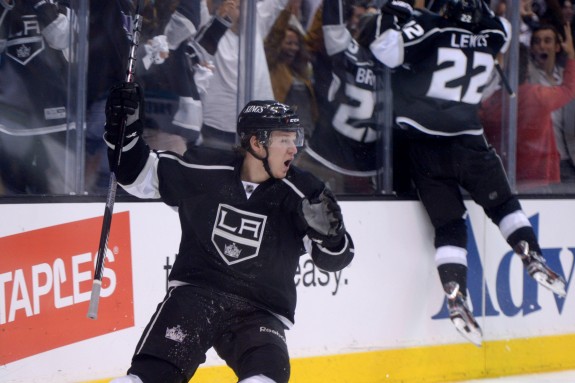 Carter had a solid 2013-14 regular season, scoring 27 goals. Toffoli played in 62 games and gradually worked his way into a consistent role, scoring 12 goals. Pearson was a late-season call-up, playing in just 25 games and registering three goals and four assists. As the proven veteran, Carter was poised to lead the two youngsters, both still raw but with loads of talent and developing rapidly as the season progressed.
On paper, it made a certain amount of sense, as all three had size (6'0″ or taller, with Carter topping out at 6'4″ and 212 pounds), speed, and showed the type of commitment to forechecking and puck possession that head coach Darryl Sutter's system demanded.
With Pearson the playmaker, Toffoli the sniper on the wing and Carter the big body in the middle, the stage was set. Hitting their stride quickly, the three combined for 51 points in 26 playoff games during the Kings' 2014 Stanley Cup run.
The trio have picked up right where they left off
Last year's results were impressive, but achieved over a small sample size of games. Whether or not 'That 70s Line' can continue to produce at a high level remains to be seen.
So far, so good. Tanner Pearson leads the Kings in goals (4) and points (6), with Jeff Carter (three goals, two assists) and Tyler Toffoli (two goals, three assists) second and third. The three also lead the team in +/- (+6, +8 and +8, respectively) by a country mile. There's little doubt Anze Kopitar, Justin Williams, Marian Gaborik (when healthy again) Dustin Brown and the other key offensive players will pick up their pace, but for now, 'That 70s Line' has led the team to a 3-1-1 record.
How have they done it?
Carter, Toffoli and Pearson discuss their unique chemistry
The NHL Network's Steve Mears interviewed the three players a few months ago. Jeff Carter cited the line's speed and ability to keep things simple as the key to their success. As for the nickname, Toffoli shrugged modestly, appreciating that it has a ring to it from the fans' perspective. The entire interview can be seen here.
Amusingly, 'That 70s Line' is even becoming a bit of a cultural phenomenon:
Here's @SNHockeyCentral on @FAN590 using #That70sLine https://t.co/BokYhNCmB3

Yup. It's even a thing in Canada.

— All The Kings Men (@KingsMenPodcast) October 14, 2014
Darryl Sutter's take
Although normally a man of few words, Sutter was effusive in his praise for the newly-minted line:
If you've looked at the goals they've scored lately – obviously Tyler's goal last night is a highlight goal. But Tanner's is in the blue paint. Jeff's is three guys working down low. The goals they scored the [game] before, they're rebounds, tap-ins. You've got to pay the price to score goals or get opportunities, and right now they're doing a real good job of that and they're being rewarded."
The future of the Carter-Toffoli-Pearson line
The Kings have won three straight games, the last being a 1-0 shootout victory over the St. Louis Blues. The entire offense was kept off the scoreboard in that game, including the Carter-Toffoli-Pearson line. The threesome may have been momentarily cooled off, but look to continue their strong start this weekend against the Wild.
That being said, Sutter mixes and matches his lines as much as any head coach in the league, and never hesitates to shake things up as he sees fit. Regardless, for Kings fans and the NHL in general, it's exciting to see three players catch fire, playing with palpable energy and chemistry. It's exactly the charge of electricity Los Angeles needs to help sidestep the Stanley Cup hangover.
'That 70s Line' may have had its name inspired by a ho-hum former television sitcom, but it's been anything but mediocre for the Los Angeles Kings.
Walter McLaughlin is a Los Angeles Kings correspondent for The Hockey Writers. He is an avid sports fan, having followed the Kings since living in L.A. in the mid-1970's, as well as suffering through Seattle sports teams' general futility. He has a Bachelor's degree in Finance and has worked in community banking for over 25 years, specializing in SBA loans. He is married and has two daughters.