Nicknames stick to people, and the most ridiculous are the most adhesive — Thomas Chandler Haliburton
A little over a year ago, I wrote a piece listing what I believed to be the five funniest nicknames in the NHL. The winners were "Mule" (Johan Franzen), "Pancakes" (Dustin Penner), "Three-or-More" (Jose Theodore), "The Little Ball of Hate" (Brad Marchand) and "Gorilla Salad" (Daniel Carcillo).
Those are pretty great nicknames, especially the last three. Even President Obama acknowledged as much with respect to Brad Marchand:
Nicknames and hockey history
Nicknames are a time-honored part of hockey tradition. Everybody on planet Earth knows the identity of "The Great One". Likewise, "The Golden Jet", "Rocket" and "The Dominator" are practically household nicknames as well.
But there are plenty of lesser-known monikers that are sure to tickle the funny bone. The five nicknames that made the final cut of my previous article were all current players; since I've used them already, they've been excluded them from consideration. Give that the NHL has been around for a million years (ok, about a hundred), there are a million additional choices from which to draw upon for another bite at the apple.
Since apples are good for you, we're going to take that bite, this time looking at the NHL's entire lifespan. Thus, the following are five of the funniest nicknames in NHL history.
"McBackup"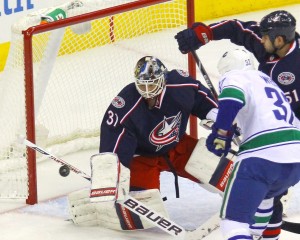 Curtis McElhinney
has been in the NHL since 2007-08
. He's played for five teams in seven years, most recently the Columbus Blue Jackets, where he appeared in 28 games. His total from last year tied a career high for the venerable journeyman.
With a career record of 29-37-5, a 2.97/.902 stat line, four shutouts in 97 career games played and five teams in seven seasons, "McBackup" is the perfect nickname for the 31-year old McElhinney.
"Baldy"
Harold Cotton was a left winger for the Pittsburgh Pirates, Toronto Maples Leafs and New York Americans between 1925-37. It was a period of time in which nicknames were about as ubiquitous as socks. Think I'm exaggerating? Check out the nicknames of his 1934-35 Toronto Maple Leafs teammates: Harvey "Busher" Jackson, William "Flash" Hollett, Francis "King" Clancy, Regis "Pep" Kelly, Frank "Buzz" Boll, Reginald "Red" Horner and Clarence "Happy" Day.
"Baldy" played in the 1934 NHL All Star game and was twice traded for cash. After his playing career, he spent years on the radio and as a scout. He's even been credited with discovering Bobby Orr.
As for how he got his nickname, it's simple: his ears were hairier than his head.
"Huggy Bear"
Donald Brashear was one of the toughest players of his era. During his 16-year career, he amassed 2,634 penalty minutes, ranking fifteenth overall in NHL history. His high water mark was 372 for the Vancouver Canucks in 1997-98, the tenth highest single-season total ever.
He wasn't much of a skater, scorer, or distributor. He wasn't much of a Twitter user, either, having no tweets of record since 2012. He did deliver some digital smack once or twice though, including this message aimed directly at Zac Rinaldo:
psssshhhh this @RinaldoZac fool think he tough #MrSoftee #GotAlotToLearnKid

— Donald Brashear (@DonaldBrashear) September 20, 2012
Instead, Brashear was a big-time heavyweight enforcer. That being said, "Huggy Bear" was allegedly coined to deride his fighting skills, spent mostly in clenches with opponents as opposed to throwing punches. Would I call him that to his face? Hell no.
"Ned Flanders"
On face value alone, this is one of the best nicknames ever. Peter Budaj, the long-time goaltender for the Colorado Avalanche (now with the Montreal Canadiens), supposedly got this moniker because he's a calm, measured, spiritual guy, just like Ned Flanders. Diddly.
Hilariously, Budaj has embraced the nickname. In this article from a year ago, his new mask is profiled, which featured (amongst other things) the visage of an angry Ned Flanders. Hidley-ho, Peterino.
"The Puck Goes Inski"
As good as the previous nicknames were, they just can't beat out this one. Steve Buzinski was a diminutive 5'8″, 140 pound netminder who played nine games for the 1942-43 New York Rangers. During his short NHL career, he surrendered 55 goals in nine games, for a G.A.A. of 5.89. Rangers head coach Frank Boucher said of Buzinksi: "We all enjoyed him tremendously, he was a fine little fellow. But he had a problem though; he couldn't stop the puck." He characterized him as "one of the worst goalies in NHL history — but he was also one of the funniest."
In a game against Detroit, Buzinski actually scored upon himself. He made a glove save, shadow boxed an oncoming Wings skater and accidentally tossed the puck into his own net.
Here's to you, Steve Buzinski, wherever you are. With your purported sense of humor, you likely appreciated having one of the funniest nicknames in NHL history.
Have any other suggestions? Post them below, or tweet them to me @McLaughlinWalt.