Tim Gleason is back home.  Hurricanes fans are you glad?  Is he worth $1.2 million?  Some say yes and some say no.  He is 31 years old and plays defense.  He's been with Carolina before and can possibly be glossed by some as "another Leafs retread."  At least a glance at the Twitter feed of TSN's Aaron Ward when Gleason's contract with Carolina was announced seems to support the tag.  For example:
@aaronward_nhl maybe the leafs should make them a farm team. Every ex leaf seems to go to the canes — Alan (@twitstweet1) July 3, 2014

I don't mind that he was with Toronto and has "come home" to Carolina.
It will be good to have Tim back on defense.  He's not flashy – I'd say he is more of a grinder.  And he can legitimately be looked at as a positive veteran presence by the younger players.  He was drafted 23rd overall by the Ottawa Senators in 2001.  He played 47 games in the 2003-04 season with the Los Angeles Kings, and re-appeared with the Kings on a regular basis in the 2005-06 season.  He has not looked back, being a strong part of the 'Canes roster from 2006 until the trade with Toronto early last season.  Yes, Tim has come home, and Hurricanes fans will likely be happy to have him back in the lineup.
I read somewhere Gleason was referred to as "declining."  The season will tell the tale.  However, in my mind what make Gleason a valuable part of the 'Canes defensive lineup is his experience.  The Ryan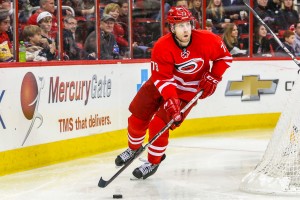 Murphys and even the Brett Bellemores on this squad can learn a thing or two from the "declining" Gleason.  (I don't agree that Tim is in decline, by the way.)  He was an alternate captain when in Carolina before, which speaks to his leadership.  There is a lot of youth on this Hurricanes team, and I believe they will benefit greatly in the locker room and on the ice with veterans like Gleason nearby.
Tim Has a Clean Slate
With a new GM/Executive VP in Ron Francis, and a new Head Coach in Bill Peters, Tim has a clean slate.
Tim Gleason returns to the #Canes with a clean slate. READ MORE: http://t.co/ng23Gedg1p pic.twitter.com/fvbo2pKPLi — Carolina Hurricanes (@NHLCanes) July 3, 2014
Everyone on the team is getting a fresh chance to make their case for starting and staying on the ice.  Gleason just met Coach Peters last week while giving his 2-year old a tour of the facility.  Peters will evaluate him and the rest of the team in his own way and according to his own expectations.  That's what new coaches do – or at least players trying to reestablish themselves like Gleason hope.  The preseason is almost upon us, and Coach Peters has not been shy about his intending to use those games to evaluate what he has and what he sees as the best team to put on the ice.  Gleason will no doubt do his best to impress, and I have confidence that he will.
Some are concerned about his time in the penalty box.
Perhaps rightly so.  For fun I Googled "Tim Gleason fighting" and got quite an array of results.  He had 65 penalty minutes last season, ranking him a nice 93rd in the NHL.  One would think that he might be toning it down a bit as he has seasoned in the game, but Gleason himself says his game has always had a little bit of and edge.  I'm not opposed to that edge – I think the Hurricanes have needed to get tougher on defense for some time – including the last few years Gleason was in Raleigh.  Ward and/or Khudobin will need a tough, sound defense in front of them if this team is going to sniff the playoffs.  Whether or not the $1.2 million dollar man, Tim Gleason can give them what they will need obviously remains to be seen.  Personally, I think it's great that he is back home in Carolina.  'Canes fans, what do you think?