The annual Traverse City Prospects Tournament begins Friday, September 12 with six teams sending a roster full of prospects to compete. Prospects and invitees from the New York Rangers, St. Louis Blues, Carolina Hurricanes, Minnesota Wild, Buffalo Sabres, Detroit Red Wings, Dallas Stars, and Columbus Blue Jackets will all participate in one of the higher profile pre-training camp prospect matches of the early fall.
Every year a player or two begins to separate themselves from the herd in Traverse City, keeping that momentum running through camp to become an impact player in their rookie year with their team. Last season it was Valeri Nichushkin, who had a great tournament and then installed himself as a nearly permanent fixture on Dallas' top line with Jamie Benn and Tyler Seguin en route to scoring 14 goals and 20 assists in his rookie campaign.
Below we take a look at 12 players participating in the tournament who could have a breakout performance during the tournament, whether or not they are headed to the NHL this season.
NOTE: The Buffalo Sabres have not officially announced their lineup for the tournament, so some assumptions are being made on their players.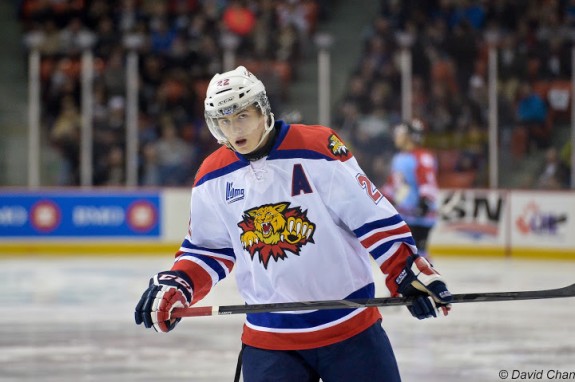 Ivan Barbashev, C/LW, St. Louis Blues
Picked in the second round of the 2014 draft (33rd overall), Barbashev is just 18, but has shown at every level that he's got the scorer's instinct when the puck is on his stick. Through two seasons with Moncton Wildcats of the Quebec Major Junior Hockey League (QMJHL) he has 130 points in 116 games (43-87-130). Even on the international stage, Barbashev has produced lots of offense for Russia and projects to be a part of their World Junior Tournament team this year.
Barbashev's strength isn't only his offensive production, but that he plays a strong two-way game. With continued development he could be an impact player for the Blues. However, between his age and the stacked Blues forward corps, it's unlikely that he'll be in St. Louis this season. He's most likely to return to the QMJHL. Nonetheless, Traverse City will be the first shot for many to get a look at an intriguing player who fits the two-way mold of the current Blues roster.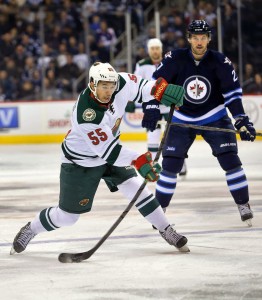 Mathew Dumba, D, Minnesota Wild
The Minnesota Wild have been awaiting the arrival of Matt Dumba for a while now. Ranked as the Wild's top prospect two years running at Hockey's Future, he had a great Prospect Tournament last year — relative to the Wild performing pretty poorly. Out of it, Dumba got himself 13 NHL games last year before being returned to WHL to play for the Portland Winterhawks where he scored eight goals and 16 assists over 26 games. He also represented Canada and was an alternate captain at the World Juniors Tournament.
Barring any further moves before the start of the season, the Wild likely will have a rookie defenseman (maybe two) to be a part of the team this year. Dumba projects to be one of the top two candidates.
Robby Fabbri, C, St. Louis Blues
Fabbri was the Blues first round draft pick (21st overall) in the 2014 draft. Like Barbashev, he's got the scorer's instinct. Last season for the Guelph Storm in the OHL he potted 45 goals and 42 assists in 58 games. There's a lot to be excited about with Fabbri for Blues fans, but he's just 18 and at 5-foot-10, 170 pounds. He's got some bulking up to do before he's ready to jump into NHL action.
Nonetheless, it'll be interesting to see Fabbri line up in the tournament and see how he handles a faster more physical style of play than he sees in the OHL. He could be a star of the Blues prospect team with his speed and hands. He'll likely spend the 2014-15 season with the Guelph Storm, where he's certain to post some very impress numbers.
Christian Folin, D, Minnesota Wild
Christian Folin was picked up at the end of last season as the most sought after undrafted free agent coming out of the NCAA. Folin has good size and a great shot and at 23, many believed he was exiting the NCAA NHL-ready. He's the other Wild rookie, besides Dumba, who could carve out a spot for himself in the lineup out of camp. Like with Dumba, his tryout has begun and a good prospect tournament may go a long way toward a strong camp and making the case for him to be on the opening night roster.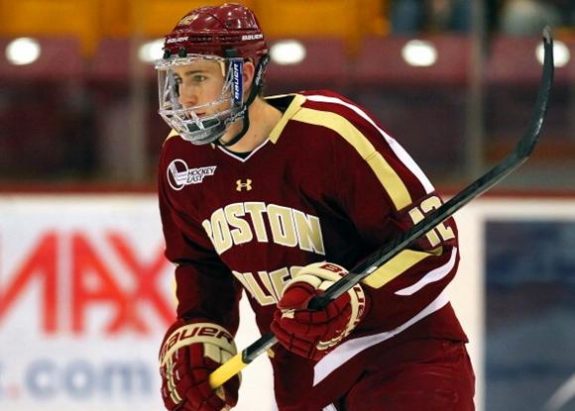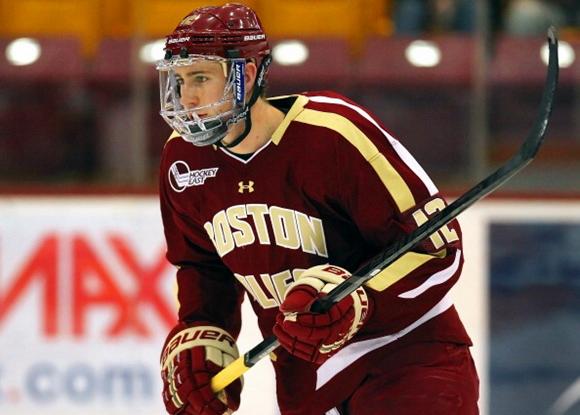 Kevin Hayes, RW, New York Rangers
We've all taken a ride on the Kevin Hayes hype train this summer, largely because his decision to not sign with Chicago and to test free agency right out of college was all that was happening in August. Well, besides the Sharks saying their going to rebuild, then they're not, then they are… Hayes isn't to blame for The Decision, but he did get a lot of attention that's coming on the heels of a very solid season at Boston College where he posted 27 goals and 38 assists in 40 games.
Hayes will be getting a good look in this tournament and at training camp with a legitimate shot of making the team's NHL roster. Whether or not he makes the Rangers squad this season, people will be watching Hayes in Traverse City to see if he was worth the week of discussion in August.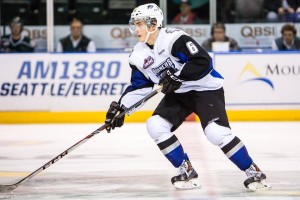 Julius Honka, D, Dallas Stars
The Dallas Stars 2014 first round draft pick (14th overall) was signed to a three-year entry level deal after impressing at development camp this summer. He's a smooth-skating defenseman who showed a lot of offensive upside in a big rookie year in the Western Hockey League last season with the Swift Current Broncos where he scored 16 goals and 40 assists through 62 games. Hockey's Future called him "the first bluechip defensive prospect [the Stars] have had in quite some time."
Some have speculated that with Dallas' issues on defense that Honka could earn himself a spot on the roster. It's possible, but he's entering the season at 18-years old and is only 5-foot-10, 181 pounds. If his play demands a spot, so be it, but with the high expectations the Stars have, they may choose to give him another year of development before throwing him into the fire.
Anthony Mantha, RW/LW, Detroit Red Wings
Mantha was absolutely outstanding for Val-d'Or Foreurs in the QMJHL last year. In fact his entire three-year career in the Q was pretty impressive. He posted 129 goals and 131 assists over 189 games. Last season was his biggest outing, as he registered 57 goals and 63 assists in 57 games. Mantha will make the leap to the AHL to play for the Grand Rapids Griffins this season and will compete for a roster spot in Detroit at training camp. He could be a season or two from being a very exciting rookie year for the Red Wings. His jump to the pros is highly anticipated and will begin at the Prospect Tournament Friday.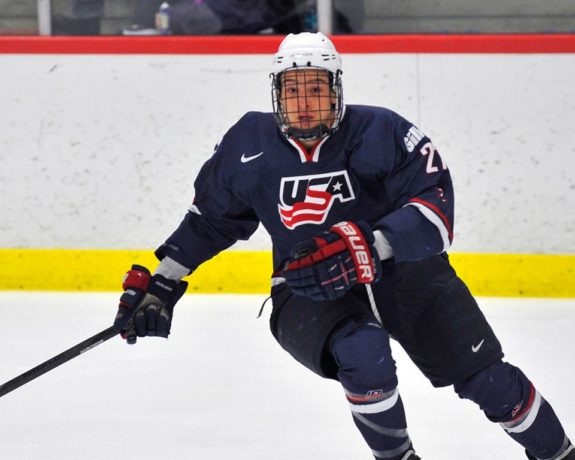 Sonny Milano, C/LW, Columbus Blue Jackets
Milano, a 2014 first round draft pick, was, like Kevin Hayes, at the center of some offseason debate after having committed to Boston College — who will have a great team this year, despite losing Johnny Gaudreau and the aforementioned Kevin Hayes, with Alex Tuch coming in, Thatcher Demko in net, and many solid players returning — he decided not to head to BC and instead signed an entry level contract and will play for the Plymouth Whalers of the OHL. While that's a big loss for BC (as of this writing there's still a story on their homepage about him getting drafted), it does mean that we're going to see Milano suit up for the prospects tournament. It's unlikely that he makes the jump to the AHL or NHL this season, but he's an intriguing prospect and it'll be interesting to see how he performs at the tournament.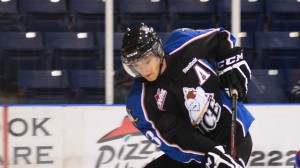 Sam Reinhart, C/RW, Buffalo Sabres
Reinhart was picked #2 overall in the 2014 draft and some speculate that he may be ready to go right now. Buffalo will want to make sure he develops properly, but no one seems to be under the illusion that they're very concerned about winning this season and he could wind up getting some NHL time. (The Sabres Twitter account seems to post as much about Connor McDavid and Jack Eichel as it does about their actual team.) The Sabres are clearly excited about him, signing him to an entry-level deal in July when the draft had barely passed.
Reinhart figures to be an important part of what the Sabres are building and this will be an early opportunity to start assessing whether or not we'll be seeing much of Reinhart in a Sabres uniform this season.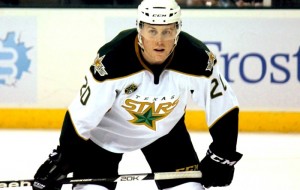 Brett Ritchie, RW, Dallas Stars
Ritchie is one of the top talents in the Dallas system and maybe the most immediately exciting, with Julius Honka having slightly more upside over the long haul. The 6-foot-3, 220-pound winger played his first full season in the AHL last season for the Calder Cup-winning Texas Stars where he put up 22 goals and 26 assists over 68 games, as well as another seven goals and four assists over 13 playoff games. Not too bad for a 20-year-old.
Ritchie has a formidable task ahead of him. The Stars forward corps is stacked, especially with the acquisition of Jason Spezza and Ales Hemsky, so it's a difficult road ahead if he wants to crack the NHL roster, but he has the skill set and that task will begin in Traverse City.
Adam Tambellini, LW/C, New York Rangers
Coming up through the ranks Tambellini had consistently been a point-per-game player. But it wasn't that big of a surprise that he struggled a bit out of the gate last year during his freshman year with the University of North Dakota, scoring two goals and two assists over 16 games. What was surprising was that he left the program after 16 games to move over to the Calgary Hitmen of the WHL. It's a little bit more friendly of a level of competition in the WHL, but Tambellini found his scoring touch again putting in 17 goals and 22 assists for the Hitmen over 31 games.
Tambellini is just 19 entering this season, but he has a lot of potential and the move out of the NCAA means that he'll be participating in the Traverse City tournament. He's eligible to play in the AHL for the first time, but has not yet been offered an entry-level contract and could return to the Hitmen if he isn't offered anything. Traverse City is his chance to prove he deserves a spot with the AHL squad and to get on the short list for a call-up to the Rangers.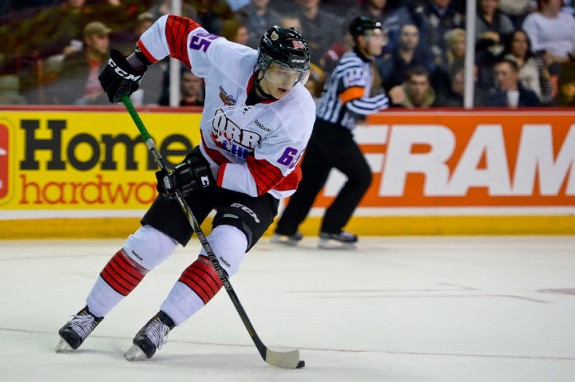 Nikita Zadorov, D, Buffalo Sabres
Along with Rasmus Ristolainen, Nikita Zadorov represents the future of the Sabres' blue line. Both players were drafted in the first round of the 2013 draft, got a taste of NHL action, are just 19-years old, and are big players. Zadorov stands 6-foot-5, 200 pounds and Ristolainen is 6-foot-4, 217 pounds. For his part, Ristolainen never showed much for offensive upside, then broke out in the AHL for 20 points in 34 games (6-14-20). That's more points than he's ever put up in a complete season in any league, according to Elite Prospects. Zadorov, who seems more likely to be on the Buffalo roster in Traverse City having only played seven NHL games to Ristolainen's 34 last season, is not only big and physical, but has offensive potential. After leaving Buffalo to return to the London Knights of the OHL last season, Zadorov posted 30 points (11-19-30) in just 36 games. Zadorov could be one of the more exciting players to watch in this tournament. With his size, if he can maintain his offensive upside, he projects to be a unique talent in the NHL.