Missing the playoffs just plain sucks — for owners, coaches, players and, of course, fans.
Fortunately for prospect junkies, that frustrating fate means a fancy new toy to unwrap at the following training camp. Consider this Christmas eve.
With all four Western Canadian teams missing the NHL playoffs last season, they will be debuting Top 10 picks from the 2014 entry draft at this weekend's Young Stars prospects tournament in Penticton.
Well, three of the four teams will be, as the host Vancouver Canucks won't be able to show off sixth overall selection Jake Virtanen, a scoring winger for the WHL's Calgary Hitmen who is still recovering from off-season shoulder surgery.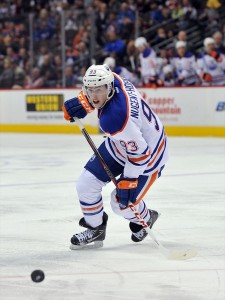 This annual tournament, which started in 2010 but skipped 2012 because of the lockout, has seen its share of talent through three editions, highlighted by former first overall picks Taylor Hall and Ryan Nugent-Hopkins, both of the Edmonton Oilers. Nail Yakupov, also of the Oilers, never made it to Penticton as the top pick in 2012 because the event was cancelled that year.
After letting their provincial rival Calgary Flames steal the spotlight with last year's top-ranked prospect Sean Monahan, the perennially-bad Oilers are back with another lottery pick in third overall Leon Draisaitl, a German playmaker who put up 105 points with the WHL's Prince Albert Raiders last season and is a contender to be Edmonton's second-line centre behind Nugent-Hopkins this season.
Calgary wasn't much better again, picking centre Sam Bennett of the OHL's Kingston Frontenacs at fourth overall. But unlike Draisaitl's chances of cracking the Oilers' roster, new Flames general manager Brad Treliving would be 'shocked' if Bennett made the jump from junior this season.
The Winnipeg Jets, who shifted to the West prior to last season as part of the NHL's realignment, also struggled and ended up using the ninth overall pick on Nikolaj Ehlers, a flashy forward hailing from Denmark but playing for the QMJHL's Halifax Mooseheads.
Oh, and did I mention, this year's tournament will feature Johnny Hockey!
Yes, Johnny Gaudreau, the pint-sized NCAA scoring sensation and reigning Hobey Baker winner will also be suiting up for the Flames, making his Penticton debut after already scoring in his NHL debut against the Canucks to end last season.
Need I say more, this should be a fun showcase to watch for all those fans who had to endure another long, playoff-deprived off-season while watching the Los Angeles Kings raise another Stanley Cup.
Those are just a few of the many prospects I'm looking forward to seeing in action in Penticton. Here's my Top 12, and not necessarily the 12 best players in the tournament, but the 12 most intriguing to me:
1) Johnny Gaudreau (F, Calgary) — I'm fully expecting him to be the best forward in the tournament, better than the more experienced Nicklas Jensen of Vancouver, and probably the leading point-getter. Gaudreau will be one of the older prospects at 21 and even though he might look like somebody's little brother out there at only 5-foot-7, the fourth-round pick from 2011 should appear head and shoulders above his peers and be easy to spot on every shift.
2) Nikolaj Ehlers (F, Winnipeg) — I'm thinking he could potentially steal the show from Gaudreau, especially if he develops instant chemistry with likely linemate Nic Petan. Ehlers is taller than Gaudreau but not much thicker, and although he's not expected to stick with the Jets this season, that shouldn't stop him from dominating this tournament. He'll be the second-most skilled prospect on display, in my opinion.
3) Leon Draisaitl (F, Edmonton) — He'll be closely watched given his draft position and likelihood of earning an NHL job as early as next month. Draisaitl did much of his off-season training in Edmonton to best prepare for that opportunity, so while he won't have the same calibre wingers in this tournament as he would with the Oilers, he should be capable of carrying the load in Penticton.
4) Sam Bennett (F, Calgary) — He took a ton of flack for not being able to do a pull-up at the scouting combine (he's since done several on camera), and while strength may be holding him back from making an instant impact in the NHL, his drive and determination could prove his doubters wrong, including Treliving. His skills on the ice have never been in doubt, and that's what he'll be showcasing in Penticton.
5) Connor Hellebuyck (G, Winnipeg) — He's a big goaltender, not Ben Bishop big but 6-foot-4, who turned into an NCAA star in recent years and is now turning pro, likely with the St. John's IceCaps next month. This will be his first taste of the highest level, but he's looking like a fifth-round steal by the Jets in 2012. Winnipeg will definitely have the best goaltending tandem in the tournament, with 2013 second-rounder Eric Comrie also a star in the making but destined to continue his junior career with the WHL's Tri-City Americans this season.
6) Bogdan Yakimov (F, Edmonton) — Speaking of big, this 6-foot-5 centre is going to get a lot of attention in Penticton as well. He only turns 20 next month, but Yakimov is coming off a pretty productive KHL campaign and is now transitioning to North America where he'll probably start out with the AHL's Oklahoma City Barons. He's a bit of a mystery in that he could be a Nikolai Antropov clone or the second-coming of Alexei Mikhnov, but this tournament should be telling either way.
7) Jared McCann (F, Vancouver) — The Canucks other first-rounder from June, 24th overall, McCann kind of got the silent treatment from the media with Vancouver previously picking a local boy in Virtanen. This is McCann's chance to make some noise and get people excited about his potential upside, which is actually quite promising. He's currently stuck behind Brendan Gaunce and Bo Horvat among centre prospects knocking on the NHL door, so McCann's development will almost assuredly continue with the OHL's Sault Ste. Marie Greyhounds this season.
8) Dane Fox (F, Vancouver) — This guy scored 64 goals in 67 OHL games last season, finishing second only to Erie Otters teammate Connor Brown in the scoring race with 107 to his 128 points. Fox went undrafted but signed as a free agent with the Canucks just after Christmas and he'll make his pro debut with the AHL's Utica Comets next month unless he blows the doors off at this tournament and throughout the pre-season.
9) Scott Kosmachuk (F, Winnipeg) — Another high-scoring OHLer, he had 101 points in 68 regular-season games, then 28 points in 20 playoff games on a championship run with the Guelph Storm to conclude his junior career. If he lands on a line with Ehlers and Petan in Penticton, Kosmachuk could continue to pile up the points, but barring a miracle or injury, he'll be bound for St. John's sooner than later.
10) Emile Poirier (F, Calgary) — He's flying under the radar because of the Flames' aforementioned high-profile prospects, but Poirier deserves a little spotlight of his own. Don't be surprised if he takes it in Penticton and perhaps carries it back to Calgary, making just as strong a push for a roster spot as Gaudreau and Bennett. Poirier had 3 goals and 5 points in 5 AHL games to end last season after graduating from the QMJHL's Gatineau Olympiques, and he'll be a Flame one way or another this season, be it in Calgary or more likely in Adirondack, N.Y.
11) Dillon Simpson (D, Edmonton) — The son of former Oilers forward turned broadcaster Craig Simpson, Dillon is turning pro following four NCAA seasons with the University of North Dakota. He has the size, skating ability, puck skills and intelligence to blossom into an NHL defender, but he's slated to get some seasoning in Oklahoma City. At 21, he's another older prospect who might look a step ahead in Penticton and could turn a lot of heads in this tournament.
12) Hunter Shinkaruk (F, Vancouver) — Last but certainly not least, he was dominant at last year's Young Stars and throughout the pre-season, nearly forcing his way onto the Canucks' roster. But his momentum took a hit upon being sent back to the WHL's Medicine Hat Tigers and after failing to make Canada's roster for the world juniors because of a lingering injury, he underwent season-ending hip surgery in January. Shinkaruk has since recovered and is reportedly shining again at informal workouts leading up to this year's tournament, so it'll be interesting to see what kind of case he makes for himself in Penticton and beyond. Time will tell whether he calls Vancouver or Utica, N.Y., home this season.
Larry Fisher is a sports reporter for The Daily Courier in Kelowna, British Columbia, Canada. Follow him on Twitter: @LarryFisher_KDC.