There's always talk among hockey fans about what can be done to change the game. Some ideas are radical, some actually happen, and others just fade away.
Some people feel that there should be no points awarded for losing a game, whether it be in regulation, overtime, or a shootout. As it stands right now, if the game ends after 60 minutes and is tied, both teams get a point regardless of the outcome. So what would happen if the NHL changed to a different point system? Let's take a look.
The Three Point System
This is the system that the IIHF implements.
For all games in the Preliminary Round, Qualification Round and Relegation Round points shall be awarded as follows:

The international game uses a three-point system. (Jayne Kamin-Oncea-USA TODAY Sports)

3 points for the winning team at the conclusion of regulation time
1 point for both teams at the conclusion of regulation time if the game is tied
An additional point earned for the team winning the game in a 5-minute overtime period, or the Game Winning Shots Procedure if the teams are still tied following conclusion of the overtime period
0 points for the team losing the game in regulation time
It's a pretty simple concept that puts more weight on wins in regulation, and less weight on wins in the extra frame or shootout. What would the NHL's playoff picture look like if this were the case?
Atlantic
Team
ROW
ROL
OT/SO W
OT/SO L
Pts.
1
Tampa Bay
30
16
4
5
103
2
Montreal
26
15
8
3
97
3
Detroit
25
12
6
9
96
Metropolitan
Team
ROW
ROL
OT/SO W
OT/SO L
Pts.
1
Pittsburgh
23
15
7
8
91
2
NY Islanders
22
18
12
1
91
3
NY Rangers
24
16
6
5
89
Eastern Wildcard
Team
ROW
ROL
OT/SO W
OT/SO L
Pts.
1
Washington
23
16
5
10
89
2
Boston
20
18
8
7
83
Central
Team
ROW
ROL
OT/SO W
OT/SO L
Pts.
1
Nashville
25
12
10
6
101
2
St. Louis
24
15
10
4
96
3
Chicago
24
18
9
2
92
Pacific
Team
ROW
ROL
OT/SO W
OT/SO L
Pts.
1
Anaheim
22
13
12
7
97
2
San Jose
24
19
4
7
87
3
Vancouver
23
19
6
3
84
Western Wild Card
Team
ROW
ROL
OT/SO W
OT/SO L
Pts.
1
Winnipeg
20
18
7
10
84
2
Calgary
19
21
10
3
80
If you take a look at the current NHL standings, you can see that even if the NHL used this point system, it still really doesn't change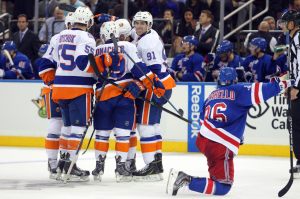 anything that drastically. The only real change comes with the Penguins grabbing first in the Metro, and the Rangers getting the third spot in the Metro. Everything else is the same.
Changing to a three point system would not really make a huge difference. Teams would still get points for losing games. It also devalues overtime wins. It'd be nice for the team who won in overtime to get three points, rather than two.
This system wouldn't really change much if the NHL took it under their wing, so don't expect to see in anytime soon.
You Get Nothing.
Aside from the three point system, there is a lot of people who would like to see a traditional win-loss system. Two points for a win, no points for a loss, regardless of what period it came in.
So what would that look like?
Atlantic
Team
W
L
Pts.
1
Tampa Bay
34
21
68
2
Montreal
34
18
68
3
Detroit
31
21
62
Metropolitan
Team
W
L
Pts.
1
NY Islanders
34
19
68
2
Pittsburgh
30
23
60
3
NY Rangers
30
21
60
Eastern Wildcard
Team
W
L
Pts.
1
Washington
28
26
56
2
Boston
28
25
56
Central
Team
W
L
Pts.
1
Nashville
35
18
70
2
St. Louis
34
19
68
3
Chicago
33
20
66
Pacific
Team
W
L
Pts.
1
Anaheim
34
20
68
2
San Jose
28
26
56
3
Vancouver
29
22
58
Western Wild Card
Team
W
L
Pts.
1
Calgary
29
24
58
2
Winnipeg
27
28
54
This one makes the changes a little bit more evident.
The Islanders really benefit from this system. Since they only have lost once in overtime all season, they create an eight point gap from the second place Penguins. The Rangers also boost themselves up a bit and distance themselves a little bit more from Washington.
Out West, things are a little bit different. Rather than distancing teams from each other, it brought them closer. The Central division is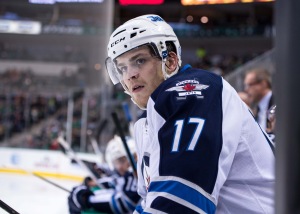 separated by just four points.
Calgary also gets what they deserve and leapfrogs Winnipeg. This shows why this system would be a good fit.
Right now, Calgary is 29-21-3. Winnipeg is 27-18-10. Winnipeg is also three points ahead of Calgary for the first wildcard spot. Calgary has two more wins than Winnipeg, and four less losses. There shouldn't be a reward for losing a game in extra time. A loss should be a loss. Calgary is the better team, that should be reflected in the standings.
The NHL just recently changed the divisions around, so the likelihood that they would change their point system is slim to none. However. this gives a good idea of what you could expect to see if Gary Bettman decided to just go to a win-loss system. It would be nice to see the teams that win the most games be the highest in the standings. But as long as overtime losses exist, that won't always be the case.