With about 30 games to go in the 2014-15 season, the Edmonton Oilers are yet again looking for incentive other than a playoff push to finish the year.
In what has become another dismal failure of a season, they are yet again in the running for the NHL Entry Draft's top overall selection.
Among the disappointments, and they may be few and far between, there are glimmers of optimism that can be taken from the season.
One of these examples is 21 year old Swedish defenseman Oscar Klefbom.
Drafted 19th overall in the 2011 NHL Entry Draft, Klefbom had a 17 game cup of coffee with the Oilers last season and has settled in as a regular this year.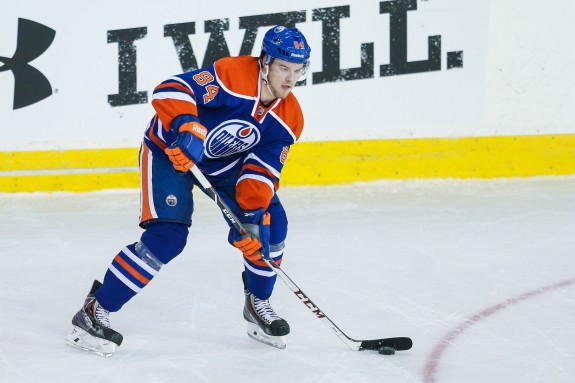 Trending Up
Klefbom started the season with the AHL's Oklahoma City Barons and played 9 games there before being called up to the Oilers.
He started off getting sheltered minutes as one might expect with a rookie, but has gradually worked his way up the depth chart.
After 31 games he is among the ice time leaders on defense and he along with D partner Justin Schultz have become the team's de facto top pairing.
Over the last 7 games Klefbom has averaged 21:43 of ice time, second only to Schultz, but has been the team's leader in 5 on 5 ice time.
He also put up 5 points in those games, but more importantly has been +5 over that span
https://twitter.com/loc8ingoil/status/563340315474407424
On the season Klefbom is a -6, which on its own doesn't look overly impressive. However if you compare it to the other members of his defense corps, Jeff Petry (-26), Andrew Ference (-13), Mark Fayne (-16), all of a sudden it doesn't look so bad.
He's got all the tools to be a factor as an NHL defenseman. He's got good size with a long wingspan and he's an excellent skater.
He shown an ability to shut forwards down one on one and his gap control has been the best in the group. While he is never going to be an offensive dynamo, he has shown enough game that he is able to contribute with the occasional input.
The Future May Not Be So Bleak
The defense position has been one of constant scrutiny and weakness for the Oilers in recent years, and for primarily valid reasons.
They were a group in the first half of this season that did not look much improved at all.
Jeff Petry and Andrew Ference struggled mightily, newcomers Mark Fayne and Nikita Nikitin were trying to acclimatize themselves to a new team and Schultz appeared to have taken a step back in his progression. Even Martin Marincin, last year's pleasant surprise, did not look like the same player and has spent most of the year in the AHL.
Whether it is coincidence or a direct correlation, a number of player's games improved when Todd Nelson took over as bench boss. The biggest has been Schultz who looks like the defenseman all 30 teams wanted just a few years ago. While the defense still has had their issues, there has been improvement.
It wasn't long after Nelson arrived that Klefbom and Schultz hit their stride as a pair and over the last handful of games have been by far the Oilers best.
While there have been definite signs of improvement on the defense, make no mistake there is still a lot of work to be done to improve it. They still lack a significant veteran defenseman who is able to log some minutes and take the pressure off the young players.
In a perfect world, Klefbom and Schultz are a second pairing and are able to progress without the pressure of being the top guys – but this is Edmonton.
The positive news though is that there appears to be a foundation going forward.
Klefbom is just 21 years old and Schultz is 24. Add in top prospect Darnell Nurse on the horizon at 19, and if Marincin, 22, can find his form again, the future does not look so bleak.
In what has become yet another miserable season overall for the Oilers, Klefbom has provided a glimmer of hope in a position of proven weakness for the Oilers.
The remainder of the 2014-15 season will be a bust in terms of playoff contention, however the games will still be valuable for certain players.
Klefbom is one of those guys who can gain much needed experience and grow his game to the point where in next year's training camp he is one of the establish top four defenseman on a team with a clean slate.
____________________________________________
Follow Carl on twitter @CarlTHW or Google+ for more articles