If you follow basketball (which I don't) you may be aware that the Philadelphia 76ers are in the midst of a rebuild. The team has been putrid for the last two seasons but there's still hope that the team is headed in the right direction and that there is a light at the end of this tunnel.
Recognising this possible upward trend, the team chose this offseason to announce that they're redesigning their logo and uniform for next season. In a post on their team web site, they talk about how the new logo is a "modern interpretation of the classic Sixers insignia" and how it's paying homage to some of the better teams of the past.
The idea, of course, is that a nice little culture change can rally the troops and separate them from the abysmal teams of the past couple of seasons. Basically giving the team a clean slate to work with.
The New Devils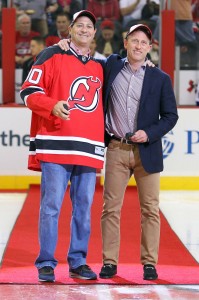 It should be noted that the owners for the 76ers recently (2 summers ago) bought the New Jersey Devils. Lou Lamoriello stayed on as general manager and team president but it was interesting to see what Josh Harrirs and David Blitzer (the 2 new owners) would have in store for this traditional franchise.
Everything got interesting when the Devils announced earlier this month that Lou Lamoriello was stepping down as GM (but staying with the team as team president). For the first time in more than 28 years there is going to be someone else running the New Jersey Devils.
Lou ran a tight ship. There were strict team rules that he set in place and he didn't tolerate any deviation. For example, players weren't allowed to grow facial hair, choose high numbers on their jerseys, and they used to be forced to sleep in a hotel during the playoffs. That's just the way things were.
When Harris and Blitzer came along, there started to be some changes with the way the team functioned. For as long as I can remember, the team used to have the same pre-game scoreboard video, the same goal song, the same intermission on-ice entertainment game thing. It seemed as if Devil games existed in a vacuum where none of the game day operations shifted. But now things were slowly changing. Some of the changes were welcomed with open arms (like the new 3D pre-game show, which was pretty cool maybe the first two times) while received pretty harsh feedback (like the new goal song). The point was that this team was slowly leaving the hands of Lou Lamoriello and there was nothing anybody could do to stop it.
And now Lou has perhaps the smallest hold on this team that he's ever had. This is as backseat as it's ever gotten for him and many are wondering what changes we'll see next.
New Uniforms?
With Harris and Blitzer recognising the culture change in Philadelphia, maybe they'll see a need to rebrand in New Jersey too. Both teams have missed the playoffs the past several seasons and both teams are trying to bring back a winning culture. A change in uniform shows fans that they're bringing in a new era of winning and that change is here. The 76ers and the Devils can both use that.
[RELATED: Five NHL Teams That Need New Uniforms]
In a generation of jersey redesigns (see: Stars, Dallas; Hurricanes, Carolina; Lightning, Tampa Bay; etc.), the Devils didn't shift a thing in their uniforms. They stuck with the same logo and the same colour scheme since their inception (they got rid of the green trimming in 1992 but they've since brought that jersey back as a once-a-year schtick they do on St. Patrick's Day). But will things change now that Lou's role with the team continues to be decreased?
The fans seem to think so.
I find it interesting how many questions I've gotten about jersey numbers, facial hair, 3rd jerseys etc. compared to about the actual team.

— Tom Gulitti (@TomGulittiNHL) May 5, 2015
The Devils are a team in dire need of a black jersey. The team name "Devils" evokes thoughts of fire, Satan, demonic figures, and evil and, while their commitment to tradition should be commended, there's definitely room for a creative, cool, and fun new look. (And let's just say it's a sin that we never got to see a Miroslav Satan Devils jersey. But I digress.)
Hopefully with Harris and Blitzer changing things up in Philly, we can see a jersey renaissance in Jersey as well.
There are many different Devils concept jerseys online and a lot of them are pretty neat.
Here's my favourite. It's a creation from Justin Cox, whose great work you can check out here.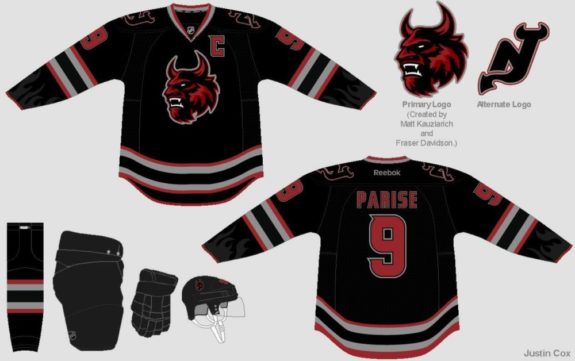 The beast logo is sick. The black jerseys are sharp. The grey fire on the sleeves are cool. Everything about this concept is spot on.
With the way things are going in Jersey and the way Philly is starting to rebrand, I think it's just a matter of time before the Devils get a makeover. They can really use one.