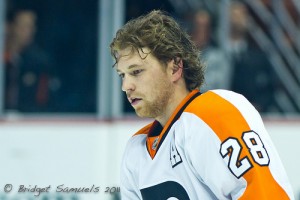 Claude Giroux entered the second round being hailed by many as the current best player in the world. He was a dominant force, recording six goals, 14 points and a plus-6 in only six games. He stood tallest when the Flyers needed him the most, shelling out a punishing check on Sidney Crosby just four seconds into Game 6 and scoring the opening goal 32 seconds in.
Many expected that play to continue for the 24-year-old native of Hearst, Ont. as the Flyers were set to take on division rival New Jersey. But with the exception of a power play goal in Game 1, he has been held off the scoresheet and is a minus-3 in the series.
Giroux had four goals, seven points and a plus-1 in six games against the Devils during the regular season, but have done an excellent job in keeping him to the perimeter. Giroux is only 5-foot-11 and 172 pounds, but usually does an excellent job in the high traffic areas in front of the net. His pillow-soft hands, creativity and willingness to battle against any defenseman in the NHL are what allow him to do so.
As Dan Gelston explains, the Flyers win and lose depending on how Giroux plays:
No Flyer has the potential to lead a comeback like Giroux. He's done little since scoring a Game 1 goal and glumly acknowledged Thursday night he needed to step up his game. Giroux is the one who fuels the high-octane offense, and his absence on the scoresheet affects everyone.

Danny Briere has perfected his role as their clutch postseason star.

Giroux needs to be there alongside him.
He has shown he can be a top clutch player, he now has to add consistency and play that way every game. If he goes a third straight game without a point, the Flyers will be in a big hole.
The Flyers had an extraordinarily easy time scoring against the Penguins, putting 30 pucks behind Marc-Andre Fleury and Brent Johnson. But now they face a team that knows how to play defense when they need to and while the Flyers had to expect goals to be harder to come by in this round, they may have underestimated just how difficult it was indeed going to be.
The power play is a big reason for that. The Flyers managed nine goals with the extra man on only 18 opportunities while the Devils, who set a record with an 89.6% success rate on the penalty kill in the regular season, fell apart against Florida, killing off just 16 of 23 chances (69.5%). That has all changed, as the Flyers have only been able to convert on just two of 16 chances with the man advantage. This is Giroux's specialty as he led the NHL in the regular season with 32 power play assists and 38 power play points.
Obviously the onus is on more than just Giroux. Scott Hartnell scored 37 goals in the regular season, Wayne Simmonds had 28 and Jaromir Jagr recorded 19, but they have combined for just four goals between the three of them in the playoffs. Most teams could get away with players posting numbers like that, but the Flyers are built to outscore their opponents. They showed in Game 6 against Pittsburgh they can play defense when they need to, blocking 40 shots and keeping most of the Pens' chances coming from the outside,
Giroux has been their unofficial leader throughout much of this season and will likely be named captain before next season. It's time once again for him to step up, put some points on the board and will this team to victory in Game 4.
The really good news for Philadelphia though is they have not lost three straight games all season and they should have defenseman Andrej Meszaros back in the lineup.