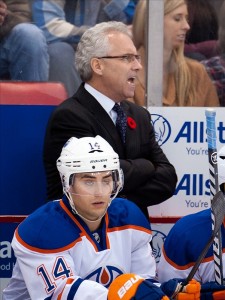 The Edmonton Oilers announced today that they will not be renewing the contract of head coach Tom Renney. No one was really surprised at the announcement, just at the fact that it took so long. After the season was over, there was no committment either way from Oilers management, leading many to believe they just delaying the inevitable. Renney spent 2 seasons behind the bench in Edmonton, and failed to reach the playoffs each time. The team finished 30th overall and 29th overall during Renney's tenure, though he shouldn't bear all the blame for the team's struggles.
Edmonton's line-up is littered with holes, they had numerous rookies and underachieving veterans, a perfect storm for a non-playoff team. There had been some speculation that Renney wasn't a favorite among his players, in particular Jordan Eberle, and that perhaps the team had already tuned him out, concerning for such a young line-up. But not every coach, no matter how good, is going to be a fit with a particular group, and the Oilers felt it was time to part ways. In a press conference this afternoon, GM Steve Tambellini had this to say about the decision:
"Tom's done some great things for our hockey club, but we felt it was the right decision to make a change. We're entering a new phase of our hockey club. We've got some great challenges, but ones that we're looking forward to. I want to thank Tom for his work that he's done with us and I hope I get a chance again one day to work with him." (Edmonton Oilers)
The Edmonton Oilers Twitter feed reported that Tambellini flew to B.C to let Renney know of the decision in person. Renney described that Tambellini handled the matter with class. There's already been a lot of discussion on the possible replacements, including former Flames head coach Brent Sutter, but no decision has yet been communicated.
"There are a few people we have interest in. I would hope to have something in place prior to the draft. We need to get to a different level of compete where we're competing for playoff spots. Expectations will increase. The people who are here right now need to be a lot better on a consistent basis." – Steve Tambellini (Edmonton Oilers)
Obviously, a lot of the onus is placed on the players to perform. The Oilers haven't made the playoffs since their miracle run in 2006, and with all the talent Edmonton has been stockpiling, it's time for the on-ice product to yield results. Besides the hunt for a new coach, the biggest focus for the team now is who they are going to select with the first overall pick, though it's likely Oiler brass already knows exactly which prospect they'd like to see don their jersey come draft day.
Marcy, a former hockey player, is a hockey correspondent on CTV News and TSN radio. She began her career as a Sports Journalist in 2009 and has been part of The Hockey Writers since 2010, where she is currently a senior writer and editor.