Tommy Vannelli THW Close-Up
Date of Birth: January 26, 1995
Place of Birth: Minnetonka, MN
Ht: 6'2" Wt: 175 lbs
Shoots: Right
Position: Defenseman
NHL Draft Eligibility: 2013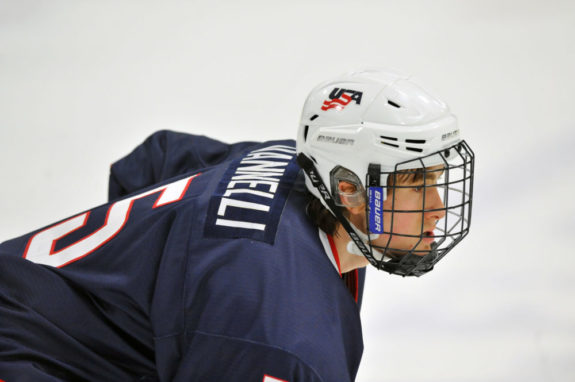 The NHL Draft is, even at the best times, a bit of a gamble. Clubs pour over scouting reports, video and statistics, criss-cross the world and spend countless hours mulling over what seem to be the most inconsequential decisions on their draft board. Other sports have seen high schoolers feature extensively in the development systems of major league teams for years, hockey has seemingly lagged behind but has been catching up.
If you're a good high school player in a particular part of the United States, your stock may rise a little faster. In recent years high school athletes have been chosen in the first round quite frequently – seven over the past five drafts (Jake Gardiner, Chris Kreider, Nick Leddy, Brock Nelson, Kevin Hayes, Nick Bjugstad and Mark Jankowski) – with four of them coming out of the state of Minnesota. One of two leading candidates from the State of Hockey attempting to crack the first round is Minnetonka product Tommy Vannelli.
Numbers-wise, Vannelli had a great end to his high school career this season. He had 35 points over a 27-game season and had nearly as many assists as games. His numbers were helped by playing on a strong Minnetonka club, but he was one of the best players on the team and was named a finalist for the prestigious Mr. Hockey Award.
More impressive was Vannelli's strong performance at the World Under-18 Championships in Russia. While he came home with a silver medal, his play against his (very strong) peer group likely raised his draft stock considerably. His plus/minus wasn't amazing, but he played second-pairing minutes, had three points over seven games and had more shots on net than most of Team USA's forwards. In short: he had a good tournament offensively.
Vannelli's a fairly tall kid at 6-2 but will have to grow into his frame. His offensive instincts by all accounts are well-honed, he reads the game well, and his defensive game is decent. His first real test against top-notch offensive talent was the U-18s and he didn't look terrible, but he wasn't a shut-down artist quite either. His strengths definitely lie with the puck rather than away from it and he'll have to shore that up to make the jump to higher levels of hockey. He's committed to attend the University of Minnesota, so he'll get the opportunity to bulk up and fine-tune his defensive game.
In terms of high school prospects, Vannelli isn't a "home-run" pick but he's also not an incredible gamble. He's no bean-pole but he's got some maturing to do, both physically and in terms of his game. He's a long-term project, but he's one that should pay dividends for a patient hockey club.
Scout's Honour:
"Vannelli uses his incredible skating ability to not only defend but also to be the proverbial fourth forward. He effortlessly joins the rush with his tremendous acceleration but also has the ability to retreat and recover as well. Needless to say, he possesses massive upside." – Dan Shrader, Future Considerations
Statistics:
Bio/Interview(s)/Link(s):
International Tournaments:
Vannelli was a silver medalist with Team USA at the 2013 IIHF World Under-18 Championship.
ETA:
3-4 years
Risk-Reward Analysis:
Risk 1.5/5, Reward 3.5/5
NHL Potential:
Number three or four defender, power-play specialist.
Strengths:
Good skater
Smart offensively, reads coverage well and knows when to pinch
Good passer
Adapts well (played in high school, the World U-18s and the USHL this year)
Flaws/Aspects He Needs To Work On:
Needs to add some muscle before he turns pro
Defensive side of his game could use some fine-tuning
Could add a bit of a physical element to his play
Fantasy Hockey Potential:
Offensive 8.5/10, Defensive 7/10
NHL Player(s) Comparison:
Jake Gardiner was a defenseman drafted out of the same high school as Vannelli, who spent time in the NCAA before turning pro. I'm sure Vannelli would be happy if he turned out to have a similar trajectory.
When He'll Go In June:
Vannelli would be a bit of a stretch to be a first round selection, unless a team falls in love with the offensive side of his game. But he's a strong candidate for a second or third round selection, where his upside would likely make him seen as a steal.