This last edition of ranking Canadian Hockey League prospects will further examine the top five Western Hockey League (WHL) prospects headed into the NHL Entry Draft in June.
In recent memory the WHL has been known to produce some of the NHL's top talent. Defensemen such as Shea Weber, Dion Phaneuf, Brett Seabrook and Duncan Keith all spent their junior hockey career in Western Canada. Elite NHLers like Montreal's Carey Price, Edmonton's Jordan Eberle and Ryan Nugent-Hopkins, among many others, are all products of the WHL.
Since the 2013 draft there have been 104 WHL prospects drafted, with 22 of those players being taken in the first round alone. Some of those first rounders were Sam Reinhart (Kootenay Ice), Leon Draisaitl (Prince Albert Raiders), Seth Jones (Portland Winterhawks) and Ivan Provorov (Brandon Wheat Kings) to name just a few.
All that being said, there is some top talent available going into the 2016 Draft. Here are my five best draft eligible WHL prospects.
5. Libor Hájek, Saskatoon Blades (Defense)
This season was Hájek's first in the WHL, as he opted to take his talents to North America to help further develop his already well-rounded defensive game. The rookie put up 26 points this season with the Blades, and proved to be one of the team's most consistent blueliners. Although the 18-year-old isn't big by today's standards, he uses his 6'1″, 198 pound frame to punish his opponents. One would assume his physical game could lead to costly turnovers and misplays, but Hájek has the ability to get right back into the play and rarely ever costs his team. Hájek is projected to be one of the best defensemen available, but we will likely hear his name called in the second round of the draft.

4. Kale Clague, Brandon Wheat Kings (Defense)
The son of former WHL goaltender Jason Clague, Kale Clague was a consistent top-four defenceman for the Wheat Kings this season. At 17-years-old he put up good offensive numbers in his second WHL season, and even went on to represent Canada at the U-18 Ivan Hlinka tournament this year. Clague's ability to accelerate and speedy feet helped him become one of the league's best offensive defencemen. He covers a lot of ice when he's out there for Brandon, and makes a great first pass. He is never shy to jump up into the rush, and his speed allows him to get back into position if he needs to. The only knock on Clague is that he does over-commit when playing the puck at the blueline, and he doesn't really play a physical game. Clague is projected to be a late first round pick, but could be a second rounder.

3. Tyler Benson, Vancouver Giants (Left wing)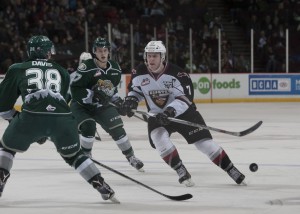 Benson was shut down for the remainder of the 2015-16 season due to a groin injury in February. Despite the fact that the 18-year-old was hurt for most of the season, his performance while healthy has him near the top of this list. The Giants forward was still able to put up good numbers despite his time off the ice with 28 points in just 30 games. Benson was the first overall selection in the 2013 WHL Bantam Selection Draft, and has been a prominent prospect ever since. Although it's hard to judge how players will bounce back from injury, Benson possesses plenty of skills that could help him develop into a great NHL prospect. I could see Benson being an early-to-middle second rounder, as his injury may have set him apart from other draft eligible prospects.
2. Brett Howden, Moose Jaw Warriors (Centre)
Howden was close to being atop this list if it wasn't for Jake Bean. That being said, Howden is a centre with excellent hockey smarts and NHL size. Like his brother Quinton (drafted 25th overall by Florida in 2010) he was one of Moose Jaw's best players at the same age. He scored 22 goals as a 16-year-old with the Warriors, and has a total of 100 points over two seasons in the WHL. He is projected to go in the late first round or early-to-mid second round in June.
Sportnet hockey analyst, Damien Cox says that Howden could potentially be a top-six forward at the NHL level if he plays consistent, and develops properly.
"Big, smart and competitive. He had 22 goals as a 16-year-old. The question is can he play in an NHL team's top six?"

Here's a few of Howden's highlights this season with the Warriors.

1. Jake Bean, Calgary Hitmen (Defense)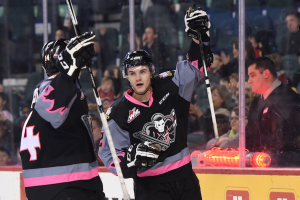 Bean was one of the WHL's best defensemen as he produced 64 points in 68 games – while playing alongside Philadelphia Flyers' prospect Travis Sanheim. He's an exceptional skater who has improved every season playing for the Hitmen, and makes the right moves at the right time. Bean will almost undoubtedly be a first-round selection in the 2016 Draft thanks to his on-ice vision and exceptional hockey sense. Although he demonstrates a pass-first mentality, he led all CHL defensemen with 24 goals, and finished sixth in points by a defenseman. Bean was undrafted in the WHL, but was signed as a free agent by Calgary in 2014.
TSN's Craig Button had this to say about Bean.
He's quick to recognize where there is opportunity and his body can carry out what his mind commands."
Honourable mentions: Sam Steel (C) Regina Pats, Lucas Johansen (D) Kelowna Rockets, Carter Hart (G) Everett Silvertips.