Don't Blame the Big Boys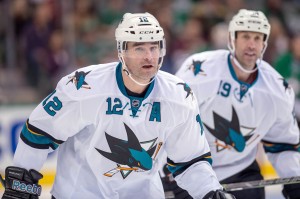 For over a decade now the San Jose Sharks have made the playoffs every single season only to disappoint. And every year their top stars face the brunt of the criticism. Mainly that has meant guys like Joe Thornton and Patrick Marleau getting scapegoated for what was a team loss. It is quite unfortunate that there are a lot of silly people around the great game of hockey who want to single out individuals for team success or lack thereof and ignore other factors.
Based off league reputation, one is probably surprised to learn that both Thornton and Marleau have career playoff point per game rates on par with Pavel Datsyuk, Marian Hossa, and Patrice Bergeron. Since Thornton and Marleau haven't won a Cup yet, they are unfairly considered by many to be worse players than their contemporaries who have raised the chalice. This is the same asinine thought process that leads some out there to try and argue Jonathan Toews is better than Sidney Crosby because he has two Cups to Crosby's one. Sid the Kid isn't to blame for Pittsburgh's inability to win another cup. When the Penguins won in 2009 they featured three stud centers on each of their top three lines with Crosby, Evgeni Malkin, and Jordan Staal. Pittsburgh hasn't won again because their overall team hasn't been anywhere close as good as it was in 2009. Crosby is still Crosby, still a point producing machine.
When it comes to the Sharks, Thornton and Marleau have never been the problem. For those who say Thornton and Marleau don't perform in elimination games, that simply isn't true. Dating back to the 2011 playoffs, Thornton has tallied 10 points in his last 15 playoff games where either the Sharks or their opponent were facing elimination. Over the same span Marleau has scored eight points in 15 elimination games. The narrative that the two longest tenured Sharks players disappear in the playoff is just plain wrong. It is simply not true. Could they have been better in these games? Certainly. Should they have been? Probably. But even if they were the Sharks' biggest problem in the playoffs has not been the production of their top guys. The real problem is that they are too often a top heavy team without the depth scoring required come the postseason.
Shallow Sharks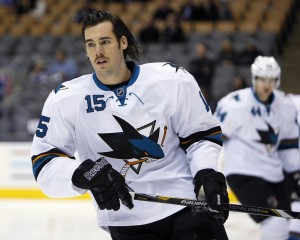 Going back to the 2008-09 season, the Sharks have featured the following players as their primary third line centers: Manny Malhotra, Joe Pavelski, Michal Handzus, James Sheppard, Scott Gomez, Jeremy Roenick, and Dominic Moore. It shouldn't be a shock to anyone that their best playoff runs came with Pavelski (twice) and Malhotra at the third line center spot. As mentioned above, the current Crosby-led Penguins won their lone Cup with a dynamite player at third line center. Currently, the Sharks don't have this spot locked down with anyone significant. Sheppard has disappointed, so has Tomas Hertl, and recently rookie Chris Tierney has filled in at third line center briefly. Yet again this season, the Sharks will get knocked out of the playoffs not because their top stars aren't good enough but because their bottom six isn't strong enough.
By the numbers the Sharks are tied with the Washington Capitals for the most top heavy scoring teams in the current playoff picture. Both San Jose and Washington rely on their top three goal scorers for over 40% of their total scoring output. Even teams thought to be top heavy like Pittsburgh and Anaheim, rely less on their top three. Anaheim comes in at 38.3% and Pittsburgh at 34.8%. Not to mention teams like the defending champion Kings at 33%, the Islanders at 34.3%, and the Bruins at 33%. It is not rocket science why teams like Washington and San Jose annually struggle come spring time. Teams that overly rely on their top scorers don't go far in the playoffs because top defensemen are good enough in this league to limit the scoring of the top opponents and force other players to score. Neither the Sharks nor the Capitals have those kind of quality depth scorers to get the job done. Put it more simply, last season the Kings' Justin Williams won the Conn Smythe trophy as MVP of the playoffs primarily playing on Los Angeles' third line. Teams that go deep into the postseason get brilliant performances from the bottom six. Every playoff team has a talented group of top players, but the ones that consistently go far have the deeper talent pool in the bottom six.