There's beauty in simplicity. It's clear, it's soothing, and it's reassuring – three words that also describe Toronto Maple Leafs' Par Lindholm and NHL newcomer. Lindholm isn't your traditional NHL rookie: he's 25 years old. In May, after 20 of 31 NHL teams reportedly expressed interest in Lindholm, the Swedish centre signed a one-year entry-level contract with the Maple Leafs, making the move away from the Swedish League and European hockey.
Early On, Lindholm Has Exceeded Expectations…but There's More to Come
After many Maple Leafs fans had Lindholm penciled in as the team's fourth line centre – at best – it's safe to say that the upcoming unrestricted free agent has exceeded expectations, earning a promotion alongside Nazem Kadri and Connor Brown on the team's third line, though this might be a testament to the play of Frederik Gauthier and of course, Josh Leivo. In ten games, Lindholm has three points (1 goal, 2 assists), playing 14:20 a night with a trusted spot on head coach Mike Babcock's tumultuous penalty kill.
Related: Leivo Taking Advantage of Opportunity With Maple Leafs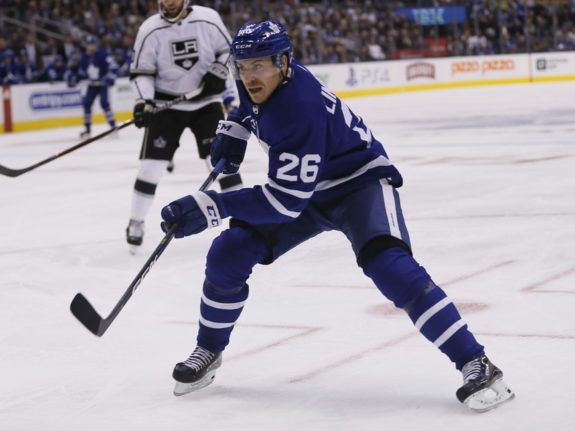 On Wednesday night, with the Leafs taking three minor penalties (to the Winnipeg Jets' one), Lindholm was second to Zach Hyman among Leafs forwards with 18:32 of ice time, and that's about what you can expect to see now that Babcock feels that his checking line – Lindholm, Kadri and Brown – has adjusted.
"Their (Kadri's) line is getting way better, obviously," said Babcock, after the Maple Leafs' win in Winnipeg. "They're an important line for us. We expect them to play important minutes, and we need them to score."
With John Tavares and Auston Matthews on the roster, many have been quick to point out Lindholm's lack of offensive output, fearing he might become Babcock's next "Leo Komarov" – playing way more than he probably should – and that's fair; nobody wants to see Lindholm average more ice time than Matthews or Tavares, but that's not a critique on his play, he was quite good at centering one of the top lines in Sweden.
Lindholm isn't snakebitten; he hasn't really created or had many clear-cut chances to score. I also wouldn't say that he is necessarily to blame. Early on, watching the Swede, he was a little offbeat with his teammates. There were times when I noticed Lindholm would be open, tapping his stick in the middle of the ice calling for the puck, just as that space was closed off by the opposition's defence on the smaller, NHL-sized rink. Had Lindholm received a few of those passes when he was open – something that will come with more experience with his teammates – a couple more chances and goals might have come off of his stick.
Lindholm Has a High Hockey IQ, but Needs High-End Plays
Lindholm's high hockey IQ can be seen in his first NHL goal when the Swede accomplished two things: first, he recognized the space and established inside position on the Washington Capitals' defenseman, allowing him to be first to the puck no matter what Jake Gardiner chose to do (throw it around the boards or towards the net) and second, he made himself a target – body open, stick on the ice – long enough for Gardiner's high-end pass to find him.
It takes two working pieces to make that play come together, although Gardiner will get credit for the flashy pass, and that's Lindholm's game. There's nothing flashy about his style, nothing that will really stand out, but through ten games, it's clear he has a good understanding of the sport, a valuable skill that's often overlooked because there's no stat to measure it.
That's why I decided to write this article because as we get to see more of Lindholm – and as fans grow frustrated with Tavares and Matthews sometimes on the bench – it will be subtle plays, like the above, that makes him valuable to a hockey team; it will be his 50 per cent face-off percentage through his first ten games despite transitioning from European hockey.
With an exciting team filled with flash, I don't want Lindholm to become devalued. Lindholm is no less important because Babcock has taken a liking to him; appreciate him because there is value in the 25-year-old Swede.