Allie Thunstrom is taking the NWHL by storm (pun intended) and with her lightning fast speed she already has four points (2g-2a) in her first four games and has fired 12 shots on goal. Her Minnesota Whitecaps have started their inaugural campaign as a pro team with a perfect 4-0-0 record and if those first four games are any indication the former speed skater will be an impact player throughout the course of the season. 
Thunstrom was an amazingly talented scorer at the collegiate level and it appears that not much has changed since she graduated in 2010. The past few seasons in addition to playing with the independent Whitecaps she was also competing at the highest levels of speed skating and just missed out on qualifying for the Olympics. Basically, she's a bonafide badass.
I was able to slow down the speedy Thunstrom for a few minutes during Minnesota's visit to New Jersey when they played the Metropolitan Riveters to find out what life has been like for her as a professional hockey player thus far, how she got into speed skating and an ironic misspelling on her current Whitecaps jersey among other topics.
Going Pro
The Hockey Writers: You're playing pro hockey now, what's it been like?
Allie Thunstrom: It's been awesome. The excitement around it, especially in Minnesota, has been great. A lot of people are interested and we sold out both of our first two games, which was incredible to see and just the hype, the level of engagement the people in the community are having. It's been really cool so far.
THW: What led to your decision to play this season?
AT: I always missed hockey, playing competitively, being on a team and playing at a high level. So when the opportunity came it kind of made sense. This is what we've worked for since we were kids, what we all aspired to be. Now that it's a reality I kind of had to take advantage of it. 
If you look closely you can see that Allie Thunstrom's (@athunder921) name is spelled wrong on her jersey. I'll have the story behind that & more later this week. pic.twitter.com/3EeLjUXYuL

— Dan Rice (@DRdiabloTHW) October 22, 2018
Nameplate Gate
THW: I've heard you have a little issue with your nameplate on your jersey. And you don't want to change it. Tell us about this, please!
AT: I don't want to change it! (smiling) We had our first game at the University of Minnesota-Duluth and our jerseys are hanging in the locker room and this is the first time we had seen them. We had just seen the jersey unveiling about a week prior at the Minnesota Wild Fan Fest. It was super exciting, and I saw mine and I'm thinking something doesn't seem right. It was one of those – all of the letters were there, and I'm thinking what is it? All of a sudden I said oh my god it says THUNSTORM (not Thunstrom). So everybody started laughing and said I think that's an improvement on your name. Growing up my nickname was always 'thunder' or 'thunderstorm'. One of my best friends used to make signs at my games that said: 100% chance of a thunderstorm. Everyone was saying: it's perfect – T-Storm – and I was like whatever. But then we had a really good opening weekend, and it's just become the running joke, and kind of my nickname now. So they said you're getting new jerseys, we have to fix your nameplate, I said 'Do you have to?' (Grins) I kind of like it. We'll see. I think for now I get to keep it.
BC Beast
THW: Going back to your college career at Boston College (2006-10), for lack of a better term you were a beast (86 goals, 139 points in 141 games) with the Eagles. What do you remember about your time there?
AT: (laughs) It was some of the best four years of my life for sure. It was definitely different than Minnesota; I grew up in Minnesota where this is all that we do. It's like a rite of passage to learn how to skate. It's a little bit different in Boston, but they are just as passionate about their sports teams. The school itself was unbelievable, and playing in Hockey East – UNH (University of New Hampshire) had an unbelievable team with Kacey Bellamy and Sam Faber. So getting to play against them and at that level was just exciting every day.
We're so excited for Allie Thunstrom to return to the rink with @WhitecapsHockey! Congrats on the deal!

📝 https://t.co/SCwWtdI1Im#WeAreBC🦅 | #WHEA pic.twitter.com/vydOv5wwkt

— BC Women's Hockey (@BC_WHockey) August 1, 2018
THW: Was it more of an opportunity thing, moving away to play there because there is so much internal competition inside of Minnesota?
AT: People ask me that all the time, how I grew up in Minnesota and ended up out east. It was just one of those things where I went and visited and everything felt right. For me it was probably really important to kind of grow up a little bit; I was such a homebody. To the point where I remember the first week of school and I paid somebody else to call and order takeout because I was just used to being at home. So it was a huge culture shock to me, and I was homesick but I think at the end of it if I hadn't done that I don't know if I'd be independent.
Changing Careers
THW: How did you get into speed skating?
AT: I was always a pretty fast skater so after I graduated from college I had a short stint with the National Team (2010) and after I was cut from that I was like 'now what?' I played sports my entire life. I played softball and hockey at BC and all of a sudden I had nothing. I didn't really know what to do. Someone said (to me) have you ever tried speed skating? So I went to this Try Speed Skating night in Minnesota, and they were like 'oh you can actually stand up on skates, that's different.' So I tried it and started skating with very young kids and they were all better than me (laughs). It's such a different stride, and to this day I can't believe I stuck with it. I was getting lapped by six and seven-year-olds, I was falling on my face on the straightaways. I ended up joining a club in Minnesota and the rest is kind of history.
THW: What is your current day job?
AT: I do product development at a company called Ergodyne. I'm actually in the middle of a business trip! I was in Miami for three days, flew here (to New Jersey for two games) and now from here, I'll fly tonight to Houston for our big trade show.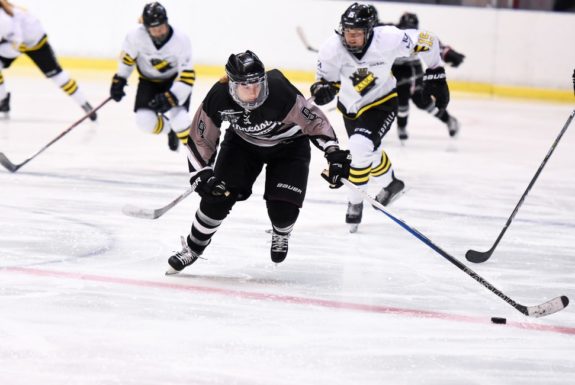 Whitecaps Then and Now
THW: You played last season with the Whitecaps when they were an independent team, what are your memories from that?
AT: I actually played with them from about 2011 and it's always such an amazing group. These are players that I've grown up with and we've played against or with each other for years. That camaraderie has always been great, the competition – playing against the University of Minnesota and the WCHA teams are always great. But there was always something more that we wanted and that was missing. Now I'd say the biggest change from last year to this year is just the level of seriousness we all bring every day and this is something that we're all very focused on. Before it was like: yeah if I can make it to practice I might. This year we're all making it a priority. 
THW: Yesterday you played here in New Jersey at the Prudential Center, at the end of December you'll be playing at the Key Bank Center in Buffalo. How fortunate do you feel about these opportunities to play in NHL arenas from where you were playing previous years?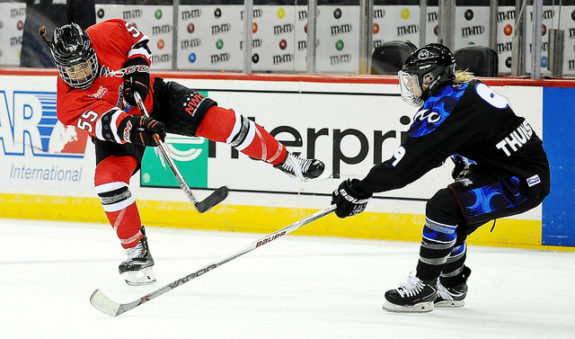 AT: It's nuts. Even before I think of the years before when the WWHL still existed, before the CWHL – we played in that league and those games we played in a community rink. The whole basis for growing the game was we'd do a kids clinic before the game and all of those kids would come to the game. So to go from playing at your everyday community rink to playing at Prudential and Key Bank…it's crazy. You grow up going to NHL games, and watching, and dreaming that one day you could be on the ice. As a young kid, you don't ever think of – the NHL is not necessarily for female athletes. So to step on the ice and be out there is pretty special. 
THW: Today your line was on fire with a combined ten points, three of them were yours. What was going right?
AT: I think yesterday we started off a bit slow. We had a ton of travel getting here, which was new for us; being in the league now, this was our first trip. We really wanted to come out today and play a little bit cleaner, a little bit faster. I think our line (with Katie McGovern and Jonna Curtis) really gelled today. The three of us had never played together until the start of this season, and today I think we really got a feel for each other, started seeing where each other were.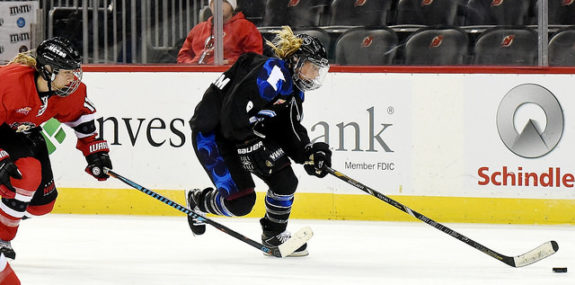 THW: Four games, four wins. All against the defending NWHL champions. How does this set up your team going forward for the rest of this season?
AT: I think it's huge. Coming into a new league, yes we had played together but it's not something the people out here or anywhere really followed our team. As far as anybody else is concerned we're the new kids on the block. It was nice to come in and show that we belong here and it's something that we've been aspiring to be, a part of this league for so long. The Riveters are a great team and to walk away with four wins is incredible. It wasn't like any of them were easy.