Sam Faber is a hockey legend and more people need to realize that. Within her career she has accomplished the most important hat trick of all – the respect of her teammates, respect from the community, and respect from opponents alike. Faber is one of just a handful of inaugural members of the Connecticut Whale still playing in the NWHL. She was a gold medalist for the USA at the IIHF's 2008 Women's World Championships in China. She also scored nearly 200 points – 189 to be exact – in her NCAA career. And Faber is still going strong.
Soon to be turning 31 years old in May 2018, fans around the league are on bended knees heading into the off-season hoping that Faber will return for at least one more. Why shouldn't she? Her level of hockey smarts combined with her skill set could allow her to play competitively seemingly for as long as she would like. With three different teams winning the Isobel Cup through the NWHL's first three seasons, there ought to be a new hashtag to serve as the Whale's rallying cry for the fourth season – #ACupForFaber.
(2/2)….Thank you to all the fans for coming out to support us. You are the ones who make this all possible and I'm so grateful for all of you. Also a big thanks to the @NWHL for allowing me to continue to play the sport I love." -Sam Faber

📸: @matthewraney pic.twitter.com/7BpdFX6xfk

— Connecticut Whale (@CTWhale_NWHL) March 21, 2018
But it is Faber's hockey smarts that we want to focus on in this instance. It is inspiring to see the degree of which she has gone to impart her knowledge into hockey's youth. Faber is not only the Mite Development Director at Sono Ice House in Norwalk, Connecticut, but she is also the lead coach for the Connecticut Jr. Whale program. Faber's grooming of the younger generations of hockey players is paramount in the very basis of what the NWHL stands for. Yes, Faber is indeed inspiring.
We caught up with her still shortly after the 2017-18 NWHL season came to a close to talk about the forward position in hockey. Few more consummate professionals than Faber have played the forward position. She is a wealth of knowledge when it comes to her primary position, and she shared some of that knowledge with us. We hope that Faber's words will be conducive to hockey players of all ages, but especially our preteens and teenage players.
Narrow of Purpose and Wide of Vision
No hockey player scores 189 points in 133 NCAA Division-I games without having a true hockey sense and an ability to read the ice very well. In Faber's freshman season alone at the University of New Hampshire she amassed 22 goals and 29 assists in just 37 games. Those 51 points would be her career high at the collegiate level. She would later hit highs of 25 goals in her junior campaign, and then tied her career high in assists with another 29 during her sophomore year.
It was obvious that Faber's vision had been honed very early on, and it led to her having such key success right from the get-go in college. While there may not be one particular skill for hockey forwards to focus on developing, Faber is still a firm believer on making certain a player's field of vision on the ice is quite keen.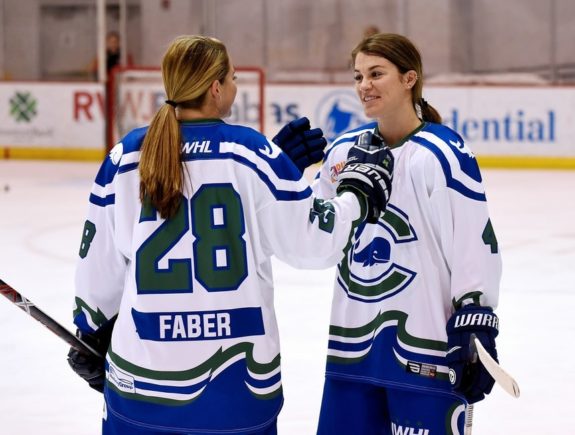 "It is hard to narrow down one specific important skill of being a forward," Faber said. "However I believe being able to see the ice and find the open space is extremely important. As a forward we need to be able to find the open areas of the ice to get the puck in breakout and scoring positions."
This is where a player can truly separate herself or himself from the pack. A youngster knows to try to obtain the puck, keep hold of it and move it up ice for a scoring opportunity. But it is a totally different sense of awareness when a player understands that openings can be spotted, pinpointed, and then utilized to create an advantage. In essence Faber is talking about the art of puck movement.
A Shot, Is a Shot, Is a Shot…
Faber's first season of professional level hockey came in 2010-11 when she was a member of the CWHL's Boston Blades. Although the players at the time were not paid as professionals, it was still the most elite level of women's hockey to be played. That year Faber scored 15 goals and 15 assists for 30 points in 23 games. Those numbers came well more than a year after she finished college hockey. Faber's goal production did not falter as she made the transition into this premier league – she kept putting them home.
Wrist shots, snap shots, slap shots, backhands. Each has its purpose and can be utilized as a weapon for scoring. Some are more deceptive than others, but ultimately the main point in having an array of shots is to generate offense.
#TeamLeveille would like to thank #TeamOtt for doing us this Faber! Sam Faber of the @CTWhale_NWHL is headed to the #NWHLASG! pic.twitter.com/6c4yP0KjbF

— NWHL (@NWHL) January 23, 2018
Faber points out that a player's shot is something that is developed over time and must be worked at diligently. A skillful shot can be harnessed to a player's liking but it takes effort and commitment. Faber also feels that there is one particular shot that young players need to focus on developing early in their careers and then continuing throughout.
"The best way to develop your shot is to practice it every single day," she told THW. "You don't need to be at the rink to practice your shot. Practice in your driveway, backyard, garage, wherever you can so you get as much repetition as possible. The most important shot to develop at a young age is your snap shot because of the quick release."
Reading Plays as a Forward
It is not surprising then to note that Faber herself has one of the best snap shots in the entire NWHL. In 44 regular season games through her three years with the Whale she has potted goals nine times. Faber has also peppered 62 shots on net during that same stretch. As recent as this 2017-18 season her three goals on 18 shots gave her a desirable shooting percentage of 16.7%.
But it's not just taking the shots themselves. Perhaps more importantly, it is the concept of getting in the clear in order to get the shot away. If a forward is tied up or has not positioned themselves to be open to finish a scoring opportunity, then shots can quickly become a moot point.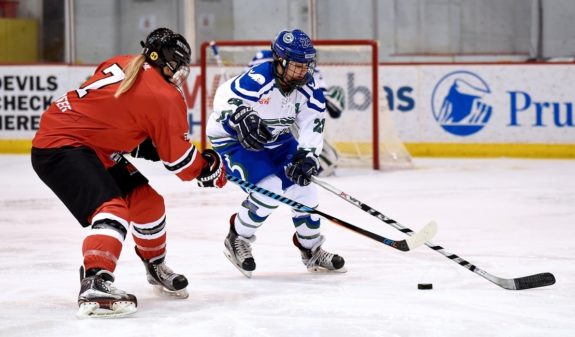 Faber went on to explain that, "a forward should be thinking about how to get to the open space that will put themselves as a scoring threat. A forward needs to be able to read off their linemates and decide in the moment if they are going to be a playmaker or a goalscorer for that particular play, and then they can focus on what space they need to get themselves to."
Opportunities Are Created Through Communication
The most critical way that linemates can create opportunities for one another is through constant communication out on the ice. This is how the most successful forward lines have clicked. They talk with one another while play develops and discuss strategy on the bench as well. By reading well off of each other specific plays can have greater success and over time can almost become second nature.
So is there a fear that by talking too much that the opposition will take advantage of what the players are saying? Faber does not think so. In fact, she stresses that the communication between forwards should constantly be flowing. Keep in mind too that many forms of communication are not verbal. Players need to be cognoscente of what is being shown on their linemates' faces. There is plenty that can be discerned from body language and facial expressions.
"There is never too much communication," Faber stated quite clearly. "As you grow with your linemates you will be able to read what each player is doing. Before you get to that point you will need to use your voice and eyes to communicate and this will make your play effective together."
Where Do Players Fit in When It Comes to Special Teams?
We have heard it time and time again from coaches in hockey leagues of all levels throughout the world – special teams win games. It is with great certainty that some coaches would get this concept glued to their players' foreheads if it were allowed. But at an early age, can youth players really know whether they will be one to excel either on the power play or the penalty kill?
There has long been a connotation that playing on the power play is fun. You get to score goals, and nothing is more fun than that. But playing on the power play also comes with a great deal of responsibility. The same can certainly be said for playing shorthanded. In youth hockey the penalty killing unit may be perceived as less glamorous, but coaches oftentimes place their most trusted players on the ice to kill off penalties.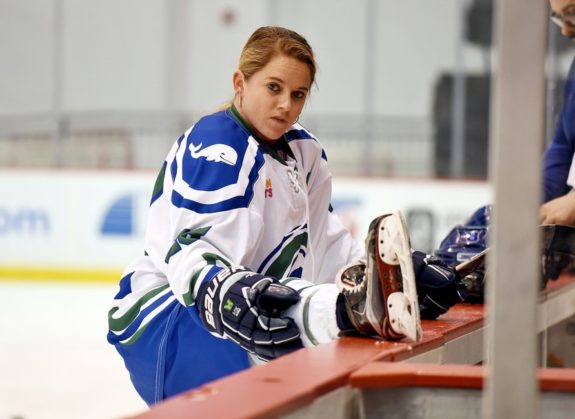 Fabers make it quite clear that young players should not focus on one special team over the other. Rather, and emphasized with great importance, players in youth hockey and at all levels need to work on being strong at both ends of the ice and in any sort of situation that may arise in play. To be thinking just about the power play or just about the PK only shortchanges players. They need to practice and work at a complete game.
"A young player should be practicing both sides of special teams," Faber stated. "Your strengths and weaknesses develop as you go through your career, and eventually you will realize which side of special teams you excel at if not both sides. Will you be a player that blocks shots or will you be a player that handles the puck with magic and sees the ice as a playmaker? Maybe you are both, but at the early stages each player should be practicing all aspects of the game."
Vision Can Overcome Size and Strength
At 5-foot-4 and 130 pounds, it is not as if Sam Faber has an immense amount of size. She may have the heart of a lion and be fearless in her approach but there are many players in the NWHL who are much larger than she is, and conceivably stronger. After all, no matter how big and tough a player is there will always be someone who is bigger and tougher.
Faber's nine goals and 10 assists in 44 NWHL games with the Whale have come at least partially because of how well she has kept to maintaining proper vision on the ice as opposed to outmuscling anyone. Yes, hockey is a physical sport and players have to accept being cut and hurt at times. But the really good players like Faber – the ones who distance themselves from the rest of the pack – come with a cerebral approach and use their mind first and foremost in addition to both their physical gifts and physical determination.
Check out this Q&A to learn more about our Captain, Sam Faber!

📝: @DRdiabloTHW
📸: Michael Hetzel pic.twitter.com/kHow6RD5mV

— Connecticut Whale (@CTWhale_NWHL) February 7, 2018
Size is not everything in hockey", Faber said matter-of-factly. "I always say how important speed is in our game, however, to me the most important thing is vision. If you can see the play before it happens you will be able to navigate around players that are bigger and stronger. My advice – watch as much NWHL and NHL hockey that you can at a young age. Ask questions and watch what the pros do. This will help your vision and eyes for the game more then anything else!"
The Bottom Line of Being a Forward
Maybe if it is started now it will have gained enough momentum by the time the 2018-19 NWHL season gets underway – #ACupForFaber. One can always hope. Recognize that the tips being shared here are coming from one of the most intelligent and most accomplished players in women's hockey. Sam Faber is a class act and when she speaks about the game all eyes and ears ought to be on her. This is a player who is rightfully held with a great deal of reverence.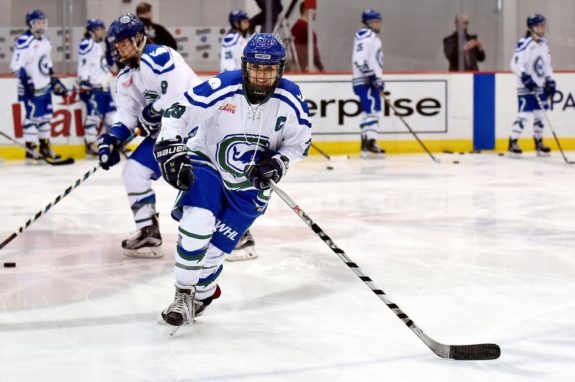 We asked Faber one final question about the forward position. It is indeed an important one. What is something that you know about forward now, that you wish your 12-year-old self had known? Faber responded as such:
"Pressure to succeed is probably the most challenging part of being a forward," Faber shared. "I mean you need to succeed at every position, but as a point producing forward if you start to slump you have to stay mentally tough and keep your confidence up. This is extremely important to our position."
There is a lot of great information that Faber shared with us, but this last part is perhaps the most critical. As she said – "stay mentally tough and keep your confidence up!". Faber's words are words to live by.
If you liked this article, be sure to check out: Beauts' Sarah Edney Talks Defense for Youngsters. There will be more articles forthcoming of NWHL players discussing different technical aspects of the game. Stayed tuned!
General Manager of the Buffalo Beauts (NWHL). Hockey history writer "The Hockey Writers". Credentialed media for the NHL Combine and 2018 IIHF World Junior Championships in Buffalo, NY, USA. Born and raised in Buffalo, NY. Lifelong hockey fan for over 40 years. Proponent of the women's game.