Well, you didn't really think the Anaheim Ducks would get through the rest of the season without another significant injury, did you?
Fighting for the playoffs down to the wire in part because of a series of injuries that limited their success early in the season, the Ducks had most of their key regulars (besides Patrick Eaves) back in the lineup for a decent stretch, but Sunday's dramatic win over the Colorado Avalanche came at a cost.
Star goaltender and unofficial team 2017-18 MVP John Gibson—with honorable mention to Ryan Getzlaf—left early following a collision in the first period. Then, minute-devouring defenseman Cam Fowler exited late in the game with what appeared to be a left shoulder injury following a hard hit into the boards and glass.
Gibson, somewhat predictably, was announced as day-to-day with an upper-body injury on Tuesday. The bigger blow, though, was to Fowler, whose shoulder injury will keep him out of the lineup for two to six weeks.
Gibson Exits Early Again
As good as Gibson has been this season, he has had some issues with on-ice collisions and brief resulting injuries throughout the year. In the first period Sunday against Colorado, Avalanche forward Gabrel Landeskog skated into Gibson, aided in part by a shove from Anaheim's Ryan Kesler. Gibson appeared momentarily shaken up but stayed in the game for the remainder of the first.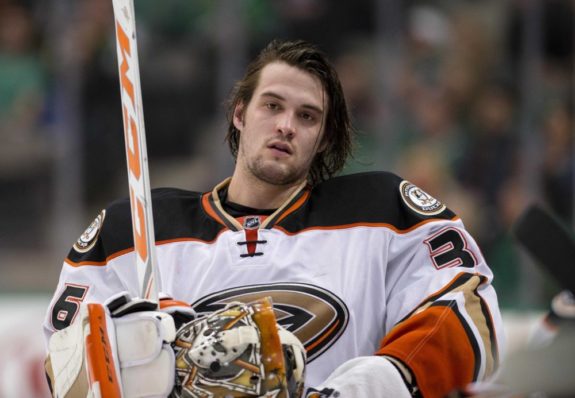 Ryan Miller, however, took the crease to start the second period, and Gibson did not return. The good news was that the Ducks were able to rally for a huge win. The bad news is that immediately following the announcement of Gibson's prognosis, the club called up goaltender Reto Berra from the AHL, meaning Gibson will be missing at least Wednesday's game against the Minnesota Wild.
Gibson, in spite of his minor injury issues, has managed to start a career-high 60 games this season and not see any drop in his strong performance from last season. In fact, his save percentage sits at a career-best .926, and along with his stellar goals-saved-above-average mark, is a testament to how good he has been all year. He is largely responsible for keeping the Ducks afloat while they battled through injuries as well as during the long stretches this year where they have been decisively beaten from a puck possession standpoint.
Nevertheless, as long as Gibson is not sidelined for much more than the next game, Anaheim should not have too much to worry about with respect to its goaltending situation. The 37-year-old Miller, a big-name starter for most of his career, has been very dependable in his backup role with the Ducks, posting a save percentage of .925 in 25 appearances (including 18 starts). He has been especially impressive in turning aside high-danger shots in all situations, doing so 85 percent of the time.
The Ducks are very close to the postseason and could clinch Wednesday night if they defeat the Wild and if the St. Louis Blues lose in any fashion. They just need to get to there, at which point they should have their number-one netminder back. Until then, they are in good hands with Miller.
Fowler's Absence a Crushing Blow
Fowler's injury is a bit more problematic.
He will be out for a longer period of time, meaning that even if the Ducks get to the playoffs, he will miss most if not all of the first round, and possibly more if Anaheim is able to advance.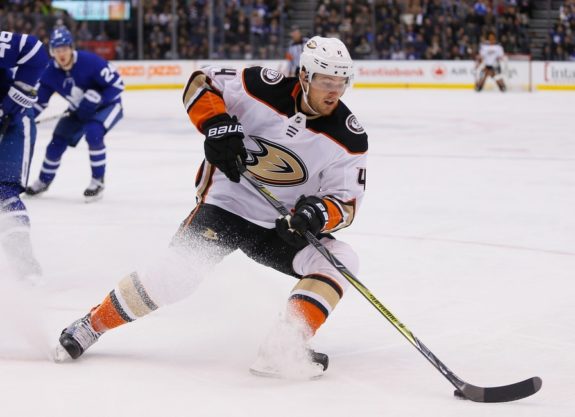 While the defense pair of Hampus Lindholm and Josh Manson has been the Ducks' best this season, Fowler is a crucial player who plays more minutes than anyone on the roster. He averages 24:51 of total ice time per game—over two minutes more than the next-highest player (Lindholm). 
The 26-year-old, who signed an eight-year extension in the offseason that will kick in next season, leads Ducks defenders in power-play ice time per game (2:36) and is second among the club's blueliners in shorthanded ice time per game (2:23), trailing Manson by only three seconds on average.
Fowler's 32 points (eight goals and 24 assists) are tied with both Manson and Brandon Montour for the team lead among defensemen, although Fowler has only played in 67 games while Manson and Montour have each appeared in 77.
The reason for that lower games-played total is a knee injury, suffered in an Oct. 20 game against Montreal, that kept Fowler out of the lineup for a month. The Ducks managed to go 6-4-2 in the 12 games he missed during that stretch, winning three of their last four as they perhaps started to become acclimated to playing without him. The playoffs, however, will offer consistently strong competition and no such adjustment periods. Being as deep in the red on expected goals-for percentage (xGF%) as they were in late October/early November—during which time Fowler was out of the lineup—will not bode well for them in the postseason.
How Ducks Will Move Forward
Assuming the Ducks get there, succeeding in the playoffs once they do will be quite difficult without Fowler. But playing without key contributors is nothing to which the Ducks are not accustomed.
"We dealt with a lot of injuries [at] the start of the season and throughout the year," said Getzlaf after the Gibson and Fowler injury news broke. The one thing we do have is experience with our young players. We're going to look to some of them to step up and fill some of those minutes."
Lindholm and Manson, young veterans, will certainly see an uptick in minutes. Beyond them, Anaheim will have to lean on youngsters Montour and Marcus Pettersson in major roles. Then, with Kevin Bieksa still sidelined perhaps through the beginning of the playoffs, the Ducks are left with Francois Beauchemin and either Korbinian Holzer or Andy Welinski, who had a four-game cup of coffee with Anaheim earlier this season, to round out their six blueliners.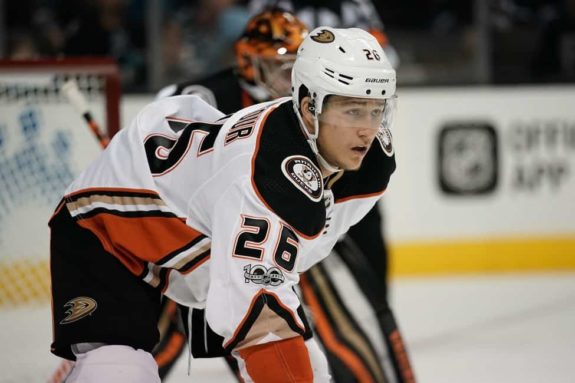 The Ducks could split up the Lindholm/Manson pairing and consider putting Montour with Lindholm and Pettersson or Beauchemin with Manson. While each pair has not had much ice time together this season, they could give the Ducks more balance and help them spread the minutes out a bit more.
As of Tuesday, though, head coach Randy Carlyle had kept Lindholm and Manson together in practice while pairing Montour with Beauchemin. That seems like a questionable move given the latter pair's ugly numbers (47.65-percent Corsi-for percentage at 5-on-5, along with an xGF% of 44.63 percent).
If they can secure a playoff spot soon, Carlyle and the Ducks would have a game or two with less pressure and the full freedom to experiment with different defense combinations, but in any event, it's something they will need to lock down if they want to give themselves a fighting chance of making a meaningful playoff run while Fowler is out.