In a season where the Anaheim Ducks' defense corps has taken a hit with the trade of Sami Vatanen, a couple of blueliners have continued to elevate their games to become the Ducks' most important pair. One is Hampus Lindholm. The other? Josh Manson.
Unfortunately for the Ducks, Manson suffered an upper-body injury early in Sunday's 4-2 win over the New Jersey Devils. While he made the trip with the Ducks as they began a four-game swing in Canada, he did not dress for the first game of that trip, a key 4-0 win Wednesday night against the Calgary Flames. It was the first game Manson has missed all season on a team that has experienced an absurd number of injuries to key contributors; he has been a constant amid the tumult of Anaheim's 2018-19 campaign.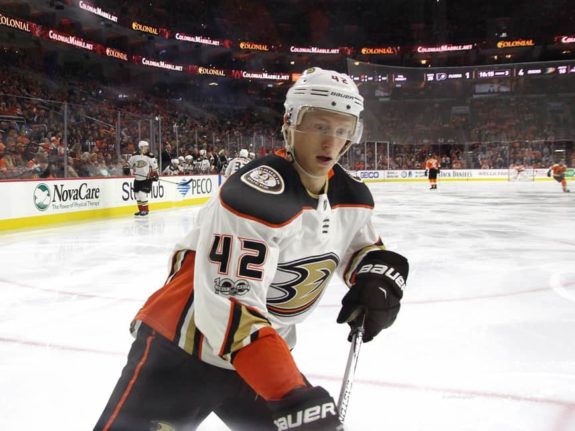 While Manson's injury does not appear to be serious, the Ducks, who are fighting for their playoff lives, need him back in the lineup as soon as possible. Manson has grown to become an integral part of the Ducks' blue line, helping keep them in the postseason hunt despite all of their injuries.
Manson's Pre-NHL Career
The Ducks drafted Manson in 2011, all the way into the sixth round (160th overall). His father, Dave Manson, was also a defenseman who played in the NHL for a number of teams. Josh was born in Illinois—right after his father had been traded from the Chicago Blackhawks to the Edmonton Oilers—but eventually ended up in Prince Albert, Saskatchewan before playing junior hockey with the Salmon Arm Silverbacks in the BCHL.
Manson then went on to play collegiately at Northeastern University in Boston, MA. In three seasons with the Huskies from 2011 to 2014, Manson established himself as a strong defensive defenseman. Offense was not a big part of his game then, as he only tallied a total of 21 points (six goals and 15 assists) in 99 games across his entire career there. He was, however, recognized for his defensive prowess, as he was named a Hockey East Second All-Star and Best Defensive Defenseman in 2013-14 while serving as Northeastern's captain.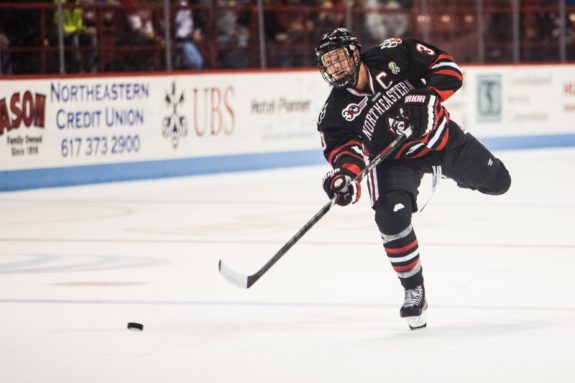 After his time at Northeastern, Manson continued his development in the AHL with the Norfolk Admirals, but hints of his offensive abilities would manifest themselves occasionally; while not eye-popping, he did post 12 points (three goals and nine assists) in 36 games with the Admirals in 2014-15—a slightly higher rate of scoring than he had across his time at Northeastern.
Manson's Evolution
Early NHL Career
Manson's first taste of NHL action also came during the 2014-15 season, when he appeared in 28 games for the Ducks and picked up no goals, three assists, and 31 penalty minutes. He would earn a full-time role in the NHL the following season and begin his ongoing improvement and evolution into one of the game's most quietly effective defensemen.
In 71 games in the 2015-16 season, Manson scored the first five goals of his NHL career and added 10 assists. He had a very similar season in 2016-17, although this time he played in all 82 games. He picked up another five goals and had 12 assists. Over his first couple of seasons, he earned the continued trust of his teammates and coaching staff.
"Manson is a young player that we believe in and he's that type of no-nonsense player," said head coach Randy Carlyle early this season. "You watch the way he prepares himself and the way he practices day in, day out, that's the way he plays."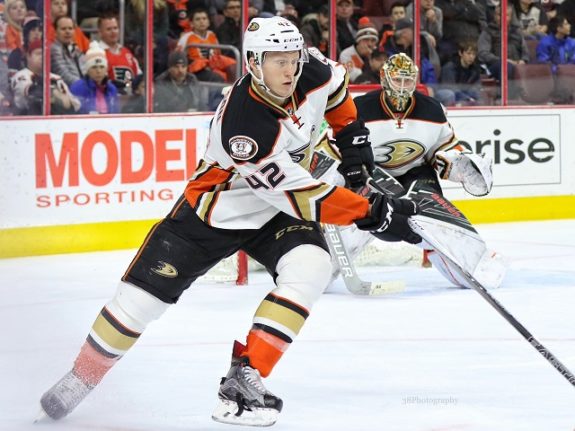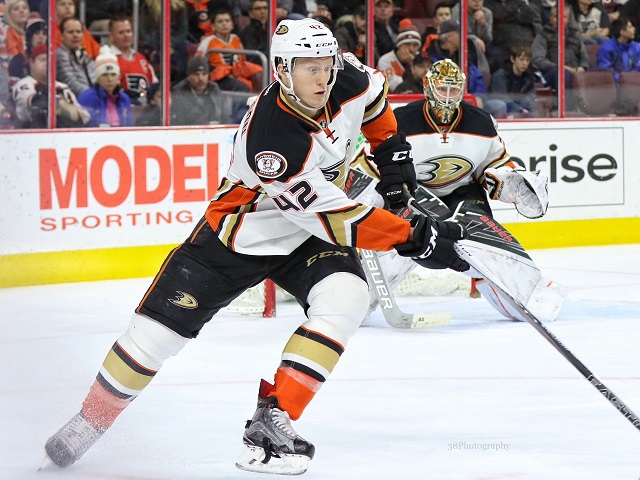 Breakout Season
Manson's good habits and effort to keep improving have begun to bear fruit on the stat sheet this season. Through 73 games, he has again hit five goals, but he has exploded for a career-high 26 assists. Carlyle has entrusted him with more minutes, as he's averaging just over 20 minutes per game.
Manson is still deployed as a defense-first player, as he has played under seven minutes on the power play all season. Thus, he unsurprisingly has no points on the power play in his very limited time. Given that and the fact that Manson receives so few offensive zone starts, his 31-point total becomes all the more impressive.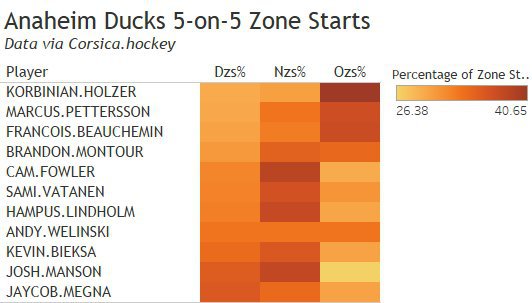 The 26-year-old's attitude and preparation have remained consistent through the increased success he's experienced.
"I would say, I've made the NHL and I feel like I've been playing some decent hockey as of late," Manson said earlier this month. "Just doing what I need to do. There's always going to be room for improvement. I don't think I'll ever be satisfied with my game."
Regarding his increased offensive output, Manson said back in November that he was still growing into that role.
"I'm starting to figure out the kind of player I can be and grow into that player," he said. "Guys, they don't see it coming. You jump in the rush, they're not really keying on you."
Teammate Francois Beauchemin marveled earlier in the season at Manson's evolution.
"Seeing how he improved in a couple of years is amazing," said Beauchemin, who played with Manson in 2015 before leaving as a free agent for Colorado and later returning to Anaheim for this season.
The evolution is surely still unfolding, but now the results are starting to pour in. Other than on the scoresheet, Manson has proven his value as an effective possession player who can control the blue line and move the puck efficiently.
His 5-on-5 Corsi-for percentage (CF%) is second among Ducks defensemen, only trailing his partner, Lindholm. He also leads all Ducks defenders who have played at least 20 games in 5-on-5 goals-for percentage (GF%), with a dazzling mark of 61.86 percent.
As the Ducks make a late push for the playoffs, they will welcome back a healthy Manson as a critical part of that effort. Since he joined the Ducks on the trip to Canada, his return will hopefully come soon.
Tom has been with The Hockey Writers for almost four years. After previously covering the LA Kings and the New York Rangers, Tom now covers the Anaheim Ducks.
While in college at Clemson University, the 2016 college football national champions, Tom wrote game summaries and feature articles for the official team website of the Greenville Drive, a Class-A minor-league baseball team and affiliate of the Boston Red Sox. Tom is happy to be able to continue to fulfill his passions for sports and writing with THW.