The Anaheim Ducks swung a major trade Thursday morning, a rarity this far in advance of the trade deadline. The team, riddled with injuries up front, acquired center Adam Henrique from the New Jersey Devils in exchange for stalwart defenseman Sami Vatanen.
In the deal, the Ducks also picked up center Joseph Blandisi and a 2018 third-round draft pick while yielding a conditional pick to the Devils that is contingent upon Henrique signing a contract extension with the Ducks; if that happens before the 2019 entry draft, the Devils will receive the Ducks' third-round selection in that draft. If it happens after that point, the pick will slide to 2020. If Henrique does not re-sign with Anaheim, the Devils would not receive a draft pick.
Now that most of the key logistics have been outlined, let's take a deep dive into this deal.
BREAKING: #NHLDucks acquire centers Adam Henrique, Joseph Blandisi and a 2018 third-round draft pick from the @NJDevils for defenseman Sami Vatanen and a conditional draft pick. pic.twitter.com/D5y51REPsl

— Anaheim Ducks (@AnaheimDucks) November 30, 2017
Vatanen Finally Dealt
This trade, particularly because of its timing before the end of the calendar year, came as somewhat of a surprise. Nevertheless, Vatanen seemed like a piece with which the Ducks could be willing to part, given their depth on the back end (namely, the recently extended Cam Fowler, Hampus Lindholm, Josh Manson, and rising star Brandon Montour) and Vatanen's annual cap hit of $4.875 million through the 2019-20 season.
Vatanen seemed like he could be a potential trade piece ahead of this past summer's expansion draft as well, given the Ducks' inability to protect all of their talented blueliners. Instead, it was high-ceiling youngster Shea Theodore who was dealt to Vegas as part of a deal for the Golden Knights to lay off Manson and Vatanen.
Months later, Vatanen's time finally arrived. The Ducks are losing a 26-year-old right-shooting defenseman who has strong puck-moving abilities and offensive instincts. Those types of players don't exactly grow on trees, so parting ways with a player of that caliber is never easy.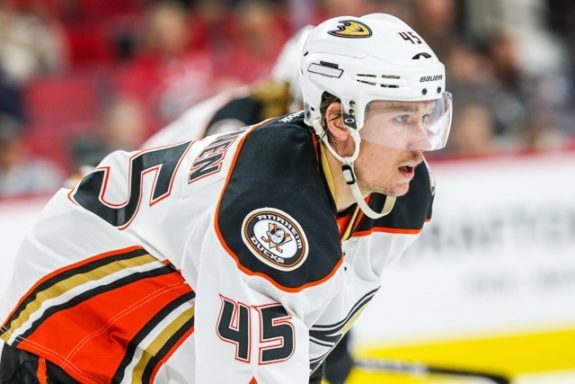 Vatanen, however, saw a dip in his offensive production last season, posting just 24 points (three goals and 21 assists) in 71 regular-season games after putting up 38 points (nine goals and 29 assists) in the same number of games the previous season. In 15 games for the Ducks this season after returning from offseason shoulder surgery, Vatanen had tallied one goal and three assists.
While Vatanen is a defender, his offensive abilities are what make him such a tantalizing talent. The Ducks, though, have seen diminishing returns over the past couple of years from Vatanen in that department, as his goals per 60, primary points per 60, and expected goal differential per 60 have all taken sharp declines since 2014-15.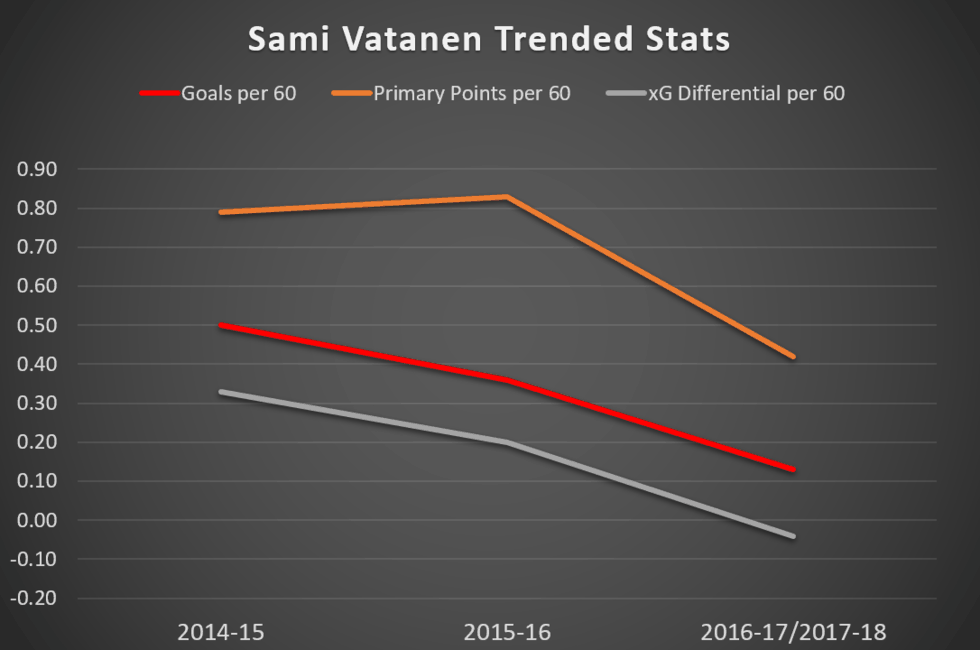 Between that and a solid top four that now features Fowler, Lindholm, Manson, and Montour, the Ducks can probably survive without Vatanen, even if it means a default third pair of Francois Beauchemin and Kevin Bieksa for this season. The club also has young defensemen like Marcus Pettersson, Jacob Larsson, and Josh Mahura waiting in the wings, making this an easier pill to swallow down the road.
Montour, in particular, can step into an elevated role (once he returns from what should be a relatively short-term injury) and continue his rapid ascension with respect to offense from the blue line. Just 23 years old, he is a right-shooting defenseman like Vatanen but has produced at a much higher clip this season, already pouring in six goals and seven assists in 24 games.
For Vatanen, perhaps the opportunity to consistently be a top-pairing defenseman with the Devils will spark him to get back to producing the way he did not all that long ago.
Henrique Plugs Hole Up Front
There is, of course, the other side of the deal, which is what the Ducks are getting. He might not have the upside of someone like Matt Duchene, but in Henrique, the Ducks are acquiring someone who can slot right in as a top-six center to help mitigate the absences of the two Ryans (Getzlaf and Kesler). At this point, Rickard Rakell is also out with an upper-body injury, so the Ducks need all the scoring punch they can get, especially down the middle.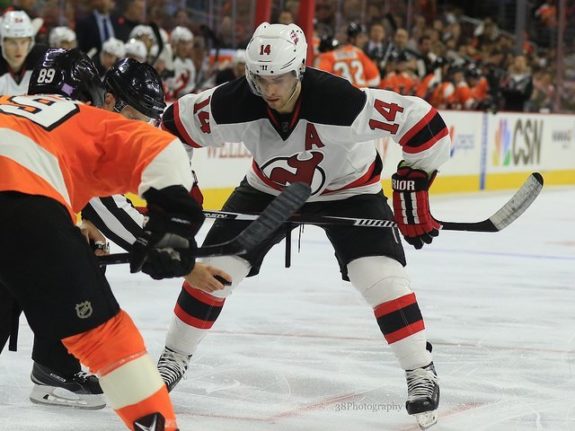 While Patrick Eaves' timetable for a return from his battle with Guillain-Barré syndrome is unknown but seemingly quite long-term, Getzlaf, Kesler, and winger Ondrej Kase will ultimately return this season. At that point, Henrique can slot in as the third-line center behind the Ryans, giving Anaheim an enviable trio of pivots and some scoring punch on their wings with players such as Kase, Rakell, Corey Perry, and Jakob Silfverberg. Add in faceoff specialist Antoine Vermette on the fourth line, and suddenly you really have something cooking.
As far as production goes, the 27-year-old Henrique has twice reached the 50-point plateau—once when he burst onto the scene in his rookie season in 2011-12 with 51 points (16 goals and 35 assists), and again in 2015-16 with 50 points exactly, including 30 goals on the strength of a 20.1 percent shooting clip.
While that season looks to be a bit of a statistical outlier purely in terms of shooting percentage and goal scoring, Henrique has proven to be a very consistent primary point producer, as illustrated in the chart below. His expected goal differential per 60 has largely been in the negative, but that's likely at least partially a symptom of playing on a bad team for the past couple of seasons. The Devils are much improved this season, but the sample of games is much smaller, which is why it's been combined with last season for analytical purposes.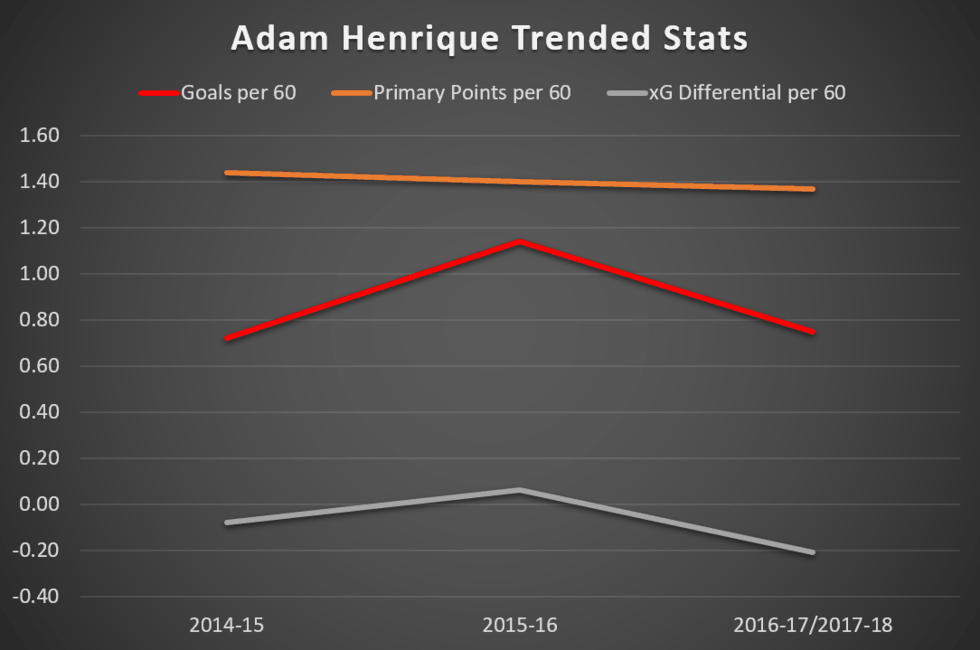 If Henrique can continue to drive offense as he has done consistently for most of his career, he will be exactly what the Ducks need. In addition, he offers some versatility. While primarily a center, he can play on the wing as well, something Anaheim general manager Bob Murray touched on after completing the transaction. Nevertheless, he acknowledged the overwhelming short-term need at down the middle.
"As everybody knows, we've been looking for a left-hand shot center or winger," Murray said. "Adam can play both. … Once we got healthy (on defense), we had to make a decision. They happened to get healthy at the same time so there was an opportunity for both teams.
"It helps us right now. I'm not going to deny that. We have two big centermen out, but they're not that far away. Keep our head above water until they get back."
Henrique will also help the Ducks beyond this dire time of injury, as he is signed through next season at an annual cap hit of $4 million. Acquiring Blandisi along with Henrique is not entirely insignificant either, especially given the Ducks' current health status. The 23-year-old pivot has some scoring ability, as he compiled three goals and 11 assists in 19 games with the Binghamton Devils of the AHL this season prior to the trade.
Blandisi also saw 68 games of NHL action over the course of last season and 2015-16, picking up eight goals and 18 assists with the parent club. He could help bolster the bottom six during this time of need for the Ducks, which has seen depth centers Chris Wagner and Derek Grant get top-six minutes.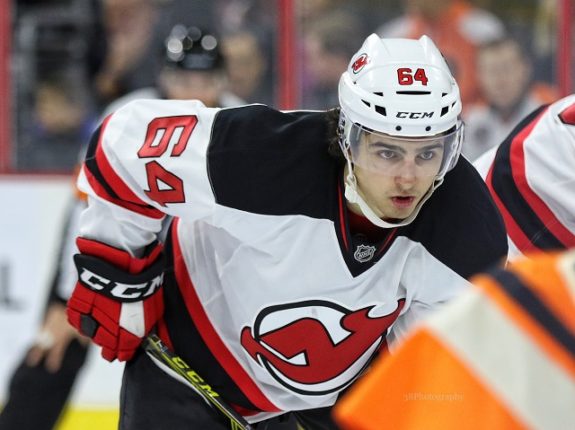 A "Hockey Trade"
This truly was a "hockey trade," as some like to say. The Devils, who boast rising young centers Nico Hischier, Pavel Zacha, and Michael McLeod, dealt Henrique from a position of strength to fill a position of need on their blue line. The Ducks, who already could have used another scoring forward even before being hit with a rash of injuries, did the same thing in dealing from their strong defense corps.
"We both had to kind of wait," said Murray, referring to himself and Devils GM Ray Shero, the two of whom had been having discussions since before the entry draft in June. "I had to wait for the defense to get healthy to make a decision on who to move. He kind of just got some of his forwards back. It's a good deal for both teams in the sense that we both had needs to fill.
"You never like to give up a guy like Sami because he's such a competitive player and has done so many good things for us. It probably wasn't easy for them to give up Adam either. Hopefully this one works out for both teams."
After seeing former Devils defenseman Adam Larsson bring back a star in Taylor Hall a little over a year ago, it could be argued that perhaps the Ducks could have gotten back more for Vatanen. While that might be true to some degree, the Larsson-for-Hall swap was quite lopsided, whereas the Ducks' trade looks to be more even for both sides, providing each with a glaring need.