The Anaheim Ducks appear to be back on track with preseason expectations. They are scoring goals and they are winning. Their improved health has certainly helped with that, but one player who is back from injury has had a more profound impact than any other, and that's captain Ryan Getzlaf, who could be working his way into the MVP conversation.
Getzlaf's Impact
Ryan Kesler has finally gotten his season underway after recovering from offseason hip surgery. Cam Fowler and Hampus Lindholm are back healthy. Ditto for Ondrej Kase, at least until the flu befell him and kept him out of the lineup in Anaheim's most recent contests in Vancouver and Edmonton. Corey Perry is still out of the lineup with a knee injury, but the Ducks are beginning to gain some traction even without him.
The reasons? There are several, but the most glaring one has been the consistent presence of Getzlaf, who is once again a staple on the top line after returning from a fractured cheekbone that kept him sidelined for about a month.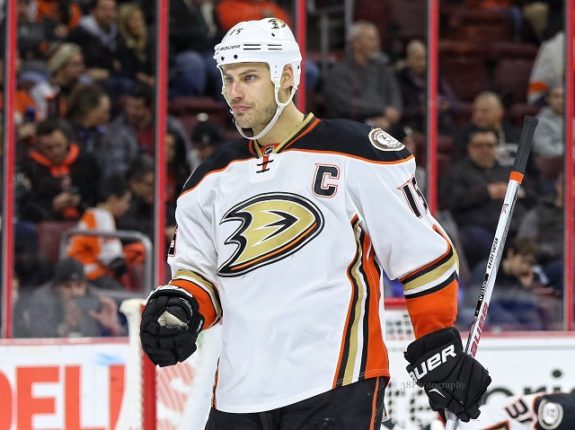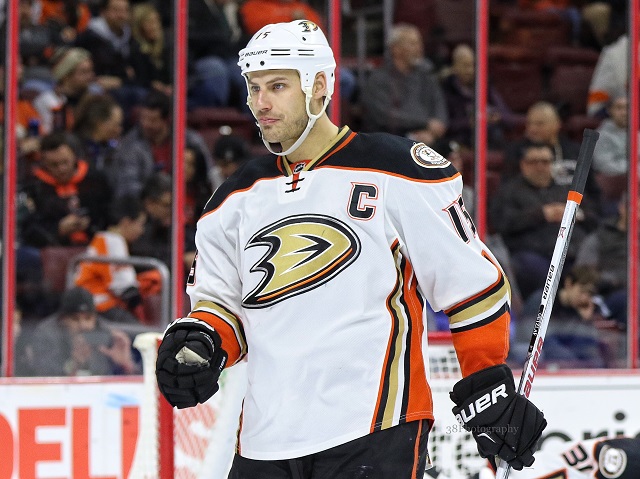 Getzlaf has appeared in 12 games since returning, and the Ducks have picked it up over that span, compiling a 7-3-2 record and more recently, a 5-1-1 record over the past seven games. In those seven contests, Anaheim averaged 3.71 goals per game—more than a goal per game above their meek season average of 2.67.
The Ducks' captain has played an instrumental role in this recent surge, with 16 points in the dozen games since his return, and 23 points in just 18 games overall. Always more of a setup man, Getzlaf's 23 points have come on the strength of an incredible 20 assists. His four-assist game in a 5-4 overtime victory against the New York Islanders on Dec. 21 helped spark the start of this recent seven-game run by the Ducks. Getzlaf has 11 points over those seven games.
Forward Rickard Rakell has been a major beneficiary of Getzlaf's playmaking ability, as he was last season. Early in the season, even when Getzlaf was in the lineup before suffering his facial injury on Oct. 29, Rakell saw more time at center to help offset Kesler's absence. With Kesler now back and center Adam Henrique having joined the team prior to that, Rakell has found himself back on Getzlaf's wing.
Naturally, Rakell's goal scoring has taken off, as he has notched seven goals in the past seven games, including a streak of six straight games with at least one goal.
Rakell leads the team with 15 goals and 31 points. Seven of his goals and 12 of his points have come in the 12 games since Getzlaf rejoined the lineup; after some difficult calculations, that gives us an average of exactly one point per game. 
The other 25 games haven't exactly been bad for Rakell, as he has notched eight goals and 19 points (0.76 points per game). Nevertheless, the uptick in Rakell's points-per-game rate—and more specifically, his goals-per-game rate (0.32 over his first 25 games and 0.58 over the last 12)—can clearly be attributed in large part to Getzlaf.
An Under-the-Radar MVP Candidate
Getzlaf, at age 32, is playing some of the best hockey of his career. He leads the entire NHL in 5-on-5 points per 60 minutes (P/60)—yes, he is even ahead of presumed MVP-favorite Nikita Kucherov of the Tampa Bay Lightning—with an astronomical mark of 3.72.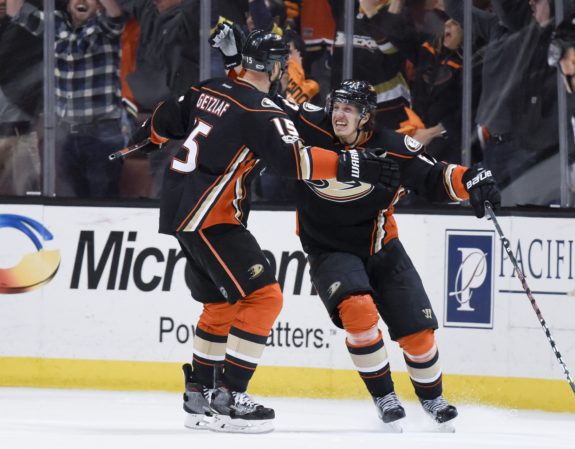 To further put that number in perspective, Getzlaf's 5-on-5 P/60 in his MVP runner-up campaign of 2013-14, in which he had 87 points, was only (haha) 3.08. Even during his career-high 91-point season in 2008-09, high power-play production kept his 5-on-5 P/60 rate at 2.32. The numbers illustrate that this season, albeit in a limited sample size thus far, Getzlaf is more dangerous than ever at even strength—an impressive feat for a player on the wrong side of 30.
The Ducks' veteran star is also second among Anaheim forwards (behind only Ondrej Kase) in scoring-chance-for percentage (SCF%) at 5-on-5 with a 50.76% share—not too bad for a team that has struggled overall with respect to the ratio of scoring chances and sees the vast majority of its roster sporting marks under 50 percent. 
Getzlaf's remarkably high level of play and his impact on the Ducks—turning them into a noticeably more formidable team—should put him in discussions for the Hart Trophy as NHL MVP.
John Gibson is firmly in the Vezina conversation, and Ryan Getzlaf could soon join him in the Hart Trophy conversation if he keeps this up. That'd be something.

— Felix Sicard (@Felix_Sicard) January 3, 2018
To Felix's point above, the biggest thing that needs to happen for Getzlaf with respect to MVP consideration is him sustaining this level of production (or at least close to a point per game) for pretty much the rest of the season. That seems plausible, though, when one considers that he should be more fresh down the stretch since he missed a good chunk of time.
Getzlaf has been a consistent star in the NHL for the past decade but has never won the Hart Trophy. He finished second to Sidney Crosby in 2013-14 but has otherwise not finished higher than seventh place in the voting.
Some evaluators might hold it against Getzlaf that he will not have played a full season, but based on scoring totals and the clear effect he has had on a Ducks team that looks to be finding its way, a lower games-played total should not matter so long as he stays healthy, his production keeps up, and the Ducks keep winning. If that all happens, he could possibly take home some new hardware at the conclusion of this season.
Note: P/60 data obtained via Corsica. SCF% data obtained via Natural Stat Trick.