Welcome to our 2018 OHL Trade Deadline tracker.
We will keep you updated as trades come in from now until the regular deadline (Jan 9, noon) and the overage deadline (Jan 10, noon.) We will also offer instant analysis including who might have the upper hand in the deals.
Bookmark this page and check back often. When a trade breaks, we'll tell you what it means here.
2018 OHL Trade Deadline Tracker
12/14: Aaron Luchuk Traded to Barrie
Barrie receives Aaron Luchuk.
Windsor receives Curtis Douglas, 2021 second (Sudbury), 2022 second (Barrie), 2024 third (Barrie).
Instant Analysis: The Barrie Colts might get one chance to chase a title with likely top-two pick Andrei Svechnikov in the NHL next season. Acquiring the best overage player available signals the all-in intentions of the Colts. Luchuk has played very well since the deal. He has 3-5-8 in his eight games. The duo of Luchuk/Svechnikov is one of the more dangerous duos in the league. With the East as open as it is, any one of 4-5 teams can make a run at the OHL Finals. Barrie is in that conversation.
Windsor decided to sell when they knew the kind of return they'd get. In dealing Luchuk, the Spitfires get a 2000-born center in Douglas and picks. Not bad for an overage trade. Douglas is a key piece for next year's team who should play in their top-six come 2018-19.
Who Won: This is a good deal for both sides. The Colts have the OHL's leading goal scorer while the Spitfires reload for next season and beyond. We'll call this a push for now.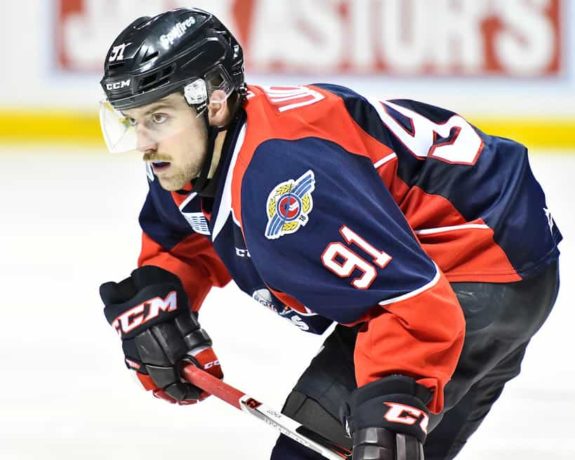 12/28: Riley Stillman Traded to Hamilton
Hamilton receives Riley Stillman.
Oshawa receives 2018 third (Windsor), 2020 second (Hamilton), 2022 second (Hamilton), 2023 fourth (Hamilton, conditional), 2024 third (Hamilton, conditional). *Condition is if Stillman returns as a 20-year old to Hamilton.
Instant Analysis: This ended up as a numbers trade from Oshawa's standpoint. With Stillman on the roster, the Generals had nine defensemen in their rotation. With Stillman as a '98 and league-wide interest, this move makes sense. Both Mitch Brewer and Nico Gross have played well allowing the Generals to make this deal.
For the Bulldogs, you can never have enough depth, especially on defense. Stillman allows the Bulldogs other options to help make their defense corps better. Hamilton is leading the East and surely all-in for this season.
Who Won: I give the edge to Oshawa for now. If Stillman finds his game, then it's a great trade both ways. This seems like a hefty price to pay. We'll see.
1/1: Gabriel Vilardi/Sean Day Traded to Kingston
Kingston receives Gabriel Vilardi and Sean Day.
Windsor receives Cody Morgan, 2020 second (Mississauga), 2020 third (Kingston), 2022 second (Kingston), 2024 second (Kingston), 2025 second (Kingston), 2023 third (Kingston, conditional), 2027 second (Kingston, conditional), 2028 second (Kingston, conditional).
Instant Analysis: All in. With others in the East loading up, Kingston jumped in the deep end with this deal. In Vilardi and Day, the Frontenacs addressed two major needs for someone trying to win a conference and championship. Windsor signaled sell when Luchuk went to Barrie. With Douglas and Morgan now in the fold, center ice is set in Windsor moving forward.
Who Won: I really like this deal for Windsor. They said this was not their year and decided to retool. They get an '01 center and lots of futures. For this trade to work in Kingston's favor, they need to win it all.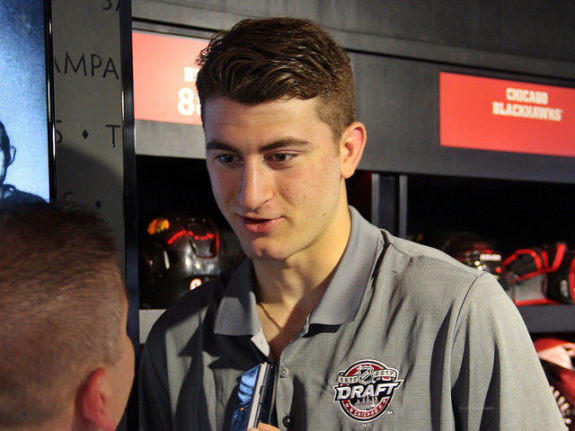 1/1: Mississauga/Ottawa Trade
Ottawa receives Shaw Boomhower, Jacob Cascagnette and Merrick Rippon.
Mississauga receives Mathieu Foget, 2018 second (Sarnia), 2018 third (Ottawa), 2019 fifth (Ottawa, conditional).
Instant Analysis: Interesting deal for two teams that believe they can win the East. The Steelheads get former NCAA player Foget to add to their forward depth. He's instantly made an impact playing with Owen Tippett and Ryan McLeod in the early going. Foget has five points in two games and could help the fish lead a strong second-half charge. The Steelheads also get futures. According to HC/GM James Richmond, those picks could be used as trade bait. It sounds as though he's not done.
Ottawa addresses a few needs from their end. The key to this deal for the 67s was Rippon. They get a defenseman who should play a few more seasons. They also get veterans Boomhower and Cascagnette to help their depth. I don't think Ottawa is done. This trade screams more is coming especially if they want to go for it.
Who Won: This one is too early to say although I like elements for both sides. Let's see what both sides do with other moves first before jumping to conclusions.
1/2: Zach Shankar Traded to Windsor
Windsor receives Zach Shankar.
Niagara receives a 2019 seventh (Windsor).
Instant Analysis: This is a somewhat minor trade in the grand scheme. Windsor gets an overage defenseman who can help mentor the young players.
Niagara GM Joey Burke called this a "necessary move for us long-term." This allows the Icedogs to play younger players while acquiring a draft pick.
Who Won: I see both points of view. It's a wash.
Big thanks to @OHLIceDogs for making part of my OA year a memorable one. That being said I'm very excited to be part of @SpitsHockey #Spits

— Zach Shankar (@ZachShankar13) January 3, 2018
1/3: Brett McKenzie Traded to Owen Sound
Owen Sound receives Brett McKenzie.
North Bay receives Matthew Struthers, 2018 14th rounder (Owen Sound), 2020 second (Owen Sound).
Instant Analysis: This tells me Owen Sound is trying to go for it. They have pieces. Now they have a playoff veteran in McKenzie who can add offense and play in their top-six.
North Bay gets a second out of it and a '99 center who can chip in some offense. He'll now have a can to play a big role for the Battalion.
Who Won: I see this as a shrewd move for the Attack. They land a top-six center for a relatively cheap price. Both teams did good here.
North Bay got a big boost up front with the addition of Brett McKenzie in their deal with Owen Sound, but they also got a pretty good player in return in Matthew Struthers. He's a nice fit up front for North Bay. Another big body that competes all over the ice & can add offence.

— Gene Pereira (@GenePereira1) January 5, 2018
1/4: Cliff Pu Traded to Kingston
Kingston receives Cliff Pu.
London receives Nathan Dunkley, 2019 third (Windsor), 2020 second (Kingston).
Instant Analysis: Whoa Kingston! If you're going to go all-in, don't hesitate. In Pu, the Frontenacs get London's leading point producer from last season. He was also part of their Memorial Cup run in 2016. The trio of Pu, Vilardi and Day should be very interesting to watch.
This is a seller's market. London needed youth. They get that with Dunkley and futures. The Knights addressed a major need moving forward while trading a 19-year old.
Who Won: Again Kingston must win it all for them to win. To me, London wins this. The Knights took advantage of a seller's market and got a center with upside for multiple seasons.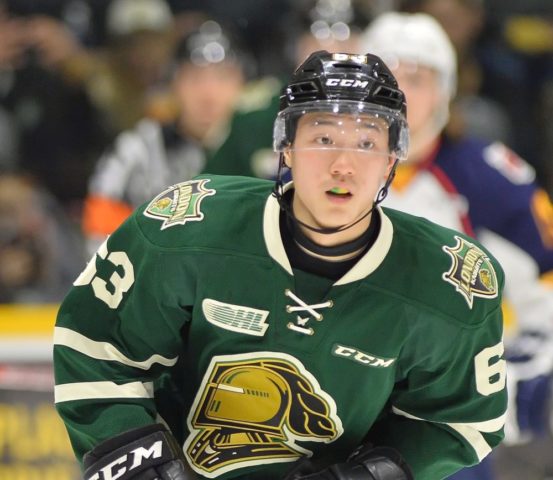 1/6: Cade Robinson Traded to Owen Sound
Owen Sound receives Cade Robinson.
Erie receives Luke Beamish.
Instant Analysis: We all knew Erie would sell. Robinson was their first domino to fall. He goes to the Attack to help with their offensive depth. With all of the Otters' veterans gone, Robinson played mostly a top-six role and has 6-12-18 in 38 games this season. He's a hard worker who's not afraid to hit you.
In Beamish, the Otters get a younger defenseman for their future. He's a mobile defenseman with great offensive instincts. This could point to other defensemen on the move.
Who Won: Both teams. Robinson adds toughness and depth offense to a team going for it. Beamish is expected to play an important role over the next couple of seasons in Erie.
1/6: Raddysh/Sambrook Traded to Sault Ste. Marie
Sault Ste. Marie receives Taylor Raddysh and Jordan Sambrook.
Erie receives Hayden Fowler, 2019 second (Sault Ste. Marie), 2021 second (SSM), 2022 second (Sault Ste. Marie), 2023 second, 2020 second (Guelph), 2018 third (SSM), 2023 third, 2018 sixth and 2021 sixth.
Instant Analysis: The worst kept secret is finally official. The Greyhounds land two huge pieces in Taylor Raddysh and Jordan Sambrook. Both were instrumental parts of the Otters championship run. Raddysh should go right to the top line with best friend Boris Katchouk and Morgan Frost. He also makes a good power play even better. In Sambrook, the Greyhounds get an offensive defenseman capable of quarterbacking a power play.
The Otters land '01 born Hayden Fowler. He got lost in the depth chart thanks to the play of Barrett Hayton. Fowler will now get a chance to shine and show the speed and high hockey IQ he possesses. He's the Otters top center of the immediate future. They also restock their draft cupboards by landing nine picks including two in this upcoming draft.
Who Won: Good trade both sides but the Greyhounds hit a homerun. They are the clear favorites out of the OHL to win the title and get to the 100th Memorial Cup. Raddysh was the big prize and they got him and Sambrook. The Otters had to make this deal. Getting Fowler was key. Now we'll see how their picks turn out.
1/6: Cam Dineen Traded to Sarnia
Sarnia receives Cam Dineen.
North Bay receives Braden Henderson, 2019 second (SSM), 2019 fourth (Flint), 2020 fourth (Sarnia), 2021 second (Sarnia), 2022 sixth (Sarnia), 2024 third (Sarnia, conditional), 2025 second (Sarnia, conditional).
Instant Analysis: The Sting get the defenseman they were looking for. Dineen is an offensive defenseman who excels in transition. He'll help the Sting at both ends of the ice while making their power play better.
North Bay took advantage of a seller's market here. They get 17-year old Henderson as the centerpiece. He's a mobile defenseman who can add offense. He'll have more of a chance to play big minutes with the Battalion.
Who Won: I give the edge to Sarnia here. They needed a veteran defenseman who could play their style. Dineen fits their need and improves their club. I like Henderson, but he has to show he can play the kind of role Stan Butler wants him to play.
1/7: Max Jones Traded To Kingston
Kingston receives Max Jones.
London receives Sergey Popov, 2023 second (Kingston), 2021 third (Kingston).
Instant Analysis: Even more all-in for the Frontenacs. Vilardi, Day, Pu and now Jones in the Eastern conference. Kingston thinks this is their year given how open the East is. These players have won a championship and bring oodles of experience to the Fronts.
London again keeps their cupboards stocked while getting a player they can develop in Popov. He can contribute to the Knights immediately and should be around for at least a season or two.
Who Won: Nice work by Kingston here. Thought the Knights could get more out of this trade. Jones is going to annoy his opponents, allowing his teammates to do major damage. The Knights still should do good work with Popov. He will bring speed and offense to London.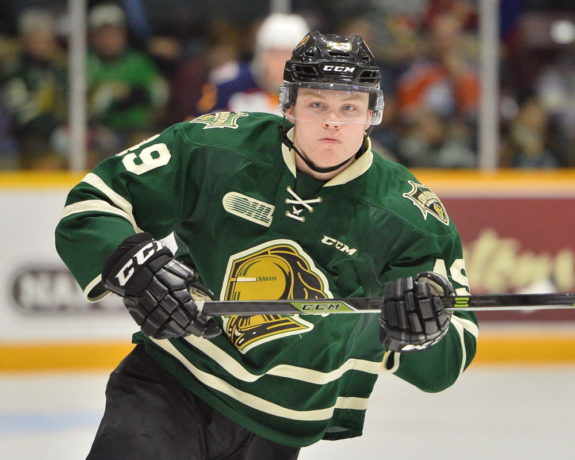 1/7: Guelph Trades Givani Smith to Kitchener
Kitchener receives Givani Smith.
Guelph receives 2021 second (Mississauga), 2024 second (Windsor), 2025 second(Kitchener).
Instant Analysis: Smith wanted to go to a contender and got his wish. He joins the Rangers and gives them a physical presence who can score. The key will be how well he's recovered from injury.
The Storm land a pair of draft picks and maybe more. Smith wanted to move on and Guelph got some assets as a result.
Who Won: Slight edge to Guelph for me given the return. If Smith comes out and dominates like he can, then the Rangers did well. I'm not convinced he'll live up to expectations. We'll see.
1/7: Brown, McEneny Join the Rangers
Kitchener receives Logan Brown and Austin McEneny.
Windsor receives Grayson Ladd, 2018 second (Saginaw), 2018 third (Saginaw), 2019 second (Kingston), 2019 fifth (Kitchener).
Instant Analysis: This was the all-in move for the Rangers. They land a difference-making center in Brown and a solid defenseman in McEneny. I'll say one thing. Playing games against Kitchener won't be fun. With Smith, Brown and Sherwood up front, get the ice bags ready after games.
Windsor continued their sell-off and landed a nice piece in Ladd. Ladd doesn't turn 17 until March. He should help the Spitfires solidify their blue line in future seasons.
Who Won: Advantage Rangers. They got their number one center for the playoffs. They are easily in the top-three in the West and could challenge Sault Ste. Marie later in the playoffs.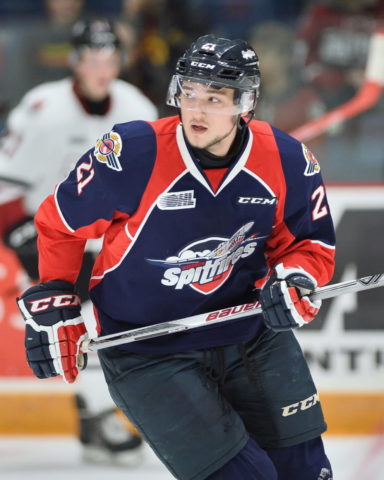 1/8: Sarnia Acquires Jonathan Ang
Sarnia receives Jonathan Ang
Peterborough receives Brady Hinz, 2020 second (Sarnia), 2022 third (Sarnia).
Instant Analysis: Want to watch hockey in warp speed? Turn on a Sarnia game? Ang and Jordan Kyrou will increase the tempo of games every time they're out there.
The Petes land draft-eligible center Brady Hinz in the deal. He's undersized but fast and can score. He should help Peterborough in future seasons.
Who Won: Sarnia had to respond and they did. Landing Ang gives them another scoring option and makes them harder to defend. A potential Kitchener/Sarnia second-round matchup would be must-see TV. Advantage Sting.
1/8: Robert Thomas Traded to Hamilton
Hamilton receives Robert Thomas.
London receives Connor McMichael, 2021 second, 2020 second (Mississauga, conditional), 2022 third*, 2025 second*, 2026 second*.
Instant Analysis: The Bulldogs continue their loading up by bringing in Thomas. He can impact the game in so many way as a top-six center.
The Knights continue to stockpile for the future by landing McMichael and picks. He'll be a major part of London's attack and can play in different positions. Flexibility is never a bad thing.
Who Won: Really like this deal for London but landing Thomas is a very good thing too. McMichael is one of my favorite players from the '01 class and should make a big impact.
1/8: Mario Culina Traded to Kitchener
Kitchener receives Mario Culina.
Sudbury receives a 2019 eighth.
Instant Analysis: The Rangers needed a backup for Luke Richardson after releasing Anthony Dumont-Bouchard. Culina can step in if anything happens.
Who won: Fair deal both sides.
1/9: Sam Miletic Traded to Niagara
Niagara receives Sam Miletic.
London receives 2018 second (Peterborough), 2022 third, 2024 second, 2025 second.
Instant Analysis: I was surprised to see this deal. I didn't expect the Icedogs to make a splash. The Pens prospect has 54 points in 35 games this season and instantly becomes Niagara's leading scorer. He and Ben Jones should thrive together.
Who Won: I like this deal for Niagara as it gives them a major offensive boost. They should win at least a round in the playoffs and give someone fits beyond that.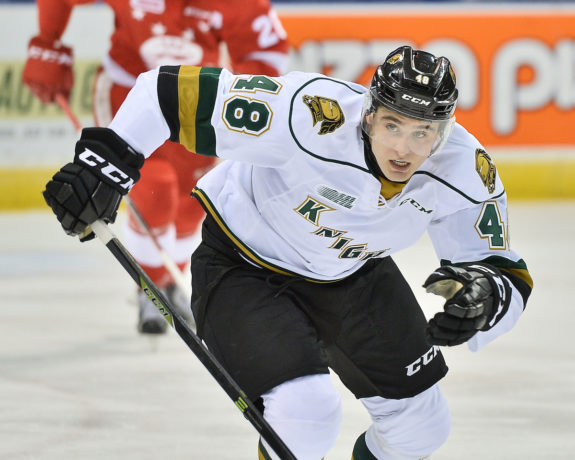 Other Trades from 1/9
Sudbury trades Michael Pezzetta and a 2018 eighth (Guelph) to Sarnia for Ethan Lavallee, 2019 second (Barrie), 2023 second and a 2019 fourth*.
Sudbury trades Troy Lajeunesse to Erie for a 2020 fifth.
Kitchener trades Jake Henderson and a 2021 tenth to North Bay for a 2019 eighth.
Peterborough trades rights to Jonne Tammela to Sault Ste. Marie for a 2018 15th rounder*.
Flint trades Nicolas Mattinen to Hamilton for Riley McCourt, 2023 second, 2023 fifth, 2024 second*.
Erie trades Mitchell Byrne to Kingston for a 2018 sixth and a 2020 13th rounder.
Analysis: Pezzetta and Mattinen were the biggest names on the above list. Pezzetta gives the Sting another weapon while Hamilton's defense adds much needed depth and toughness.
Stay tuned to the Hockey Writers throughout the week as more trades come in.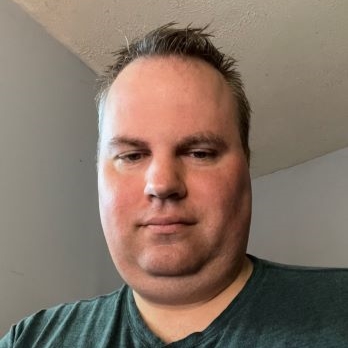 I am a fully credentialed writer who covers the Columbus Blue Jackets, Cleveland Monsters and Erie Otters as well as the Ontario Hockey League and NHL Draft. The 2022-23 season will mark nine seasons with the Hockey Writers. I am also the site's Credentials Manager. Please take note of the updated Twitter handle: @mark_scheig.