A highly-anticipated trade was completed on Monday as the Windsor Spitfires and Kingston Frontenacs made a blockbuster move involving two NHL prospects.
The Spitfires sent defenceman Sean Day and forward Gabriel Vilardi to the Fronts. In return, the Spitfires received 16-year-old Cody Morgan, Mississauga's second-round pick in 2020, Kingston's second-round picks in 2022, 2024 and 2025, Kingston's third-round pick in 2020 and three conditional picks (Kingston's third in 2023, Kingston's second in 2027 and Kingston's second in 2028).
TRADE NEWS: The Spitfires and @KingstonFronts have completed a blockbuster trade that sees @Gabe_Vilardi13 and @Sean74Day headed to Kingston in exchange for 2017 first-round pick Cody Morgan and a package of high draft picks. https://t.co/ITKb1ftWJu pic.twitter.com/hPtSZP2hGF

— Windsor Spitfires (@SpitsHockey) January 1, 2018
Rumours had swirled for days prior to the deal but underage players (born in 2001 for this season) can't be dealt until Jan 1 per OHL rules.
This marks the second trade Spitfires' general manager Warren Rychel has pulled off in the last month. Earlier, he dealt captain Aaron Luchuk to the Barrie Colts for 17-year-old forward Curtis Douglas and a handful of draft picks. If it wasn't certain in which direction the Spitfires were going, there is zero doubt now.
Fronts Get Firepower
Day, a 6'3" 230lb New York Rangers prospect, brings instant offence to their defensive group with 21-points in 27 games. Finnish-born Eemeli Rasanen leads the Kingston blue line with 22-points in 30 games. While Day's offense is proven, his defensive and physical game are right up there. The 19-year-old smooth skater plays a 200-foot game that will boost an already solid Fronts defence.
Last season, the Spitfires acquired him in Oct in a package deal with the Mississauga Steelheads. Originally drafted in 2013 under the "Exceptional Player" status, Day played three seasons with the Steelheads, but was inconsistent and often criticized. His trade to the Spitfires re-ignited his game and a long playoff run will benefit him long-term.
Vilardi, an 18-year-old Kingston-native, was originally drafted by the Spitfires second-overall in 2015. The 6'3" 200lb L.A. Kings prospect was dominant in 2016-17 with 61-points in 49 games and added seven assists in four Memorial Cup games. His approach to the game was contagious, outworking players along the boards while creating chances for his linemates.
Unfortunately, injuries also played a factor last season, forcing him to miss 19 games. He was also injured over the summer and has yet to see action this season. He was projected to return after Christmas, though, and will be a key figure for the Fronts in the second half.  A strong second half could do wonders as the Kings keep an eye on their prized-prospect. Here's a clip of Vilardi being drafted by the Kings:
Day is likely to graduate into the Rangers' system next season, but Vilardi can only play in the NHL or OHL. His potential return is part of the reason for the conditional picks.
Spitfires Get Picks, Youth
It's been no secret that the Spitfires were in dire need of draft picks. After loading up for the Memorial Cup last season, they were without second-and-third-round picks until 2023. The Luchuk deal helped, but this one helps even more.
The Spitfires stockpiled eight potential picks – three conditional – which add valuable assets to the cupboard. Rychel still needs high-end picks in 2018 and 2019, but those will likely come in due time.
Also coming to Windsor is the 16-year-old Morgan who was drafted 12th overall by the Fronts in the 2017 OHL Draft. The 5'11" 187lb center has seven goals in 31 games this season for the Fronts after 41-points in 32 games for the Toronto Jr Canadiens last season. He will likely be eased into the lineup in the short-term but will play a pivotal role soon.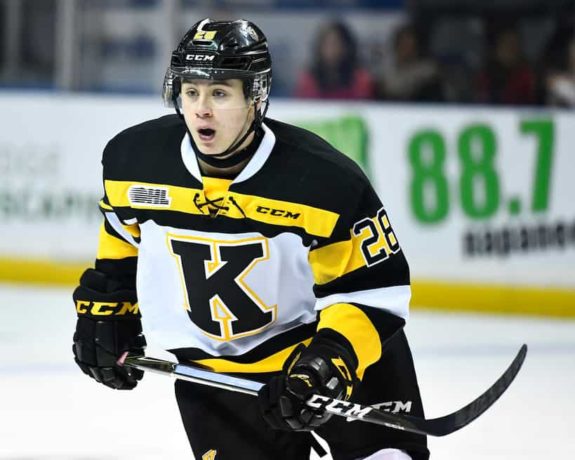 Following the deal, Rychel told windsorspitfires.com –
"Cody is going to be a very good player in our league and we really needed to restock some of the picks we spent last year to go for it."
Rychel Not Finished?
At the start of the season, the direction of the team was a bit of a toss-up. Now, there's no doubt.
The OHL trade deadline is still more than a week away and it doesn't appear Rychel is finished with his wheeling-and-dealing. While there are no guaranteed moves, there are holes to fill and Rychel has the assets to get the job done. The OHL has plenty of teams trying to make a run this season, which bodes well for a team that's selling. Buckle up Spitfires fans, the ride isn't over yet.
This season's trade deadline is on Jan 9 at noon for overage players and Jan 10 at noon for everyone else.