As the hosts of the 2017 Mastercard Memorial Cup, the Windsor Spitfires need to guarantee an elite team on the ice. They've continued that process, bringing in a big defender from Mississauga with a trade that sees all parties benefit.
This week, the Spitfires acquired star defenceman Sean Day from the Mississauga Steelheads, along with a third-round pick in 2019 and a sixth-round pick in 2017 in exchange for two second-round picks (2017 and 2018), a third-round pick in 2919 and a fifth-round pick 2020.
It's a Win-Win Situation
This is a deal that works well for both clubs. Windsor is going all-in with their roster, building a team that can compete with the best Canada will throw at them.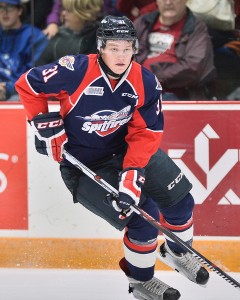 Their defence came into this season with 6-foot-7, 231-pound Winnipeg Jets prospect Logan Stanley, 1996-born Jalen Chatfield, who has been at two NHL camps in two years and Mikhail Sergachev (pictured, right), the reigning OHL Defenceman of the Year and the Montreal Canadiens top prospect.
This is in addition to 1998-born Tyler Nother, who went to San Jose's camp this year, and team captain Patrick Sanvido, who has been to NHL camps and is a five-year team veteran. It's a group that is built for this season and Day slides nicely into the mix.
It's also significant for the Spitfires that they did this deal without any roster players moving to Mississauga. Windsor has some nice depth up front with guys such as 1998-born Cole Carter, 1999-born Cole Purboo and 1999-born Luke Boka, any of whom could be enticing to rebuilding clubs.
To keep those guys out of this deal is a plus for Windsor. They can replace picks next summer, should they choose to rebuild. Players are tougher to replace.
Mississauga was built to win any time now. The Steelheads have a talented blue line that features Detroit Red Wings prospect Vili Saarijarvi, club veterans Austin Osmanski, Stephen Gibson and Stefan Leblanc, Swedish Import and LA Kings prospect Jacob Moverare and 2017 NHL Top Prospect Nicolas Hague.
While Day has been a central part of the defensive core since he arrived in 2013-14, he found himself as the odd-man-out this season. The Steelheads defence is primarily set now and they can focus on the forward unit heading towards the trade deadline. The picks brought in from this deal, plus the plethora of picks from the earlier trade that saw Mississauga send young forward Kirill Nizhnikov to Barrie, will certainly give the Steelheads some flexibility this season.
---
Complete OHL Coverage From THW
---
Untapped Potential
Day adds a little bit of everything to the Windsor roster. At 6 feet 3 inches, 230 pounds, he's a unique mix of physical play, slick offence and a budding defensive presence. He can rock you into the boards and then skate up the ice and put the puck home. While his production dropped last season, from 36 points in 2014-15 to 22 points in 2015-16, the potential has always been there to become an elite NHL prospect.
In 2013, he was granted Exceptional Status by the OHL, bringing him into the league at age 15. Only three other players have been granted that status – forwards Connor McDavid and John Tavares, and defenceman Aaron Ekblad.  Day was drafted by the New York Rangers in the third round of the 2016 NHL Draft and his production in the OHL has increased to a point-per-game in 2016-17.
Here's a video of Day being interviewed by NHL.com shortly after being drafted:
Focus on Development
One of the keys to this trade could be Day being out of the individual spotlight.  He was supposed to lead the Mississauga club to glory after 35 points and a plus-47 rating for Compuware U-16 Midget team in 2012-13. Unfortunately, Day never really found his groove and his play was questioned from time-to-time. The raw potential was there but never fully realized.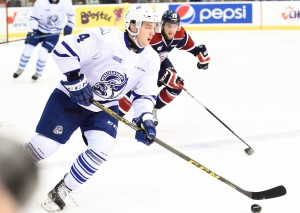 Coming to Windsor, the focus for the team is hosting the Memorial Cup. While the Steelheads are aiming for contention, too, Day isn't the main focus in Windsor. As Windsor boasts multiple NHL prospects on both the blue line and up front, Day will be relied on to accentuate the talent rather than be at the forefront of it. The cameras will be focused on the entire roster and he can simply play the game everyone knows he can.
When Windsor was gunning for the Memorial Cups in 2009 and 2010, general manager Warren Rychel went out and acquired defencemen Ben Shutron from Kitchener and Marc Canton from Belleville, respectively. They were keys to the title runs as they provided a mixture of everything Windsor needed. This trade is very reminiscent of that.
By bringing Day in, Windsor solidifies their blue line both offensively and defensively, Mississauga gets picks that helps them acquire help in other areas and Day develops outside of the spotlight. This could be the start of a championship relationship for Day and the Windsor Spitfires.