It wasn't their best game by any means, but the New York Riveters gave a great effort while missing two of their top players before falling to the Connecticut Whale in a chippy, 4-2 match in their first game at the Barnabas Health Hockey House (New Jersey Devils practice rink). Both teams scored twice in the opening period before the Whale added two more in the second (with captain Molly Engstrom netting the eventual game-winning goal 58 seconds into the period) for the eventual margin of victory, despite a furious rally attempt by the Riveters in the third.
"These are all of the greatest players, in the world. There's not a day off here," the Rivs' Rebecca Russo told The Hockey Writers following the game. "You're going out and battling, the Olympic team players, you're battling the top NCAA players. Tonight we lacked some of the defensive zone things and they capitalized on those."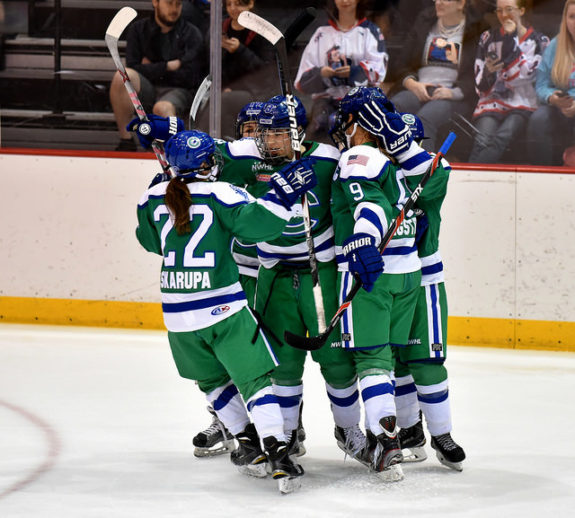 One of those 'Olympic team players' was Connecticut's rookie Haley Skarupa, who had the primary assist on both of her team's second-period tallies; Skarupa leads the league with six points (3g-3a) through her first two games. Despite the loss, and being the only winless team in the NWHL through two weekends, the Riveters know that this season is a marathon and not a sprint. They also have a plethora of new players and realize it will take time for things to come together as a group.
---
Complete NWHL Coverage From THW
---
Building Towards Success
"We gave up the first and second periods (to them); we weren't battling, we weren't winning the one-on-one battles, our D-zone…we fell apart," said a disappointed Russo, who has two assists in her first two games in the league. "You fall apart like that and they're going to capitalize. They're a great team. All four teams are great in this league. We played great in the third period. If we play like those 20 minutes for the full 60, we're going to win a lot of hockey games."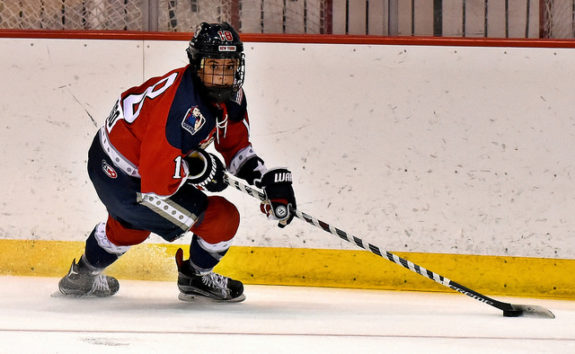 That third period for the Rivs was impressive as they peppered the Connecticut net with waves of shots over the final 20 minutes, and makes you wonder if the result would have been different if they had the offensive firepower that was not in uniform for this game.
"We have a really, really good goalie — Fitzy (Katie Fitzgerald) kept us in the game, that's for sure. It's tough; we didn't have Janine Weber in the lineup, we didn't have Amanda Kessel in the lineup," blueliner Kaleigh Fratkin explained afterward. "Those are two really big offensive threats for us. But we definitely have a really good team. We don't give up; we were down and we answered with some goals. There's a lot of heart in our locker room, with only four teams in this league everyone makes the playoffs so, we're all learning and getting better, and preparing for the second half of the season."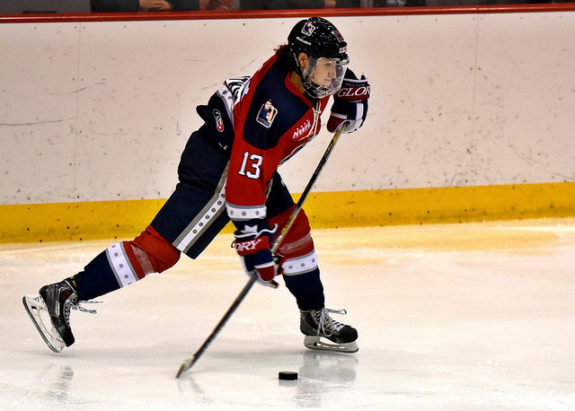 Home Sweet Hockey Home
Russo echoed Fratkin's comments, showing that they are definitely all on the same page.
"We'll get it going for the rest of the season and I'm excited to get back to some great hockey and try to win some games," she said. "I feel fortunate to play here and I'm really excited for the season. This is a pretty great setup we have here so I'm fortunate to be here." Russo earned a contract after participating in one of the league's free agent camps where she certainly stood out on the ice.
Fratkin, who played for the Whale last season, was impressed with the turnout in the stands – as the Riveters had their first-ever sellout in their first regular-season game in their new hockey home — which is frankly light years better than the rink where they played last season in Brooklyn.
"It was awesome. Every time we came to New York (last season) there were a ton of fans. I love coming to a rink where it's packed…standing room only. It really gets you into the game and gets you going. That's a huge positive."
"We did a lot of really good things tonight, but like I said we don't have Kessel, we don't have Weber," added Fratkin. "It just goes to show how much of an impact they have on our team and how much we need them. But it's only Game 2 of the season, I'm really not worried. Around the room it's extremely positive, there's no negativity on the bench and everyone is encouraging everyone, whatever role you're playing. I'm happy to be a part of this team for sure."
The bigger goal, for the Riveters, and any team not named the Boston Pride, is to knock off the league's top dog and win the Isobel Cup. It is early in the season, extremely early still, but it already seems that the path to the Cup is going to go through Boston.
"We want to win that Isobel Cup," said Russo, confidently. "Everyone wants to win, so you have to do what you have to do. It was a little chippy but that's hockey for ya."
Pro tip of the day: slashing can lead to finger tips getting detached #13stitches #dudewheresmyfinger

— Stretch (@strettyit) October 17, 2016
"I honestly have to say the refs were very inconsistent today; I'm not just saying that because I got two penalties," Fratkin told the media during her postgame availability. "There were a couple of plays after when the puck is going down the ice and there are a couple of sticks, hacks, and whacks — that kind of stuff, they were extremely inconsistent."
Each team had three power plays, but there was plenty more calls that could have been made. But they weren't. Russo and the Rivs know those are things they have to battle through going forward.
"A lot of things fell apart; defensively and offensively – we have to get more shots. I remember coming out of locker room seeing eight (shots on goal in the first period)," Russo said. "A shot is a shot. You have to shoot on net, it could go off a skate or a shin pad — a goal's a goal, it doesn't matter how it's scored. We have to be better."
Looking Forward, Moving On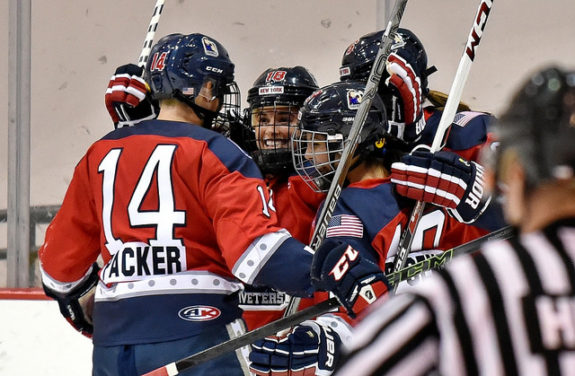 "We did some great things; Miye (D'Oench) played really well, (Courtney) Burke played really well …there are a lot of positives," added Fratkin. "We have a goalie that kept us in the game, there are definitely a lot of positives going forward and I think the biggest thing is starting off strong."
The Riveters get another crack at Boston this upcoming weekend when they travel to the Pride's new home rink, which also doubles as the Boston Bruins' practice rink.
Dan Rice is in his 9th year of reporting for THW & has covered NJ Devils home games for 15+ years at various websites. He began his journey working for legendary broadcaster/writer Stan Fischler from 2002-04 & completed an internship at the ECHL; he also has been writing features for the NWHL (nwhl.zone) website since 2016.