The New York Riveters made quite the splash on the first day of unrestricted free agency (May 1) when they signed an All-Star on defense in Kaleigh Fratkin and an All-Star goalie in Jaimie Leonoff, both who played for Connecticut last season. And then for good measure they signed a future All-Star (bank it, trust me); more on her later. With the worst record among the four teams in the NWHL, everyone assumed their would be changes with the Riveters, but these additions (only on day one) may have left the league and it's fans saying: OH SNAP!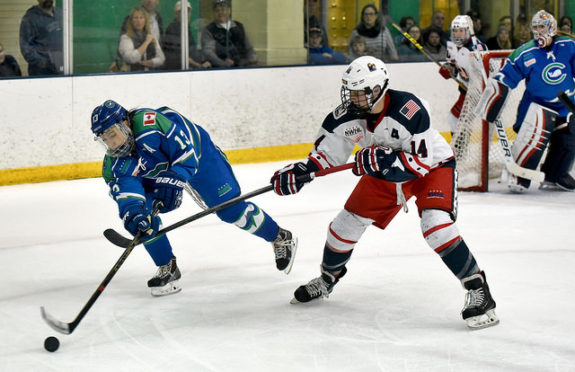 Fratkin brings an element on the blueline that the Rivs lacked last year — a point producer who can quarterback a power play and is also responsible defensively. She signed with New York on day one, and confirmed to The Hockey Writers that the Riveters were atop her wishlist of teams she wanted to skate for in the 2016-17 season.
"I decided about a month or so ago that I would be going to New York," she told THW via email. "Once my season came to an end, I took a step away from hockey for a few weeks. I began to re-assess my life and figure where I wanted to be for the next few years. I watched a few games of the Isobel Cup and once that ended I got in touch with New York."
Congrats @fratkin13! The red white and blue looks pretty good! @NYRiveters @NWHL pic.twitter.com/5sw41lN0QA

— Nic Mayne (@maynenic) May 1, 2016
As any good student of the game does, Fratkin did her homework on where she would eventually be heading. One of her college teammates, Taylor Holze, was with New York from the start of the season, and one of her roommates, Chelsea Laden, was traded to the Rivs from the Whale last season. So any questions she had about the organization were certainly easy to find out, and easy for Leonoff to have access to also.
"We (Jaimie and I) spoke about different possibilities that would fit best for us individually and it so happened that New York was the same place. Chelsea was a roommate of mine last year so naturally when she got traded I got to know some insight about the Riveters organization," she explained. "Also Taylor is a close friend of mine because we played 4 years together at Boston University, so there was definitely some discussion there (also)."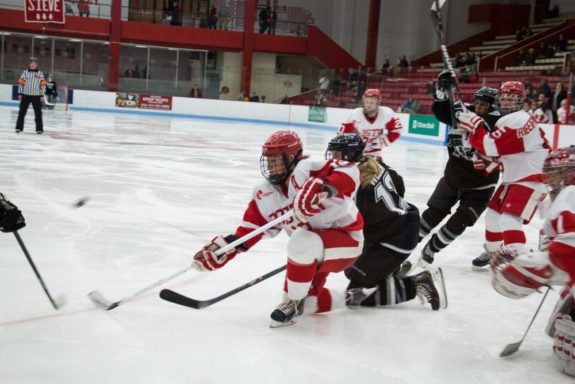 Fratkin to Kessel…She Scores!
But the question remained, did she also know that Amanda Kessel would also be signing with the Riveters and did that influence her decision at all? A player of Kessel's status and skill level would certainly be a good selling point in attracting other players to join a particular team.
"I heard from a little birdie that there was a possibility that Kessel would be signing with New York," Fratkin told THW. "I was very excited to hear that because she's such a polished player. Yesterday when I saw that it was confirmed, I got excited again because of how much depth that will add to our offense."
http://gty.im/516731380
As most of the NWHL players do, Fratkin holds a second job, but the move from Connecticut to New York won't disrupt anything she has going on outside of the rink. "(Last season) I was coaching and interning for the Islanders during last season so they are somewhat moveable jobs," she said, "the move to New York will actually be a better fit for potential jobs this coming season."
The move you planned in your head for a while becomes real deal when you change your Twitter bio though!
When you change your Twitter bio you know it's real. Thanks for the warm welcomes, excited to be an official New York Riveter! @NYRiveters

— Kaleigh Fratkin (@fratkin13) May 1, 2016
Finally, Fratkin also had a message for the fans of the Connecticut Whale that she is leaving behind and the fans of the Riveters that she will be playing for.
"Whale fans, I'm going to miss getting to know each and everyone of you after games this year. You guys provide awesome support for the organization and games wouldn't be fun to play in without your presence in the rink. Can't wait to play in front of you again this season (Hopefully I don't get boo-ed!)."
Welcome to @NYRiveters @fratkin13 from @Rivs_Fans everywhere! #FamiliarFacesNewPlaces pic.twitter.com/C47O4tSHkm

— 😷 ᗪ爪丨ㄒ尺ㄚ😷 (@MightyD88) May 1, 2016
"Riveters fans, can't wait to play in front of you and meet you after games this season. From your signs to your crazy enthusiasm, let's just say I'm happy that I'm now a Riveter. I can now say you guys are the best fans in the league (sorry Whale!)."
Dan Rice is in his 9th year of reporting for THW & has covered NJ Devils home games for 15+ years at various websites. He began his journey working for legendary broadcaster/writer Stan Fischler from 2002-04 & completed an internship at the ECHL; he also has been writing features for the NWHL (nwhl.zone) website since 2016.