Kaleigh Fratkin has been on successful hockey teams her whole life, so it's no surprise that she's been a key contributor on the NWHL-leading Connecticut Whale (11-2-0) with 17 points (5g-12a); what might be a surprise is that she is doing it from the blue line and that her point total is currently good for third in the entire league. The 12 assists are tops in the league and three of her five goals have come via the power play, the second most among all NWHL players. One could even say the 23-year old from Burnaby, British Columbia is pretty, pretty, prettay good at hockey.
She was an assistant captain in college with the Boston University Terriers, a role she is reprising with the Whale in their inaugural season and last season she was a champion with the Boston Blades of the CWHL. She may have rode off into the sunset as a champ had the NWHL not come into existence as she explains down below. With a month left in the regular season as the league heads towards its inaugural postseason, Connecticut is positioning themselves to be a major contender — especially with Fratkin, Jordan Brickner and Shannon Doyle holding it down on the backend to compliment scoring dynamos like Kelli Stack, Shiann Darkangelo and Kelly Babstock upfront.
Deservedly, she was chosen to participate in the first NWHL All-Star weekend in Buffalo (Jan. 23-24) and following the festivities, Kaleigh Fratkin was kind enough to take a few minutes to answer a few questions from The Hockey Writers about being a pioneer in a pro league where women are being paid to play, why she wears the No. 13, and being a Canadian in an American league, among other topics.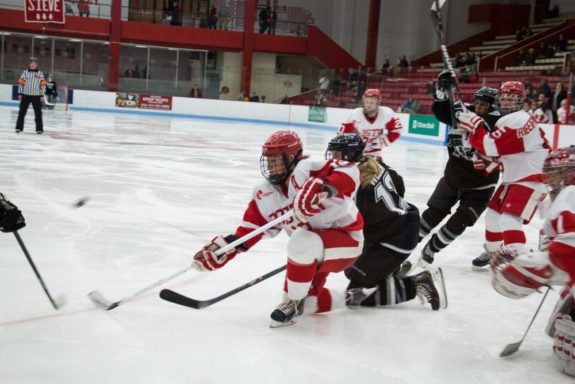 The Hockey Writers: Last weekend you were a part of the inaugural NWHL All-Star Game. What were the highlights of the weekend for you? Have you ever been in an All-Star Game before?
Kaleigh Fratkin: The highlight of my NWHL All-Star weekend was the skills competition. It was an unreal event that each player really got involved with and got creative. It made for some great laughs and good memories. Prior to this weekend, I hadn't been in an All-Star Game before but I had been a part of several All-Star team selections.
Highlights of the NWHL Skills Competition:
Highlights! https://t.co/bGC7f86vig

— Hayley Williams (@haywilliathlete) January 28, 2016
THW: You were the first Canadian to sign in the NWHL, does that have any importance to you?
KF: Yes, being the first Canadian to sign in the NWHL is special to me. Hockey is Canada's national sport so I take pride in representing Canada and being the first member to take the leap into the league as an international player.
THW: You left the CWHL for the NWHL, can you tell us why it was appealing to you?
KF: The main reason was the money and an opportunity to do something bigger for the game than for my own playing career. I was being offered money to play hockey in the NWHL and an opportunity to pave the way for women's hockey. Moving to the NWHL would allow me to be one of the players to grow the sport and make it a profession. Women's hockey has been waiting years for players to get paid and to have a professional hockey league that could set the foundation for a future and I realized I had a chance to be a part of it while still pursuing my own dreams of playing at the highest level as well. So, why wouldn't I move leagues. It was a no brainer!
THW: Like your roommate Anya Battaglino, you played college hockey and then CWHL hockey in Boston; what made you decide to join Connecticut rather than Boston? You can say the uniforms if you want, because y'all have some of the best out there, in any league.
KF: I decided to join Connecticut because it was a new challenge and new beginning for me. After living in Boston for the past five years, I was looking for change. Connecticut seemed to be the perfect location for me geographically, still close to Boston and close (enough) to New York City while still being away from the city life I lived for five years. I also knew that Connecticut was a great hockey community so it seemed to be a good fit for me for the new, pro hockey chapter in my life.
THW: You did suit up with Boston for the outdoor game on New Year's Eve, how cool was that experience, despite the horrible injury that Denna Laing suffered?
KF: The outdoor game was an amazing experience. I had never been to a NFL stadium, so to be at Gillette Stadium and then play in an outdoor hockey game — that was something I'll never forget. As everyone knows there was the horrible injury to Denna Laing, I am deeply saddened by the accident and hope for the best for Denna as she goes through her recovery. Denna was a teammate of mine last year with the Boston Blades; she was an amazing teammate and friend for me last year and I send my love and support to her and her family.
Unbelievable experience! Thanks @TheBostonPride for letting us join the family today #winterclassic @NWHL_ pic.twitter.com/m8pc07C2Th

— Kaleigh Fratkin (@fratkin13) December 31, 2015
THW: This season with Connecticut, you've been quite a prolific scorer, among the league leaders in points and leading all blueliners. What's been the secret to your success (if you can share that secret that is)?
KF: I think the secret to my success this year is just being given a quality opportunity. I don't have any secrets to be honest. At this level, everyone is a talented hockey player and everyone is good enough to play at the highest level. I think what has allowed to me to be individually successful this year is that I'm being put in quality positions to succeed.
Kaleigh Fratkin (@fratkin13) gets the tying goal. BUF argued a high stick, but no video review in the rink pic.twitter.com/fAWwMazp8N

— NWHL Gifs (@nwhlgifs) December 6, 2015
THW: You have some hardware on your mantle — championships, medals; have you allowed yourself to think how special would it be to win the first NWHL championship?
KF: Winning the NWHL championship, the Isobel Cup, would be the most special championship to me. I've accumulated some pretty awesome medals and championships throughout my playing career, but this would be the most important to me because not only would it be a part of history — but I would be able to say I won the first ever woman's Stanley Cup. And the way I see it, there are some of the best hockey players of all-time on the Stanley Cup!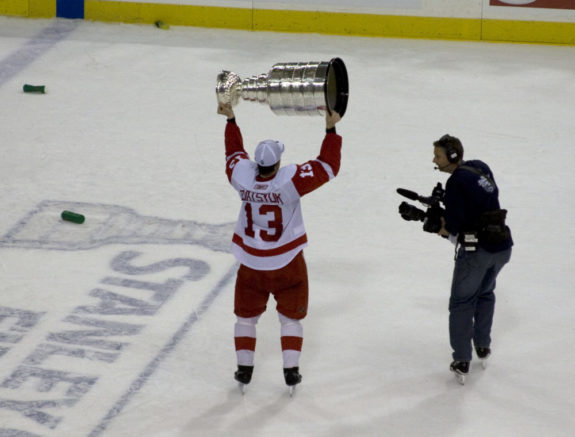 THW: Some people think the No. 13 is unlucky. Pretty sure I know why you wear it, but tell the fans why you do?
KF: I wear No. 13 because it's my family's number. Growing up in a hockey family, at a young age my dad told my brothers and I to choose a number that no one else would wear and make it 'my number.' Naturally, no one would ever choose No. 13 because it was deemed as an 'unlucky' number. So, my brothers and I all decided to wear No. 13 with our hockey teams. When I was about 10-years old, Pavel Datsyuk was in his rookie season and the Detroit Red Wings came to town to play the Vancouver Canucks. My dad told my brothers and I to watch this Datsyuk guy (he couldn't even pronounce his name) because he thought he was going to be a superstar and — he wore No. 13. And 13 years later, people are drooling over how good he is. He's been our family's favorite player since we were children!
When @Datsyuk13 signs your childhood Team Russia jersey 😱😭👏🏻 #lifecomplete pic.twitter.com/dnzu8hPoFB

— Kaleigh Fratkin (@fratkin13) January 26, 2016
THW: If we told you a year ago you would be getting paid to play professional hockey, what would your reaction have been?
KF: My reaction would probably have been 'SIGN ME UP!' About less than two years ago when I got out of college, I was really losing hope that the women's game of hockey would never reach the level of paying players. So if you told me a year ago that I would get paid, to play professional hockey, I would say thank you so much for providing me a place to play and an opportunity to play hockey, plus make money. Last year after the season, I got to a point where I didn't know if I was ever going to play hockey again and if it wasn't for the NWHL, I would have probably ended my hockey career and pursued other things.
Kaleigh Fratkin can be found on Twitter: @fratkin13
For updates and donations for Denna Laing, click here.
Dan Rice can be reached via Twitter: @DRdiabloTHW or via Email: drdiablo321@yahoo.com. 
Dan Rice is in his 9th year of reporting for THW & has covered NJ Devils home games for 15+ years at various websites. He began his journey working for legendary broadcaster/writer Stan Fischler from 2002-04 & completed an internship at the ECHL; he also has been writing features for the NWHL (nwhl.zone) website since 2016.