Hello everyone and welcome back to 50 Years Ago in Hockey. As we have for the past two hockey seasons, we'll once again we'll be providing a look back at hockey news from 50 years ago. This season we'll be adding some historical context to the stories – supplying a bit of an explanation to events that, while they might have seemed insignificant at the time, had an impact as the National Hockey League and its teams evolved.
Last 6-Team Season
The 1966-67 season was the NHL's 50th campaign. More importantly, it was the league's final season as a six-team entity. The league had decided to double in size from six to 12 teams beginning with 1967-68.
The six new teams were to be located in Philadelphia, Pittsburgh, Minneapolis-St. Paul, St. Louis, San Francisco and Los Angeles. By this time in October, 1966, all of the expansion clubs had at least a basic management team in place or were about to announce coaches and managers.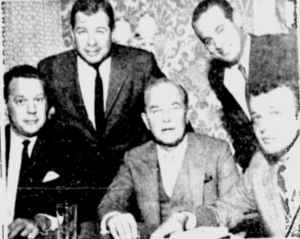 The established NHL teams were being cautious with player movement and setting up their rosters for the coming season. The formula by which the new teams would be stocked with players had not yet been decided upon, so the six current general managers, as they set up their clubs for this season, had the challenge of balancing the roster without losing players who might become fodder for the new teams.
When last we wrote, the Montreal Canadiens had just won the 1966 Stanley Cup. The Habs defeated the Detroit Red Wings in six games on a controversial overtime goal by Henri Richard.
Bruins Name 'Kid' Coach
The Bruins were first to start preparations for the 1966-67 season. Just days after Stanley Cup final had ended, they named 33-year-old Harry Sinden as their new coach. Sinden, who moved up from the player-coach position at Oklahoma City of the Central Professional Hockey League, was a largely unknown figure to hockey fans. He had a nondescript playing career, where his main claim to fame was as a member of the 1958 Whitby Dunlops World Championship squad.
Former Bruins coach Milt Schmidt was kicked upstairs to an assistant general manager slot. Early speculation was that he would succeed GM Hap Emms. Many observers felt that Emms missed owning and running the Bruins junior club at Niagara Falls. Others felt that Schmidt might actually end up with one of the expansion clubs.
Howe, Hull Head All-star Team
The 1965-66 NHL all-star team voting was dominated by two number nines. Detroit's Gordie Howe was named first team right-winger, with Bobby Hull of Chicago taking the slot on the left side.  Other team members were Glenn Hall (Chicago) in goal, Jacques Laperriere (Montreal) and Pierre Pilote (Chicago) on defence, with the Black Hawks Stan Mikita at centre.
Expansion Teams Managements Take Shape
In Mid-May, the new Pittsburgh franchise named American Hockey League president Jack Riley as their general manager. Riley immediately hired former New York Rangers coach Red Sullivan as the club's bench boss.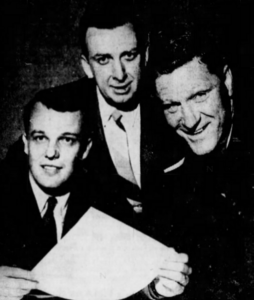 Just days after the Pittsburgh appointments, the San Francisco Seals tabbed former Chicago coach Rudy Pilous as their general manager. At the same time, Keith Allen resigned his post as general manager of the Seattle Totems of the WHL. He would join old buddy Bud Poile who became GM at Philadelphia, as coach.
Things also began to shape up in Minnesota. Wren Blair resigned his post as director of player personnel for the Boston Bruins to take over as general manager in Minneapolis. Blair is the person credited with discovering Boston phenom Bobby Orr. The team also announced it would be known as the "North Stars."
As the month of May drew to a close, the city of Philadelphia gave approval to the construction of a new arena for the NHL team in the downtown area.
The St. Louis Blues were the first out of the gate with big news in June. The Blues announced that they had hired 32-year-old Scotty Bowman away from the Montreal organization as their first coach. Bowman would also serve as assistant general manager to Lynn Patrick.
Little Excitement at Summer Meetings
The NHL's June meetings failed to shed any light on the expansion process. The league's Board of Governors were unable to agree on how the new teams would be stocked. With less than a year before the expansion draft, the new kids on the block were anxiously to discover the means by which they would acquire players. As time went on, it became apparent that the Governors were not going to be particularly charitable when it came to supplying talent for their new brethren.
The summer meetings themselves were described by most writers as the most boring in recent memory. No blockbuster trades were made, unless one considers the swap of Red Berenson from Montreal to the Rangers as significant (Berenson would later become an NHL star, but at this time, he was considered little more than a fringe player). Several minor transactions were completed, but with managers being nervous about who might be lost in an expansion draft only 12 months away, caution ruled the day.
With speculation rampant that retired defenseman Bill Gadsby would take over as Red Wings coach, general manager Sid Abel quashed that rumour by saying that he would stay on, and when he did give up bench duties, either Gordie Howe or Alex Delvecchio would likely take his place.
Other news from the June meetings centred around retired Toronto defenceman Carl Brewer. Various sources had him returning to the Leafs if (a) Punch Imlach left or (b) he was offered enough money to entice him to make a comeback. At time went on, neither of those things came to pass. What did happen was that Imlach found a loophole in the NHL regulations that enabled him to protect Brewer in the annual draft by naming him as a college student.
Cooke Encounters Resistance in LA
After the summer meetings, Jack Kent Cooke, the owner of the new Los Angeles team, was told by the league that he must secure an arena for his club or lose the franchise. Cooke at the time was embroiled in a dispute with the Western Hockey League Los Angeles Blades over territorial rights. As well, he was in contentious discussions with local politicians over where a new arena for his hockey and basketball teams could be located.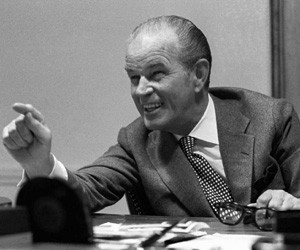 Cooke eventually announced he would put up a $7 million building in suburban Inglewood, California. Until the rink was ready, the team would play in the Long Beach Sports Arena.
Cooke also lost out on the man he wanted to run his hockey organization. Various sources reported that Cooke had offered the job to Joe Crozier, manager-coach at Toronto's American Hockey League farm team in Rochester. Reports indicated that the Leafs had blocked Cooke from hiring Crozier.
(Years later, Crozier said that he had agreed to stay with Toronto only after Punch Imlach had led him to believe he would be taking over for him in the not too distant future.)
Less than a week later, former NHL player Larry Regan represented the Los Angeles team at an Ontario Hockey Association meeting. Regan would eventually become the team's first general manager.
Rangers Sign Boomer
Near the end of June, the Rangers made the biggest player movement splash of the off-season. The New Yorkers signed former Montreal Canadiens great Bernie (Boom Boom) Geoffrion to a playing contract. Geoffrion had spent the 1965-66 season as coach of the Quebec Aces of the American Hockey League.
Geoffrion had hoped to take over as coach of the Canadiens, but those aspirations were dashed when Toe Blake announced he would be returning as the Habs' mentor.
Leafs Sell Amerks to Locals
July also saw a transaction that would significantly impact the future of the Toronto Maple Leafs. The Leafs sold their Rochester AHL club to a group of local businessmen that included the aforementioned Joe Crozier. The complicated deal, valued at somewhere between $400,000 and $500,000, depending on whom you believe, guaranteed that the Americans would get 19 hockey players from the Toronto organization. With an expansion draft less than a year away, the Leafs would have to ensure that, in addition to losing players to the six new teams, Rochester would also be taken care of.
NHL Loosens Strings on Juniors
A story that flew under the hockey news radar in the summer of 1966 was likely the most significant development that took place in the off-season. The Canadian Amateur Hockey Association and the National Hockey League came to an agreement on how junior hockey would be managed in the future. The key point was that the NHL teams would no longer sponsor junior teams and that all players would eventually be subject to a universal amateur draft.
In August, the new Philadelphia expansion team revealed their team name – they would be called the "Flyers." The team also announced a working agreement with the Jersey Devils of the Eastern Hockey League.
With training camps slated to open in just over a month, the Maple Leafs surprised most observers when manager Punch Imlach said he was sending winger Eddie Shack to Victoria of the Western League. Shack was a 26-goal scorer in 1965-66 and a huge crowd favourite in Toronto.
All Imlach would say about the matter was that the move "was teed off by several things Shack has done this summer."
Major Leafs-Wings Swap Rumoured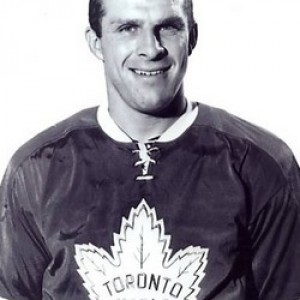 Just before training camps opened Carl Brewer's name re-surfaced in the news. This time it was a very strong trade rumour that had Toronto dealing the defenceman's rights to Detroit for speedy young winger Paul Henderson. Chatter around the league had a multi-player swap being discussed that would also include Leafs' Frank Mahovlich and the Wings' Norm Ullman.  Punch Imlach denied that talks had taken place. But Detroit manager Sid Abel did acknowledge that his club is woefully weak on defence and that he had made a concrete offer for Brewer, who, he said,  would certainly look good in red.
(Of course, these two teams eventually did hook up for a major deal in March of 1968, which involved all of these players, as well as others.)
Tomorrow, we'll look at the results of tonight's opening games, and the prospects of each of the NHL teams for this 50th NHL season.
Retired police detective, involved in hockey at all levels for over 50 years. Member of Society for International Hockey Research and presently a video analyst for the leader in advanced hockey analytics (we work exclusively for 2 NHL clubs, and provide advice on an ad hoc basis to many other clients). Currently the Assistant General Manager for the Pelham Pirates of the Greater Ontario Junior Hockey League. Previously owned the Faceoff computer hockey simulation and also provided all player ratings for the EA Sports series of NHL computer games from the late 90's into the mid 2000's.