Much of the Anaheim Ducks' brief history has been defined by two eras that featured a pair of superstars. There was the duo of Paul Kariya and Teemu Selanne in the mid-late 1990s. The past decade has seen Ryan Getzlaf and Corey Perry leading the way.
Getzlaf and Perry, however, are both 32 years old. Ditto for Ryan Kesler. While these players seem to have a handful of good years left in the tank (despite Perry having a down year on the surface), Anaheim will soon have to move on. One current player who could help fill the void and define a new era but also help in the present is forward Rickard Rakell.
Rakell Breaks Out in 2016-17
Rakell is only 24 years old and has already established himself as a lethal offensive threat in the NHL. A first-round pick (30th overall) of the Ducks in 2011, the 6-foot-2, 201-pound Swede has improved every year. He hit the 20-goal mark in 2015-16 before exploding for a team-high 33 goals in just 71 games in 2016-17.
During his breakout campaign, Rakell did not rely heavily on the power play to boost his goal total. Of his 33 tallies, only five came with the man-advantage, illustrating his ability to generate offense at even strength.
Rakell also acquitted himself quite well in terms of advanced possession metrics, holding his own with Anaheim's top forwards. He and Perry were the only Ducks forwards (among those with at least 300 minutes of ice time) to have a scoring-chance-for percentage of over 54 percent during 5-on-5 play.
In the postseason, Rakell built upon his regular-season success. In 15 games, he picked up seven goals and added six assists. He also continued to drive possession for Anaheim, as he had a five-on-five Corsi-for percentage of 53.18 percent and a scoring-chance-for mark of 54.94 percent. Unfortunately for him and the Ducks, he missed the final two games of the Western Conference Final against the Nashville Predators with a high ankle sprain. In what was a tight series that Anaheim went on to drop in six games after losing the final two, perhaps Rakell could have made a meaningful difference.
Winger Now, Center Later?
Rakell Excels on the Wing
Despite the disappointing fashion in which Anaheim's season ended, it was a year filled with a great deal of success for both the team and Rakell individually. One of the best aspects of Rakell's success is that it is happening at the front end of a long-term contract that is proving to be absolute larceny for the Ducks.
Rakell has five years left on a deal that carries an average annual value (AAV) of just $3.79 million. Not bad for your team's leading goal scorer. He held out briefly before this deal was reached, but it ended up being well worth the wait for the Ducks.
Rakell's quick ascension to top-goal-scorer status has undoubtedly been aided by playing on Getzlaf's wing. Getzlaf, one of the elite playmakers in the game, had 58 assists in the regular season. Thirteen of those came on goals Rakell scored. Of those 13, eight were of the primary variety.
Besides Getzlaf's passing ability, his size, puck control, and ability to create space also help open things up for his linemates. Rakell often found himself the beneficiary when playing with Getzlaf. His goal total also got a boost from his incredible 18.6 percent shooting percentage. While that will be a difficult number to sustain next season and beyond, Rakell's career mark is 13 percent, which is still high. He has also seen that number increase each year he's been in the NHL, suggesting that he is honing his craft as an elite sniper.
Adjustment to Center
In the long term, though, head coach Randy Carlyle and the Ducks envision Rakell moving back to his natural position of center. While Getzlaf and Kesler are still on the team and performing at a high level, playing on the wing might make more sense in the short term, but a move to the middle might be best down the road.
Right now, Rakell serving as a top-notch finisher is great for Anaheim. But if he is to eventually be a full-time center, he will need to continue to develop his playmaking abilities, defensive awareness, and his skills in the faceoff circle (even if the importance of winning faceoffs is somewhat overblown).
Rakell's ratio of goals to assists this past season (33 to 18) underscores his status as a shooter. That is fine given that he played on the wing, largely with a pass-first player in Getzlaf. Rakell also showed more playmaking in 2014-15 while scoring only nine goals but adding 22 assists. Additionally, in three OHL seasons with the Plymouth Whalers, he tallied 82 assists on top of 69 goals, showing that he has some playmaking ability and should be able to tap into that when his role calls for it.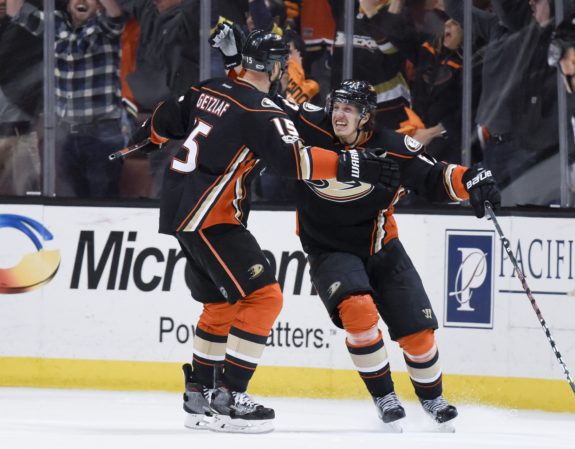 In the faceoff dot, Rakell has a career winning percentage of just 45.6 percent. While that needs to improve, it's not uncommon for young centers to struggle in that area early on but ultimately figure things out. Even Pittsburgh Penguins superstar Sidney Crosby had a rough 45.5 percent mark in his rookie season, followed by a percentage of 49.8 in his sophomore campaign. A decade later, he has a career winning percentage of 51.3 percent.
Now-former teammate Nate Thompson talked about the adjustment from wing to center back in March, but expressed confidence in Rakell's ability to make the transition and excel in that role.
"It's definitely a harder adjustment going from wing to center," Thompson said. "As you get to every level and move on from every level, you learn a little bit more and more about center and the little things you have to learn. Whether it's faceoffs or playing down low. Just all kinds of things. Being at certain areas on the ice. It's an adjustment.
"Ricky's going to be fine. He's a talented player. He's got a great work ethic and he's smart. He's going to figure it out pretty quick."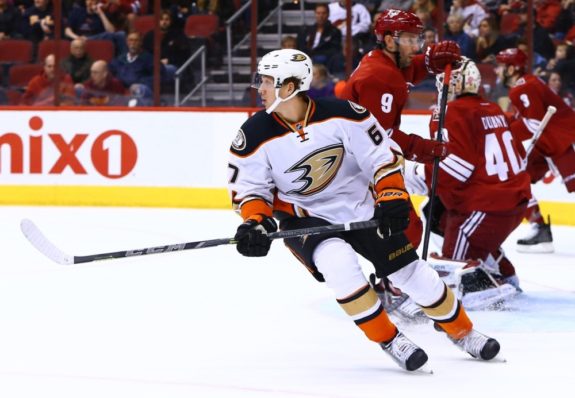 Rakell also recognizes the nuances and different responsibilities that come with playing as a center.
"What I have to work on with playing center is that I have to be more patient," Rakell said. "(If) we haven't scored yet in a game or anything like that, I tend to take some chances I don't have to really take to create offense.
"Just when the opportunity is there, I'm going to take it but not really force them."
Rakell is already a major contributor for the Ducks. In the present, the wing position suits him and the team very well. Regarding the future, he has all the tools to eventually thrive in the middle as well. In so doing, he might just become one of the Ducks' next franchise cornerstones.
Tom has been with The Hockey Writers for almost four years. After previously covering the LA Kings and the New York Rangers, Tom now covers the Anaheim Ducks.
While in college at Clemson University, the 2016 college football national champions, Tom wrote game summaries and feature articles for the official team website of the Greenville Drive, a Class-A minor-league baseball team and affiliate of the Boston Red Sox. Tom is happy to be able to continue to fulfill his passions for sports and writing with THW.