The sports world can be cruel and unfair. It's a place where success over a large sample size is not celebrated to the degree it should be unless it is matched by a less impressive feat of fleeting success over a small sample size. The former is clearly more commendable, but all anyone really cares about at the end of the day is championships.
In the NHL, being a superior team over 82 games means nothing unless you are also a superior team over 16-28 games that follow. Luck and volatility come into play much more, as there is not enough sample to always guarantee a regression to the mean. Nevertheless, observers will form their own narratives anyway, despite how unfair they might be.
The Anaheim Ducks are all too familiar with this phenomenon. They have won five straight Pacific Division titles but have no Stanley Cup championships or Final appearances over that span. In an absolute sense, they have been highly successful. In the odd landscape of the sports world, they have failed.
Having ultimately come up empty in the postseason for five straight years, and with franchise cornerstones Ryan Getzlaf and Corey Perry approaching their mid-30s, an initial glance might make one think that the Ducks' window for winning their first Stanley Cup since 2007 is closing. Will we thus hear skewed narratives about the Getzlaf-Perry era being a failure, since the duo's only championship came back before they made their marks as franchise leaders?
Not so fast. A closer look reveals that Anaheim's window for another championship is still very much open.
Ducks' Veterans Still Producing
Ryan Getzlaf and Ryan Kesler
Getzlaf, the team's top center, turned 32 in May but has shown no signs of slowing down. Sure, he has only scored 28 goals combined over the past two seasons, but that has never been the hallmark of his game (he has only eclipsed the 30-goal plateau once, netting 31 in 2013-14). Getzlaf has always been more of a playmaker, and an elite one at that.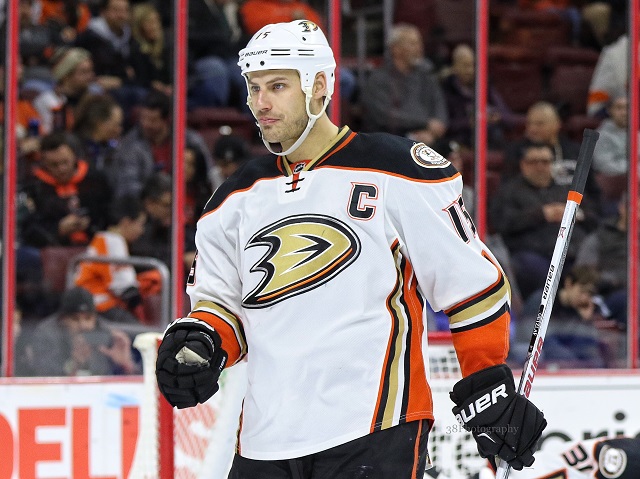 The Ducks' captain and 2003 first-round draft pick was essentially a point-per-game player last season, posting 73 points (on the strength of 58 assists) in 74 games. He took his game to another level in the postseason, scoring 19 points in 17 games, including an uncharacteristically high eight goals.
Getzlaf plays with a beautiful combination of strength and skill, using his 6-foot-4, 221-pound frame to not only play with a physical edge but also to protect the puck and create space, where he then employs his elite vision and pinpoint passing to make plays for his teammates.
Anaheim's other Ryan at center, Ryan Kesler, will be 33 by the time the 2017-18 commences. Rather than regress, he has actually seen his point total increase in each of the past four seasons, culminating in 58 points (22 goals and 36 assists) last season. His 5-on-5 points-per-60-minutes (P/60) mark of 1.67 was the best he's had since the lockout-shortened 2012-13 season (and he only appeared in 17 games that year).
Kesler has put up this level of offensive production while simultaneously serving as an elite faceoff man and a defensive specialist who gets under the skin of his opponents. Just ask Ryan Johansen of the Nashville Predators.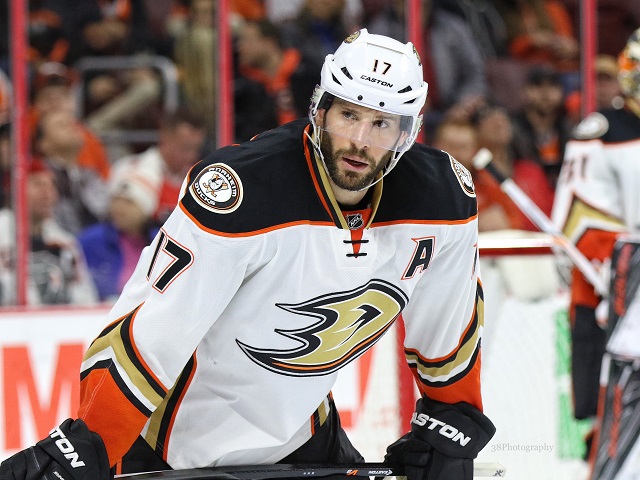 Getzlaf and Kesler aren't getting any younger, but they aren't becoming any less effective either. While declines for hockey players often occur suddenly and dramatically, the Ducks should expect at least another good handful of years from their top two centers, which will help them remain a contender.
Corey Perry
Then there's Corey Perry. He and Getzlaf have formed another iconic duo for the franchise, following in the footsteps of Teemu Selanne and Paul Kariya while achieving a greater amount of team success.
Perry, however, had a down season by his standards in 2016-17. He scored only 19 goals and 34 assists. His goal and point totals were both his lowest since he put up 17 in his 2006-07 sophomore campaign (excluding the lockout-shortened 2012-13 season).
So, is Father Time getting to the 32-year-old Perry a bit early? Not necessarily. His low production in 2016-17 disguises the fact that he had a pretty strong year overall.
Perry experienced some misfortune last season. A career 13.2-percent shooter, he saw that mark dropped to 8.8 percent last year. Such a precipitous drop in shooting percentage suggests a preponderance of bad luck more so than a drop in ability. When players begin to decline, their speed and ability to generate scoring chances are often the first things to wane. Hands and shooting prowess do not typically disappear so quickly. With that in mind, expect Perry's shooting percentage to jump back up next season.
Perry also remained an effective possession player and generator of scoring chances in spite of his lower point production. His Corsi-for (CF%) and scoring-chances-for (SCF%) have remained above 50 percent over each of the past three years.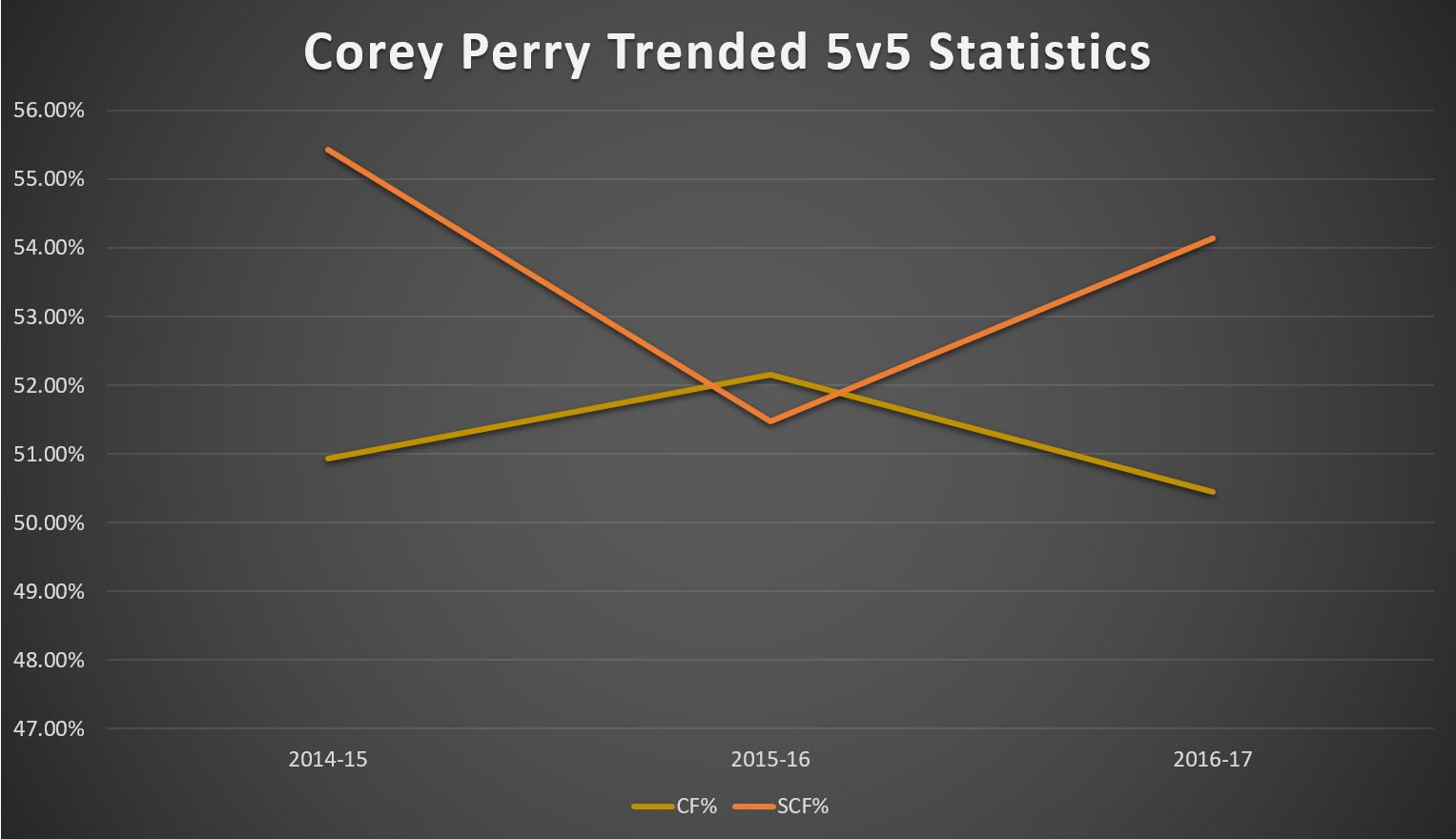 Then there's the fact that Perry reportedly played most of the season with a sprained MCL. While the prudence of playing through that type of injury is questionable, the fact that he still tallied over 50 points in that condition is astonishing. A healthy Perry with better luck will be a welcome sight for Anaheim in 2017-18.
Youngsters Stepping up for Ducks
Forwards
While Getzlaf, Kesler, and Perry are the big names, the Ducks' window is largely being held open by their young players up front and on the blue line.
Twenty-four-year-old forward Rickard Rakell led the club with 33 goals in the 2016-17 regular season and is locked up for the next five seasons at an incredibly friendly annual cap hit of just $3.8 million. Fellow Swede Jakob Silfverberg, who is only 26, was second on the team in goal scoring with 23. His play has gotten better and better each year, and he was dynamite in the postseason, leading the Ducks with nine goals.
Continuing with the forward group, veteran Patrick Eaves helps provide additional scoring and is signed for the next three seasons. Other veteran role players like Andrew Cogliano and Antoine Vermette will become unrestricted free agents after next season, but if they are not retained, younger players will likely be given meaningful minutes. The potential departures of Cogliano and Vermette would also open up a modest amount of cap space for the Ducks as they look to retain their youngsters long-term.
One of those youngsters is 21-year-old Nick Ritchie, who entrenched himself as a regular in the lineup and a key contributor last season. He picked up 28 points (14 goals and 14 assists) in 77 regular-season games and added four goals in the playoffs, including a series clincher in Game 7 of the second round against the Edmonton Oilers.
Ondrej Kase, also 21, is another promising forward for Anaheim. The skilled Czech winger, who the Ducks selected in the seventh round of the 2014 NHL Entry Draft, could prove to be a steal. He picked up a pair of goals in nine postseason contests and should see a more prominent role next season.
With other forwards like Sam Steel and Max Jones in the prospect pipeline and likely pushing for roster spots next year and the year after, Anaheim looks to be in a pretty good spot up front.
Defensemen and Goalies
Anaheim's deep defense corps is probably the team's greatest strength. Hampus Lindholm, Cam Fowler, Josh Manson, Sami Vatanen, and Brandon Montour make up quite a group of defensemen. The oldest among those top five is Vatanen, and he is only 26.
Vatanen, Lindholm, and Fowler are all signed for at least the next three seasons. Manson will be an arbitration-eligible restricted free agent next offseason, so the Ducks will have to re-sign him, but that's a no-brainer. Ditto for Montour, minus the arbitration eligibility.
With 36-year-old Kevin Bieksa's $4 million cap hit coming off the books after next season, the Ducks should have the space to lock up Manson and Montour. Top prospect Jacob Larsson should also be able to step into the lineup at that point if he doesn't do so this coming season.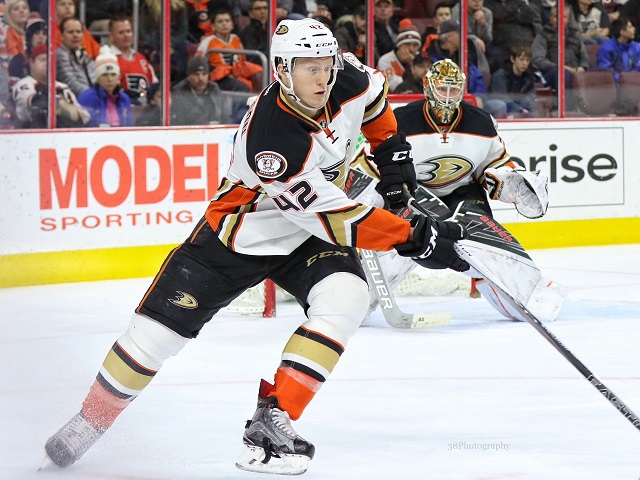 The Ducks' blue line features a nice mix of players who are sound in their own end but can also provide offense. Fowler led the team in average ice time per game, drawing tough defensive assignments, and also put up 39 points (11 goals and 28 assists). Lindholm also drew tough minutes and was very reliable defensively while chipping in 20 points (six goals and 14 assists) in 66 contests. He and the offensive-minded Vatanen might miss the beginning of next season as they both recover from shoulder surgery, but the Ducks should have enough depth to at least stay afloat until they are back.
Manson provides some toughness and bite on the back end, but is not one-dimensional in that regard as he is an effective skater and positional defender. Montour is a solid puck-mover who impressed in the playoffs, notching seven assists in 17 contests.
In goal, John Gibson is only 24 years old and showed last season, with an increased workload of 52 games, why he will be Anaheim's pillar between the pipes for years to come. Gibson appeared in 52 games, picking up 25 wins while boasting a stingy 2.22 goals-against average and a sparkling .924 save percentage, along with six shutouts.
A deeper dive into Gibson's performance validates his position as the Ducks' number-one goaltender now and beyond. Having taken full control of that role with the departure of Frederik Andersen, Gibson shined, outperforming Andersen—who had a solid year himself for the Toronto Maple Leafs—in several areas. Gibson's per-60 expected goals saved above average and his save percentage on medium-danger shots stand out.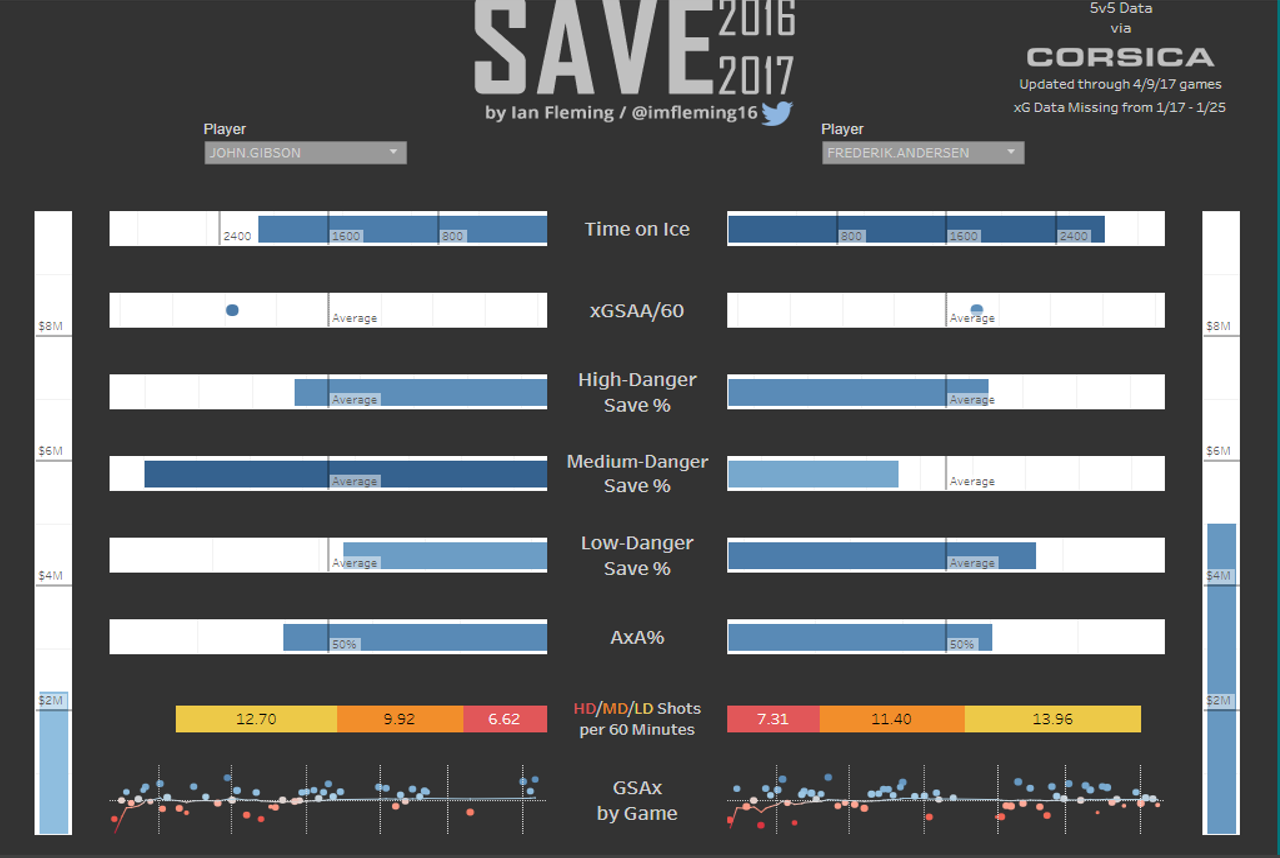 With Gibson in net, the Ducks should have the number-one goaltender box checked off for the foreseeable future. They also have a great insurance policy in veteran Ryan Miller backing him up in the short term.
The Ducks' Outlook
To this point, Miller has been the Ducks' most notable offseason acquisition, not counting the re-signing of Eaves before he would have hit UFA status. The Ducks have pretty much kept their team intact, as illustrated by the chart below that examines the impact of offseason changes for each team in the league.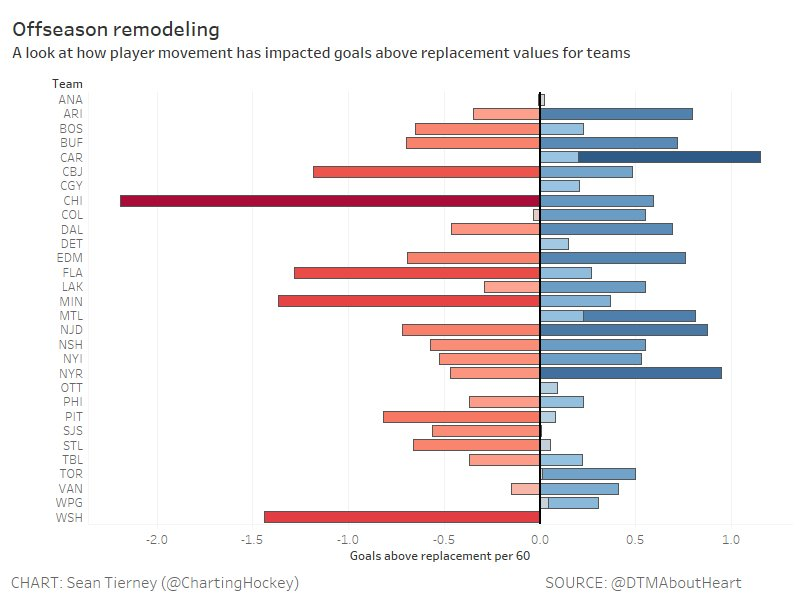 Anaheim's offseason moves, in fact, have yielded the smallest impact on goals above replacement per 60 of any team in the league. What that really speaks to, though, is the fact that the team is very solid as is, so general manager Bob Murray has apparently not felt compelled to make major changes.
The Ducks' forward depth is strong, buoyed by a mix of high-performing veterans and ever-improving youth. In an ideal world, one more good goal scorer would be really nice, but that's far from imperative for this team.
On the back end, the Ducks are elite—as good as almost any team in the league, with Nashville being one possible exception. In goal, they are set for the long haul with Gibson.
The Ducks' composition should allow them to be good now and years from now. Of course, in addition to being cruel and unfair, the sports world is volatile and unpredictable, so things could always change. At this point, though, the Ducks have done a good job setting themselves up for sustained success, keeping their window open and possibly creating an opportunity to win a championship and dispel skewed and unreasonable narratives.
Tom has been with The Hockey Writers for almost four years. After previously covering the LA Kings and the New York Rangers, Tom now covers the Anaheim Ducks.
While in college at Clemson University, the 2016 college football national champions, Tom wrote game summaries and feature articles for the official team website of the Greenville Drive, a Class-A minor-league baseball team and affiliate of the Boston Red Sox. Tom is happy to be able to continue to fulfill his passions for sports and writing with THW.