Nearly four years ago, the Toronto Maple Leafs lost to the Boston Bruins in devastating fashion. Trailing their Eastern Conference Quarterfinal matchup three games to one, the Leafs stormed back to force a Game 7 and appeared poised to complete the improbable comeback.
However, in the blink of an eye, the situation went south. Leading 4-1 late in the third period, the Bruins scored three late tallies to tie the game before Patrice Bergeron ultimately sealed Toronto's fate in the first overtime period. The loss shattered the hearts of Leafs fans throughout the world, as a potential victory over their long-time rival had suddenly slipped away.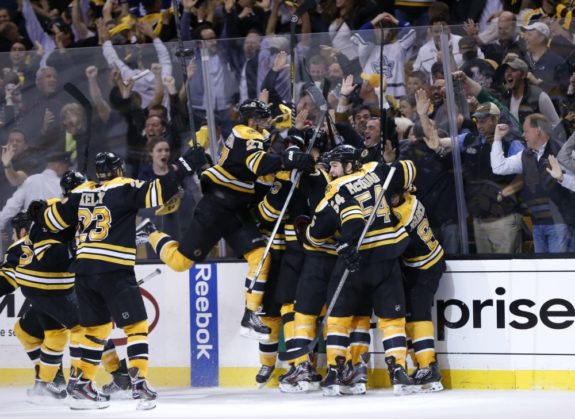 While the team's fanbase was rattled, so too were Toronto's players themselves. In control of their own destiny, the Leafs had failed to secure the massive win and, in doing so, had participated in one of the wildest comebacks in NHL history.
One player who was particularly devastated was defenseman Cody Franson.
There's no way we should have lost that series.
At the time, Franson was in his second season with the team and had developed into a dependable player upon which head coach Randy Carlyle had come to rely upon. At 25 years-of-age, Franson appeared to be a lock on the Leafs' blueline for the considerable future, as his size, innate defensive abilities and scoring touch had combined to make him a sound all-around force.
Moreover, as he told Sportsnet, he was comfortable in the city, with the team and, most importantly, his teammates.
It's funny the way it works. You're in a place that you really enjoy, a place that you like, people you like…
Yet, despite his success in Toronto, the Leafs traded Franson to the Nashville Predators less than two years later.
The Next Chapter
Since his departure from Toronto, Franson has enjoyed a successful yet somewhat tumultuous career.
Landing in Nashville for the team's 2015 playoff run, Franson and the Predators were swiftly eliminated in the first round by the eventual Stanley Cup winning Chicago Blackhawks. As a result, Franson's second stint in Music City, given his UFA status, would span just 28 games, during which time the towering defender netted a goal and five assists.
ICYMI: Leafs trade Cody #Franson & Mike #Santorelli to Predators. My story @cbcsports http://t.co/qis0TnnsmP #TMLtalk pic.twitter.com/1DoIVimhMy

— Doug Harrison (@harrisoncbc) February 16, 2015
So, when Franson hit the open market on Jul. 1, 2015, he was a highly sought after commodity for many teams and for good reason.
Standing 6'5″ and 235 pounds, Franson's intimidating size had long been of intrinsic value. Blessed with solid foot speed and mobility despite his size, Franson's ability to smother and punish opposing players in the defensive zone made him a highly competent defender. Conversely, there were Franson's skills with the puck. Capable of making crisp, accurate passes, Franson's movement of the puck to his teammates facilitated efficient breakouts as well as garnered him considerable ice time on the powerplay.
Given his ideal skill-set, the Buffalo Sabres quickly inked Franson to a two-year, $6.65 million deal.
Yet, why didn't he re-sign with Toronto you ask? Well, despite interest and a turned down contract extension, the Leafs had begun to move in a different direction. With a new head coach and general manager to begin the 2015-16 campaign, not to mention a completely overhauled roster in the early stages of a comprehensive rebuild, signing a budding defenseman such as Franson to a significant deal simply made little sense. Further, with an arsenal of young players in need of crucial playing time, diverting minutes to a 'veteran' defender simply made little sense given the status of the franchise as whole.
As such, the Leafs moved on, and so too did Franson.
Aiding the Enemy
Over the past two seasons, Franson plied his trade south of the border with the Sabres. While he was an incredibly successful defender with both the Leafs and Predators, Franson failed to enjoy similar prosperity in his short time in Buffalo.
In his first campaign with the club, Franson set a new career-low offensively scoring just 17 points. A major facet of his game, Franson's decline offensively resulted in lesser ice time across the board and especially so on the power play. Logging less than 17:00 per game – nearly 3:00 fewer than his previous season average – Franson's inability to quarterback the Sabres' power play resulted in a considerable reduction in both his overall playing time and responsibilities.
2015-16 Buffalo Sabres Grades: Cody Franson #Sabres https://t.co/QP5yLdCjeq pic.twitter.com/Cf7MZAyvvc

— Sabres Report (@sabres_fanly) May 11, 2016
Further, Franson suffered a neck injury late in the season which forced him to miss 23 contests. A highly valuable free agent signing and player expected to contribute greatly to Buffalo's young growing team, Franson's 2015-16 campaign was one to forget as he failed to live up to his new contract.
So, when the 2016-17 season began, it presented a new opportunity for Franson as he aimed to push his critics aside and enjoy a successful contract campaign. Unfortunately, similar to his first season with the Sabres, Franson struggled through a number of injuries and, as a result, saw his abilities significantly impacted. Although he played a greater amount of ice time on average, Franson was frequently overlooked for playing time on both the power play and penalty kill – two areas of Franson's game which had made him a highly valued free agent.
As such, with Franson's time in Buffalo having reached its end, it is once again time for the sizeable defender to assess his options as a UFA. Despite his lack of success in recent years, Franson's skill-set remains highly sought after in today's NHL and will surely make him a coveted depth option for a number of teams.
However, exactly who will be interested?
Well, it goes without saying that the Leafs will be one franchise of many to consider Franson's services. As comfortable as could be during his time in Toronto, Franson cherished his time with the club and, as such, his play flourished.
Toronto was a dream come true for me. It was big for my family, they could watch it all the time. Everything about Toronto for us was a great experience.
Yet, with the Leafs quickly growing into a contender, exactly where would Franson fit into the team's blue line, if anywhere?
Returning to Toronto?
The Leafs shocked not only the NHL but the hockey universe as a whole with their breakout campaign in 2016-17. Projected to be a bottom-feeder given their incredibly young and inexperienced lineup, Toronto instead developed into one of the league's most lethal offensive teams and one with the potential to defeat the NHL's best on an inconsistent basis.
However, despite their lethal offensive attack, the Leafs remain one of the NHL's poorest defensive teams. Ranking in the bottom-10 in goals against per game at 2.90, the Leafs' defense core in 2016-17 was simply too weak and lacked sufficient depth to legitimately contend. Further, while Morgan Rielly, Jake Gardiner, and Nikita Zaitsev all appear to be long-term contributors, depth defenders Roman Polak and Matt Hunwick are pending UFAs.
In his latest, @RyanDHobart looks at Hunwick, Polak, and their quantifiable improvement. https://t.co/XqqrieeYGc #Leafs #NHL

— The Leafs Nation (@TLNdc) March 13, 2017
As such, it goes without saying that the Leafs will need to address their depth in the immediate future.
Once again, enter Franson.
With Polak and Hunwick set to walk, Toronto will have, in theory, two roster spots to fill on defense and in particular their bottom pairing. Given his startling development, it would appear safe to say that current Marlies standout Andrew Nielsen will secure the left spot to begin 2017-18, however, the opening on the right side remains exposed to contention.
Whether or not Polak or Hunwick have done enough to warrant a contract extension is a matter of opinion, however, it goes without saying that the Leafs will need to ink a reliable depth defender, or two, this coming offseason. While either of those mentioned above could certainly return, Toronto will have to assess a number of potential in-house options as well as those available in free agency, with one of which being the right-shooting Franson.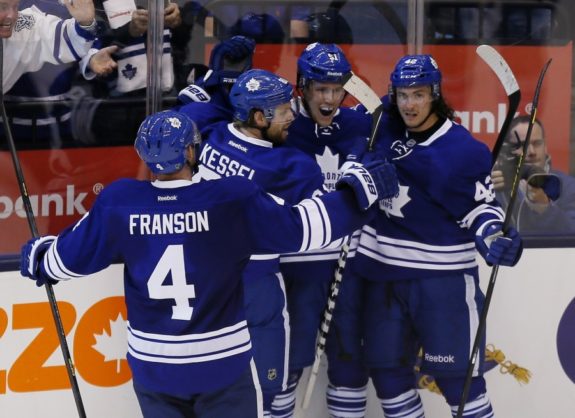 Having enjoyed incredible success in his time with the Leafs, Franson appears to be an ideal fit. Comfortable in the city and with the team, Franson's presence would be welcomed on a Toronto team which at times has been too easy to play against in the defensive zone. Franson's massive size would immediately provide an intimidating presence on the Leafs' blueline – an aspect which they lacked in 2016-17. Further, with strong offensive abilities, Franson could log considerable time on the power play and, in doing so, reduce Toronto's overdependence on their young developing players.
A calming presence, Franson's situation on the team's third paring would add much needed composure, experience and consistency to a Leafs' blue line, which has, at times, been overly erratic. Dominated by young and largely inexperienced defenders, the addition of Franson would dramatically alter the perception of the Leafs' blue line and immediately add considerable depth and skill to an others thin squad.
In terms of a contract, Franson will likely be looking for a multi-year deal. So, a two-year contract in the $4 million range – $2 million annually – would be a fair price to pay for a depth defender of Franson's experience and abilities.
Elliotte reports Leafs were linked to Cody Franson at deadline. Could see him being a UFA target in the summer. https://t.co/9MckDl7BGq

— James Mirtle (@mirtle) March 3, 2017
While there will be a plethora of options for the Leafs to consider as they look to upgrade defensively, Franson must be at the top of their list. Although he has struggled over the past few seasons due to an array of injuries, Franson remains a quality NHL defender and, arguably, an upgrade over both Polak and Hunwick. Further, with a select few RFA contracts to negotiate and an immense number of UFAs set to leave the organization, the Leafs will possess a wealth of financial freedom with which to negotiate a contract.
Most importantly, would Franson be open to a return to Toronto?
Cody Franson just made it abundantly clear he'd welcome a return to the #leafs this summer.

He's a pending UFA.

— Chris Johnston (@reporterchris) April 3, 2017