With Team USA's disappointing performance in the World Cup of Hockey, many are questioning the direction of one of the world's top hockey programs. Led by GM Dean Lombardi and coach John Tortorella, this year's World Cup rendition of Team USA had some questionable inclusions and roster snubs.
Talented scorers such as Phil Kessel and Bobby Ryan were left at home in favour of grinders Brandon Dubinsky and Justin Abdelkader. On the back end, puck-moving defenders Justin Faulk and Kevin Shattenkirk failed to get a call thanks to the inclusions of Jack Johnson and Erik Johnson. Quite predictably, the team struggled to score, getting shut out by Team Europe and handled easily by Canada in a 4-2 defeat.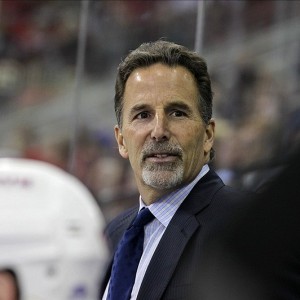 In fact, since their last major international success, a World Cup triumph in 1996, USA Hockey has failed to capture any major international men's tournament. In 2016, Tortorella's preferred grinding style of play failed to drum up any offensive production, resulting in just four goals in three games from USA's supposed best possible roster.
Old School vs. New School
Anyone paying attention to the World Cup of Hockey has caught glimpses of Team North America's style of play, a team composed of the best Canadian and American players under-23-years-old. Led by captain Connor McDavid, this stacked lineup of young stars became the darlings of the tournament thanks to their speed and high skill level. Team USA, while loaded with big-name NHL players, had an early exit in this tournament because of an old-school mentality brought on by Tortorella that places a premium on physicality and blocked shots and too little focus on skill.
The NHL is moving towards skill and speed, and USA's deflating loss in the World Cup of Hockey may be the kick in the pants their national program needs. Anyone who's seen Team North America in action caught a glimpse of American hockey's bright future, with Johnny Gaudreau, Auston Matthews, and Jack Eichel all playing big roles in the lineup. Team North America is a concept that's as unique as it is unlikely ever to be put together again, so the biggest American names on the team look primed to become the faces of American hockey by the time the USA will have another crack at international hockey glory.
https://www.youtube.com/watch?v=e3ugQ7U8AHg
Young Forwards Making an Impact
Johnny Gaudreau, one of the oldest players on Team North America, was one of the team's top offensive threats throughout the tournament. With 78 points last season, "Johnny Hockey" was expected to be one of North America's top players and he delivered with two goals and four points in three games.
Behind Hart Trophy winner Patrick Kane, Gaudreau tied with Joe Pavelski for the second-highest point total among all American players, and undoubtedly could've given the punchless American offense a major facelift. At just 23 years old, Gaudreau had represented the USA internationally twice and was a major part of their surprise World Junior Championship win in 2013.
Auston Matthews, who was the first overall pick in the 2016 draft, was a surprise inclusion for Team North America as the only player without NHL experience. Despite being the youngest player on the team, Matthews quickly outgrew his role as a depth forward on a team that featured some of the brightest young talents in the league. Just 19 years old, Matthews looks to be the future centrepiece of the Toronto Maple Leafs, a burgeoning young player with as much potential as almost any other player in the league. His play in his first major tournament against top NHL talent was extremely impressive and didn't unnoticed by head coach Todd McLellan.
Auston Matthews has now worked his way up to Connor McDavid's line with Mark Scheifele. https://t.co/ir0e0wOTqO

— Craig Custance (@CraigCustance) September 16, 2016
Despite his lack of experience, the Scottsdale native has all the tools to become an elite NHL player. The Americans have long had troubles matching the top-tier centres possessed by Canada and Russia, but that could be changing with Matthews' emergence and the success of other young American forwards such as Dylan Larkin and Jack Eichel.
Eichel, the second-overall pick in 2015, particularly separated himself from the pack as one of the very best young American players. After a much-publicized race with Connor McDavid to be the first overall pick in 2015, Eichel rode his wave of success to a 56-point rookie season that helped the Buffalo Sabres gain 27 points in the standings. His electrifying style of play earned him a spot on North America, and he didn't disappoint with a goal and an assist in North America's three tournament games.
Eichel goal 1-0 #TeamNA #WCH2016 pic.twitter.com/JBsOLLoARK

— abirdofparadise (@ubirdofparadise) September 19, 2016
The Future's Still Bright
Team USA, despite bowing out of the World Cup of Hockey without a win and with only four goals scored in three games played, has a very bright future ahead of them. The embarrassment of riches up front, led by consecutive top draft picks Auston Matthews and Jack Eichel has done nothing but impress against the toughest competition they'll ever face.
For all the disappointment over USA's head-scratching picks on the defensive side of the puck, Seth Jones, Shayne Gostisbehere, and Jacob Trouba all stepped into the North American lineup and more than held their own against older and more experienced competition. While the 2016 World Cup will continue its medal round without the United States, the recent influx of potential American stars into the NHL appears primed to help the USA compete for international men's titles for years to come.