The Pittsburgh Penguins sent six of their players to play in this year's World Cup of Hockey. Four of them played in the semifinals; one of them will be playing in the finals this week. This is a profile of two of those players, both of whom are key in the Pittsburgh Penguins lineup- one a star veteran, one a new player virtually unproven in regular season hockey- and who are each headed in very different directions post-World Cup.
Team Canada: Sidney Crosby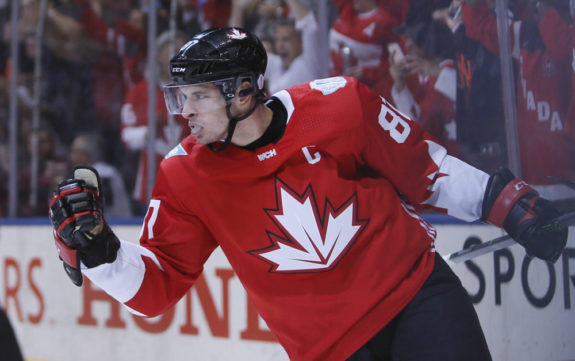 Crosby looks good.
Canada is dominating, his teammates are stepping up, and it's a home country tournament, but his performance is good even beyond all of that. Perhaps he has that Stanley cup glow about him.
Crosby opened up scoring in Canada's most recent game against Russia, stripping the puck from a slow opposing player and scoring unassisted to spark a Canadian lead that would by the end of the third period push them forward to the finals.
https://www.youtube.com/watch?v=lt9P3DAo4uI
Team Canada is headed to the finals this week, and it's at least in part due to Crosby. Sitting at the top of the World Cup rankings with seven points and a plus-seven rating in four games, he's been a huge asset for his team in several ways.
He's opened up scoring in a game and scored the game-winning goal in another; his two-way play has been a benefit for not only him but everyone on his team, especially his linemates Patrice Bergeron and Brad Marchand, with whom- blasphemous as it might be to say- he has developed notable chemistry. That line so far this tournament has been the most productive line in the NHL. Marchand sits just behind Crosby in the stats list as the second most productive player.
Part of the reason that Crosby has been performing so well might be that his team hasn't had to depend completely on him; he's their captain and star player, but every game new players step up to get Canada the points they need to win. Canada stands undefeated, not just because of Crosby, but because of the other talents on the team as well. The lack of total pressure on Crosby, unlike in some other situations in the World Cup- such at the eyes within the USA on Patrick Kane- may be allowing him to play as well as he is.
That being said, Crosby is a core part of the team, a core part of their winning record, and so far appears to be living up to the C on his jersey just as he did in Pittsburgh last year.
Team North America: Matt Murray
http://gty.im/607635260
There's a fanbase in mourning for the early exit of Team North America. They were fast, young, and fun to watch, but despite their winning record, Finland's 3-0 loss to Russia was the death knell for their World Cup hopes.
North America failed to advance when they didn't win in regulation time against Team Sweden, a game that Murray wasn't even on the ice for, having been scratched because of an injury before the game.
The injury at first didn't seem to be major:
"I've done it a bunch of times," said Murray in an NHL.com interview, indicating that setback would not keep him off the ice for long- but the game he didn't play was the game that North America didn't manage to win in regulation, therefore having them fall just short of qualifying for the semifinals. Was the absence of Murray in net a key reason that Team North America won't be playing any more games in this tournament?
Murray's backup goalie, John Gibson, subbed in for him in North America's game against Russia and then started in the game against Sweden that Murray was unable to play in. He will end North America's World Cup run with a .932 save average– significantly higher than Murray's. It can't be said he played badly. It's hard to blame North America's failure to advance on either goaltender. What kept them from the semifinals wasn't even a loss- it was an overtime win. The goal that got that win was scored directly after a game-changing, last minute save from Gibson himself.
North America's elimination certainly can't be blamed on either of the goaltenders, but the question of whether or not Murray's participation in the final game would have gotten Team North America that crucial regulation-time win is a question that Murray and his fans will likely wonder for some time to come.
Now that the World Cup of Hockey is over, a more urgent question rises up for Pittsburgh Penguins fans. Murray's original assessment of the injury was, unfortunately, extremely optimistic; it was announced the day after the final North America game that he was going to be out three to six weeks with a broken hand. What Murray originally dismissed, and tried to play through, as a jammed finger turned out to be a broken hand. This result, much more than Team North America's early dismissal from the World Cup, will haunt Penguins fans into the regular season.
Matt Murray will miss the next three to six weeks with a broken hand. Details: https://t.co/ebkAPNsXWh pic.twitter.com/NAFLZa9RGP

— Pittsburgh Penguins (@penguins) September 24, 2016
Unlike other NHL teams, however, the Penguins are lucky enough to possess depth in the net; they have two goaltenders, each who have led the team to a Stanley cup (Marc-Andre Fleury in 2009 and Murray last season in 2016.) While Murray heals, Fleury will most likely be in the net for the beginning of the Penguins' regular season, a circumstance which will- at least for the moment- table the question of who will be the starting goalie for the Penguins after Murray's playoff starting role.
Looking Towards the Future
This particular third of the Penguins' World Cup attendees are headed in very different directions this week. Crosby will go on to attempt to bring home the World Cup of Hockey Trophy- it couldn't hurt to add to his collection, which this year includes the Stanley Cup and the Conn Smythe trophy as well- while Murray will head home to rest and, hopefully, heal up quickly. Whether or he ends up being the Penguins' starting goaltender this year, this team is going to need him, and they're going to need him soon.
---
The Hockey Writers coverage of the World Cup of Hockey 2016 is being brought to you by PrimeSport, the official Fan Travel & Hospitality Package Partner of the World Cup of Hockey 2016.