The Toronto Maple Leafs have begun a new era of hockey with the focus around their crop of young talent. At the same time, other eras are ending with Joffrey Lupul starting the season on the injured-reserve (IR) list. Starting the season on IR doesn't necessarily mean that Lupul won't play again, but after battling injuries every season, it might mean that those injuries have finally caught up with Lupul and have ended his career.
Leafs open up camp. Joffrey Lupul, Stephane Robidas and Nathan Horton start on Injured Reserve pic.twitter.com/rzNRU6t0HR

— David Alter (@dalter) September 22, 2016
A History of Injuries
Lupul has had injuries throughout his NHL career, but the most devastating happened when he was still with the Anaheim Ducks and missed a year and a half due to two spine surgeries followed by infections. After joining the Leafs, Lupul continued to struggle with injuries. The injuries somehow managed to always be different: broken hand, knee surgery, separated shoulder, concussion and the always vague lower body injury. That is just a sampling of his time with the Leafs up to the 2015 season.
Even with all those injuries, Lupul has managed to be one of the Leafs best players when he is healthy. His best seasons with the Leafs were the 2011-12 season when he finished with 67 points in 66 games and the 2013-14 season when he finished with 44 points in 69 games.
It has only been in the past two seasons in which Lupul's injuries have started to visibly slow him down and effect his game. Last season Lupul finished with just 14 points in 46 games, which could be attributed to adapting to Mike Babcock's systems. Unfortunately, everything points to the real answer being that Lupul's years of injuries have finally caught up with him at 33-years-old.
Statement from Joffrey Lupul: pic.twitter.com/8WesvnePiD

— Kristen Shilton (@kristen_shilton) September 22, 2016
Can Joffrey Lupul Play Again?
It seemed like Lupul would be coming in healthy this season after having surgery on a sports hernia that ended his season last year. Both Lupul and teammates were optimistic for a healthy return this year.
Kadri on Lupul: "I think he's ready to go and I think he's excited about the season." Read into that what you will.

— James Mirtle (@mirtle) September 22, 2016
Unfortunately, Lupul failed his training camp physical and will miss the preseason at the very least. This seems to be a result of the lingering effects of the sports hernia that he sustained last season.
"He's been in rehab all summer," said Lamoriello. "He got on the ice and had the same discomfort. So he saw our doctors. When he went through the physical, both felt he wouldn't be able to play."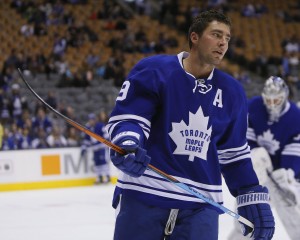 Lupul plans to return to the NHL, but how long it will take and if it's even possible are questions that will be answered this season. The longer it takes Lupul to get back into the Leafs' lineup means it will be that much harder to earn a spot because of all the young talent already fighting for spots on the roster.
Lupul's return to hockey is cast in doubt when it's considered that he had a special cushion to sit on at his stall in the Leafs dressing room because the surface was too hard for him. Now it could be thought that he only has a cushion due to some wish for special treatment or to be pampered, but what it really points to is that his back injury has never gone away and it has continued to affect him for years.
The fact that Lupul came back to hockey after an almost career-ending back injury is amazing. The fact that he continued to play despite sustaining even more injuries makes it that much more incredible.
At this point, Lupul has probably played his last game in the NHL, but I'm hopeful that he can once again find a way of coming back from what should be the end of his career.
Toronto Maple Leafs contributor for The Hockey Writers.
I've been a fan of the Toronto Maple Leafs since I was a kid and have always had an interest in writing. At The Hockey Writers, I get to enjoy both of my passions as well as writing about small convoluted details in player contracts and stats.