The Dallas Stars exploded out of the starting gate in 2015-16, going 9-2-0 in October to take command of the Western Conference. Dallas maintained a blistering pace through the first half of the season, compiling a 28-8-4 record through Jan 2, which marked the best 40-game start in franchise history.
Much of what went right in the first half of the season went wrong in January, as the Stars stumbled through a 3-6-1 stretch in games 41-50. The team-wide slump extended through the end of February, but Dallas rebounded with a strong 8-2-0 end to the regular season which, combined with their excellent first half, was enough to capture both the Central Division and Western Conference crowns.
The Stars' fast finish came without Tyler Seguin, who suffered a partially-cut Achilles tendon against Tampa Bay on March 17. The offensive dynamo's absence would be felt in the playoffs, however, and was one factor in Dallas' disappointing seven-game loss to the St. Louis Blues in the second round.
Stars 2015-16 Record: 50-23-9, First in Central Division
Offseason Moves
Seguin's absence was just one factor in Dallas' playoff exit. Stars defensemen were outmuscled by bigger Blues forwards throughout their second-round series. As a result, pending UFA Alex Goligoski's rights were traded to the Arizona Coyotes for a 2016 fifth-round pick, while Jason Demers and Kris Russell became free agents.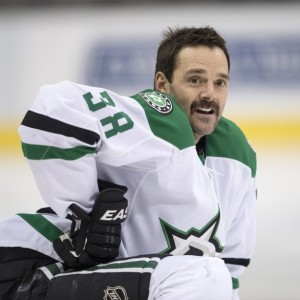 Dallas signed veteran defenseman Dan Hamhuis July 1, but the other openings on the blue line will be filled from within. Fierce competition is expected, with Esa Lindell poised to make the jump to the big club and Julius Honka knocking on the door. The Stars plan to carry eight defensemen again this season.
The NHL's highest-scoring team in 2015-16 made minor changes to their forward corps over the summer. Gone via free agency are bottom-six fixtures Vernon Fiddler, Colton Sceviour and Travis Moen, while Patrick Eaves returns on a one-year, $1 million deal. Dallas' biggest surprise was RFA Valeri Nichushkin's decision to return to Russia rather than re-sign with the Stars. In anticipation of that move, General Manager Jim Nill signed free agent Jiri Hudler to a one-year, $2 million contract in late August.
The Stars biggest move of the summer came July 15 when Nill announced a contract extension for team captain Jamie Benn, who had one year remaining on his current pact. The eight-year, $76 million ($9.5 million AAV) deal kicks in next summer and will keep Benn in Dallas through the 2024-25 campaign.
Key Roster Additions
Dan Hamhuis
Jiri Hudler
Esa Lindell
Brett Ritchie
Key Roster Losses
Vernon Fiddler
Colton Sceviour
Alex Goligoski
Jason Demers
Key Organization Changes
The Stars engaged in a little front-office restructuring over the summer. Franchise fixture Les Jackson, who begins his 29th season with the organization this fall, was elevated from Assistant General Manager to Senior Advisor to the General Manager, while Scott White (GM of the Texas Stars) and Mark Janko were both given AGM roles.
Forwards
Projected Lines:
Jamie Benn – Tyler Seguin – Patrick Sharp
Mattias Janmark – Jason Spezza – Jiri Hudler
Antoine Roussel – Radek Faksa – Ales Hemsky
Patrick Eaves – Cody Eakin – Brett Ritchie
Curtis McKenzie
Jamie Benn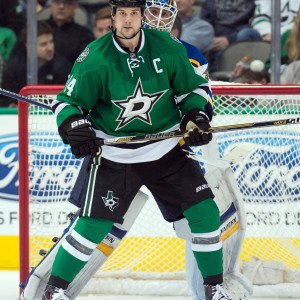 Two years ago, the Stars captain won the Art Ross Trophy with 87 points. Following that season, he had surgery on both hips. How did Benn bounce back from surgery? By playing all 82 games in 2015-16 and reaching career highs in goals (41) and points (89).
The 27-year-old Benn is an elite forward in his prime, one of the most dynamic and dangerous players in the game today. He's widely regarded as the second-best left wing in hockey, behind only Alex Ovechkin…and the Canadian is closing the gap.
Though an abdominal injury suffered during offseason training required minor surgery and kept Benn out of the World Cup of Hockey, the super Star was on the ice for the beginning of Dallas' training camp. With his contract extension signed, sealed and delivered, the captain and his club enter 2016-17 free of the off-ice distractions which plagued Steve Stamkos and the Tampa Bay Lightning last year, and free to focus on the only goal that matters: the Stanley Cup.
Tyler Seguin
Speaking of "dynamic and dangerous"…Last November, Seguin tallied his sixth hat trick as a Star, tying him with Mike Modano for the team record (Modano also had one as a Minnesota North Star, so he still holds the franchise record). The difference is that it took "Mighty Mo" 1,142 games in Dallas to net his six hat tricks, while Seguin did it in just 164. Over his three seasons with the Stars, Seguin is the NHL's fourth-leading scorer.
If there's any knock against the sharpshooting center, it's his health: Seguin returned from his March 17 Achilles injury to play in part of one playoff game, only to suffer a severe calf muscle strain which sidelined him for the remainder of the postseason. More recently, an awkward crash into the boards during a World Cup exhibition game left Seguin with a hairline fracture in his heel.
Though the former first-round draft pick (second overall) isn't at fault, his recent run of bad luck is a concern for the club. Last spring, despite inconsistent goaltending and defense, the Stars pushed the Blues to a game seven. With a healthy Seguin, Dallas might well have moved on, just as a healthy Joe Nieuwendyk might've carried the Stars past the Red Wings in the 1998 Western Conference Final. If Seguin can break the cycle of bad luck and stay healthy, the Stars could go far next spring.
Mattias Janmark
The 23-year-old Swede was the surprise of training camp last September, forcing his way onto the Dallas roster with his mature, intelligent play. He justified management's faith by scoring his first NHL goal on his first shot of his first game (it turned out to be the game-winner).
Though Janmark played most of his rookie campaign on the wing, injuries to others forced him to play center for several games, where he excelled. Now, with Fiddler in New Jersey and Cody Eakin out until early November with a knee injury, the youngster will likely be moved to the middle of the ice again. It's a tremendous opportunity for a player who didn't expect to compete for an NHL roster spot until this year.
For the unassuming Janmark, however, it's all in a day's work. As he said after the Stars Green vs. White scrimmage to close out the club's 2016 training camp, "I think last year was a good year, and this year I have to prove myself again. I want to improve my game, as well." Expect another good year from number 13.
Defense
Projected Pairings:
Dan Hamhuis – John Klingberg
Johnny Oduya – Stephen Johns
Esa Lindell – Patrik Nemeth
Jamie Oleksiak – Jordie Benn
John Klingberg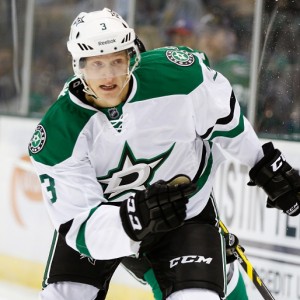 Long-time Stars fans remember well the smooth-skating, offensively gifted Sergei Zubov. The Russian defenseman's 2009 departure from Dallas left the organization in desperate need of a blueliner with a similar skill set.
In 2014, that need was met by Klingberg. The lanky Swede has 21 goals and 98 points through 141 NHL games. He's the power play quarterback the Stars have missed since Zubov, earning 34 of his points with the man-advantage.
Klingberg's challenge in 2016-17 is to eliminate one Zubov-ian trait from his game: the egregious turnover. The Russian was good for one per game, or so it seemed, but the stellar goaltending of Ed Belfour and Marty Turco usually kept them out of the net. The young Swede lacks the same safety net, so he'll need to improve his decision-making with the puck. That aside, the coming season should see Klingberg take another step toward cementing his status as an elite offensive defenseman.
Dan Hamhuis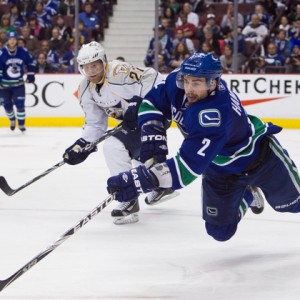 Dallas tried to acquire Hamhuis at the trade deadline last spring, but Vancouver wouldn't accept Nill's offer. They had to wait until July 1, but the Stars got their man (who was an unrestricted free agent) and the Canucks got nothing.
The Stars acquired Hamhuis to add another veteran presence to the blue line (he and Oduya are Dallas' only defenders over the age of 30). His challenge is to stay healthy, as he's missed 47 games over the last two seasons.
The ex-Canuck skated with Klingberg throughout training camp. The pairing makes sense, as Hamhuis is more of a stay-at-home defender who can free up the youngster to do what he does best. Should the duo fail to jell, the veteran could team up with Johns to form a shutdown pair; either way, he'll provide a steadying, veteran presence for Dallas' young defense corps.
Esa Lindell
The Stars have great expectations for this young Finn. Lindell spent last year in the AHL, skating on the Texas Stars' top defense pair and racking up 14 goals and 42 points in 73 games. He also had a brief – and relatively quiet – four-game stint in Dallas. This month, he appeared somewhat rattled in one appearance for Finland at the World Cup; playing against a line of Auston Matthews, Connor McDavid, and Jack Eichel will have that effect.
Back in May, Nill called Lindell "a smart, solid, all-around good player." His combination of size, skill and defensive responsibility could, in time, make him the perfect partner for the Stars' top defenseman, the yin to Klingberg's yang.
Goaltending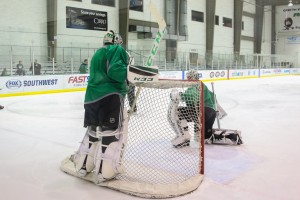 The performance of the Stars' $10.4 million tandem last season fell far short of expectations. Though the duo combined to win 50 regular season games (25 apiece; a franchise first), both Kari Lehtonen and Antti Niemi posted save percentages far below the league average. Of far greater concern, their already-lackluster numbers dropped dramatically in the playoffs as both goalies struggled to find consistency.
Despite rumors of a Ben Bishop-to-Dallas trade swirling around the NHL all summer, nothing has materialized. From the top down, the entire organization insists they're fine with entering the 2016-17 campaign with Lehtonen and Niemi in the crease. Both goalies say they're much more comfortable with their roles now than they were last season. Will that translate to greater consistency on the ice? If not, Nill will be forced to make a move by next spring's trade deadline.
Breakout Player: Brett Ritchie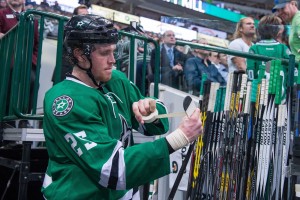 The Stars' second-round pick in 2011 has been held back by injuries and incredible forward depth, but 2016-17 should see Ritchie become a full-time NHLer. The big (6 foot 3, 209-lb) right wing is a skilled power forward. He can flatten a defender, take the puck and unleash a rocket of a slap shot with accuracy; he can also battle at the net to screen the goalie and tuck in rebounds.
While Ritchie will probably begin the season in the bottom-six, his combination of size, skating ability and snarl could vault him up the depth chart before the playoffs begin.
Player with Most to Prove: Kari Lehtonen
The Stars' last two playoff games are a perfect representation of Lehtonen's 2015-16 season. In game six, he virtually strapped the team on his back, stopping 35 of 37 shots, earning First Star of the Game honors and forcing a game seven. 48 hours later, he was pulled after allowing three goals on eight shots (not to mention a terrible bad-angle goal which was erased by a successful coach's challenge for offsides), a performance which left Dallas completely deflated.
A glance at the goalie's statistics throughout his seven seasons as a Star is illuminating. Paradoxically, the goalie posted better stats when the Stars fell short of the postseason. Can Lehtonen master the pressure that comes with raised expectations for the team? Can he do it while knowing that a stumble will send him to the bench and/or result in Nill trading for another goalie? The Finnish netminder's biggest battle this season might just take place between his ears.
First Players in the 'Call-Up' Line
If it weren't for bad luck, Devin Shore would have no luck at all.
Devin Shore has an ankle injury, will miss a couple weeks.

— Mark Stepneski (@StarsInsideEdge) September 25, 2016
In 2015-16, the 22-year-old center led the AHL in scoring with 15 goals and 26 points in 23 games when his season ended with a shoulder injury and surgery. Shore recovered, rehabbed and stood out at Development Camp in June and the annual NHL Prospect Tournament in Traverse City. He came to training camp with a good shot at earning a roster spot, but an ankle injury on the second day will keep him off the ice for a couple of weeks, all but ending any chance of starting the season in Dallas. He'll be the first forward in line when injuries strike.
On the blue line, Julius Honka is as close to "NHL-ready" as they get. The Stars' top pick in 2014 already has two full AHL seasons under his belt at age 20. The defenseman has considerable offensive skill but plays with a physicality which belies his stature (5 foot 10, 181 lbs). Injuries or not, expect Honka to make his NHL debut this season.
Honka steals a puck and blasts one past Lehtonen. 2-0 Green heading into the first intermission. pic.twitter.com/k5rE25DHvu

— X – Dylan Nadwodny (@dnadders) September 25, 2016
If a goalie goes down and can't get back up, the Stars will call either Maxime Legace or Philippe Desrosiers. Those youngsters will battle for the AHL starting job this season (though Landon Bow might have something to say about that). At 23 and 21, respectively, neither Legace nor Desrosiers are NHL-level goalies, so a long-term injury to either Lehtonen or Niemi would almost certainly result in a trade.
Season Outlook
The Dallas Stars enter the 2016-17 season with the league's highest-powered offense, a big, young and inexperienced defense and a goaltending tandem beset by more questions than at this time last year. With 11 of their first 20 games against Central Division opponents, Dallas will be in a dog fight from day one. Once again, they'll score goals by the bushel…but they might allow almost as many. With defense and goaltending no better than last season, the Stars will be a playoff team next spring; their offense is that good. If the defense develops as expected and the goalies consistently deliver league-average performances, though, the Stars will contend for the Cup.
2016-17 Record Prediction: 47-26-9 (3rd in Central Division)